Love and Spices:
Tropical Grilled Peppers
A delicious vegan salad that is a meal on its own
Recipe by Monique Singer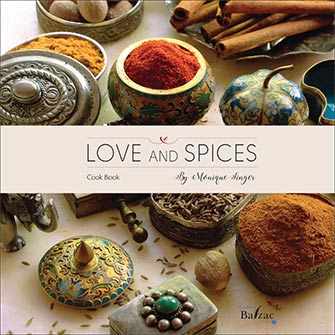 Westmount Magazine is proud to offer its readers sample recipes from Love and Spices, a beautifully illustrated cookbook by Monique Singer. With this new series, you will discover some unique recipes dedicated to cooking with spices, from hors d'œuvres to desserts.
Monique Singer knows how to make people talk, sing and dance spices! From her earliest childhood, alongside her grandmother and sisters, she learned how to create a delicious and original cuisine with her senses, her hands and all her love.
From her family's table to the jet-set parties she has catered in New York, Los Angeles, Venezuela, Spain, Haiti, and Asia, regardless of the set-up, function, atmosphere or style, Monique's food has left its imprint on people's taste buds. Enjoy!
Tropical Grilled Peppers
Preparation time: 40 min | Cooking time: 10 min | Yields: 8 servings
4 red bell peppers cut into half, seeded and grilled
1 16 oz / 500 ml can (about 2 cups) black beans, drained and rinsed
1 cup fresh corn, drained and rinsed if canned
1 cup / 375 g pineapple, cut into small pieces
1 avocado, firm and cut into cubes
1 chipotle or jalapeño pepper, seeded, cut into small pieces
1/2 cup / 227 g cilantro, chopped
2 limes, juiced
2 spring onions, chopped
DRESSING
5 tbsp Tajin, Classico Seasoning / with lime*
2 limes, juiced
1 tbsp lime zest
1/2 tsp sea salt
1/2 tsp freshly ground pepper
2 tbsp olive oil
In a bowl, combine the black beans, corn, jalapeño, spring onions, pineapple, avocado, cilantro and set aside.
In a separate bowl, mix together the lime juice, oil, tajin spice, salt and pepper.
Pour over the black bean mixture and toss.
Best if prepared a few hours before filling.
Cut the red bell peppers in halves and remove seeds.
Grill on the cut side for 5 to 7 minutes, let cool.
Fill with salad mixture, sprinkle the lime zest, and remaining 1 tbsp tajin seasoning.
Add seasoning if needed.
*Tajin, Classico Seasoning / with lime can be found in a spice store.
Images: Anne Fillion
Read also: other recipes
---
Monique Singer is a cultural creator now based in Montreal, usually found travelling the world, experiencing other cultures and sharing what she finds most interesting. At the top of her food passion is her attraction for spices, their benefits and the distinctive flavour they bring to all dishes. LinkedIn
---
---