Love and Spices:
Vegan walnut tapenade
This delightful appetizer is wonderful with crudités at cocktail hour with a glass of wine
Recipe by Monique Singer
Previously published on April 24, 2021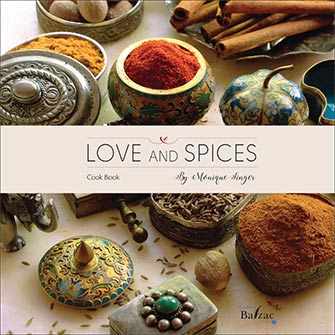 Westmount Magazine is proud to offer its readers sample recipes from Love and Spices, a beautifully illustrated cookbook by Monique Singer. With this series, you will discover some unique recipes dedicated to cooking with spices, from hors-d'œuvres to desserts.
Monique Singer knows how to make people talk, sing, and dance spices! From her earliest childhood, alongside her grandmother and sisters, she learned how to create delicious and original cuisine with her senses, her hands, and all her love.
From her family's table to the jet-set parties she has catered in New York, Los Angeles, Venezuela, Spain, Haiti, and Asia, regardless of the set-up, function, atmosphere, or style, Monique's food has left its imprint on people's taste buds.
Enjoy!
Vegan walnut tapenade with crudités
This tapenade is wonderful with crudités at cocktail hour with a glass of wine.
Crudités are raw vegetables that can be cut into small pieces, sticks, or thinly sliced.
I love serving a fresh platter for company!
Preparation time: 30 min | Yields: 8 portions
1 1/2 cup / 190g Kalamata olives, pitted
1 cup / 90g walnuts
1/2 cup good mayonnaise or veganaise
Tapenade
In a food processor, pulse 1/2 cup Kalamata olives.
Pulse twice to obtain a chunky texture.
Remove with a spatula and set aside.
Place the walnuts in the food processor and pulse, until you have achieved a smooth paste.
Add the remaining 1 cup of olives, and mayonnaise into the food processor.
Pulse 2 or 3 more times to a smooth texture.
With a spatula, remove from the food processor.
Place in a serving bowl.
Stir in the 1/2 cup of the olives chunks into the mixture.
Crudités
4 carrots cut in sticks or heirloom baby carrots
4 celery ribs cut in sticks
1 red bell pepper cut in sticks
1 yellow bell pepper cut in sticks
2 endives cut into 4
1 seedless cucumber peeled and cut lengthwise into sticks
8 small asparagus
You can also use florets from 1/2 cauliflower and 1/2 broccoli.
Images: Anne Fillion
Other recipes by Monique Singerù
Other recent articles
---
Monique Singer is a cultural creator now based in Montreal, usually found traveling the world, experiencing other cultures, and sharing what she finds most interesting. At the top of her food passion is her attraction for spices, their benefits, and the distinctive flavour they bring to all dishes. LinkedIn
---
---