Love and Spices:
Lavender Ricotta Sufganiot
Light, fluffy and creamy, perfect for doughnut lovers or a children's party
Recipe by Monique Singer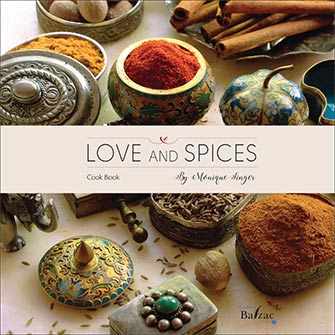 Westmount Magazine is proud to offer its readers sample recipes from Love and Spices, a beautifully illustrated cookbook by Monique Singer. With this series, you will discover some unique recipes dedicated to cooking with spices, from hors d'œuvres to desserts.
Monique Singer knows how to make people talk, sing and dance spices! From her earliest childhood, alongside her grandmother and sisters, she learned how to create a delicious and original cuisine with her senses, her hands and all her love.
From her family's table to the jet-set parties she has catered in New York, Los Angeles, Venezuela, Spain, Haiti, and Asia, regardless of the set-up, function, atmosphere or style, Monique's food has left its imprint on people's taste buds.
Enjoy!
Lavender Ricotta Sufganiot
This simple recipe is definitely worth a try.
Preparation time: 30 min | Baking time: 4 minutes each side | Yields: 6 servings
1 cup / 250 g whole milk ricotta cheese
3 large eggs
1 1/4 cup / 200 g rice flour
1/4 cup / 50 g finely granulated, lavender sugar or regular sugar
1/4 cup / 60 g mascarpone cheese
2 tsp baking powder
1 tsp vanilla extract
Lavender confectioner's sugar for dusting
In a bowl, beat the eggs with the sugar and vanilla extract.
With a hand mixer on medium speed, add the ricotta, beat until smooth and slowly add the mascarpone.
Add the flour 1/4 cup at a time, mix in the baking powder, then beat until well-blended and smooth.
In a large saucepan, not a frying pan, heat about 2 to 3 inches / 5 to 8 cm of coconut or avocado oil until the cooking thermometer reaches 375°F/190°C.
Set a large plate covered in paper towel near the saucepan for the fried sufganiot.
Spread a little oil on your spoon before using it so that the batter does not stick.
Place around 6 to 8 balls of batter in the pan and fry for 3 to 4 minutes on each side until golden.
Transfer onto the paper towel to drain the excess oil.
Continue frying the remaining sufganiot in batches of 6 or 8.
Arrange them in groups of 4 on each serving plate and dust with lavender sugar.
LAVENDER SUGAR
1 cup / 200 g of granulated sugar
1 tbsp of fresh lavender buds, stems off
1 tbsp of dried lavender.
Pulse the dried lavender only – if using fresh buds, do not use the food processor.
For fresh buds, pulse the sugar and the dried lavender separately until powdery.
Place in a clean jar, layer the lavender with the sugar, close the lid and let rest for a day before using.
Shake the jar now and then to diffuse the natural oil of the buds.
You can also dust with cacao, cinnamon or any other flavour.
The batter can be made up to 6 hours in advance. Refrigerate for 1 hour before frying.
Images: Anne Fillion
Read also: other recipes
---
Monique Singer is a cultural creator now based in Montreal, usually found travelling the world, experiencing other cultures and sharing what she finds most interesting. At the top of her food passion is her attraction for spices, their benefits and the distinctive flavour they bring to all dishes. LinkedIn
---
---