A masterful portrayal
of apartheid
Master Harold… and the Boys, much praised Shaw Festval production comes to the Segal
By Byron Toben
All great truths begin as blasphemies.
G. Bernard Shaw
Master Harold… and the Boys, the 19th of Athol Fugard's 35 plays, was banned in his native South Africa and led to his passport withdrawal for its criticism of institutional apartheid. In this, he was not alone among great playwrights in history. See a short list of examples, including Shaw, at the end of this review.
So congrats to the Segal Centre for bringing the much praised Niagara-on-the Lake Shaw Festival production of Master Harold… and the Boys to its stage, stellar cast and director intact.
And congrats of course to Toronto's Obsidian Theatre for first developing this production for the Shaw.
This three-actor, one-set piece packs a lot of power into its 90-minute, no intermission presentation. Written in 1982, it is essentially a memory piece of life in South Africa in the 1950s where Fugard (born Harold Athol Fugard) grew up.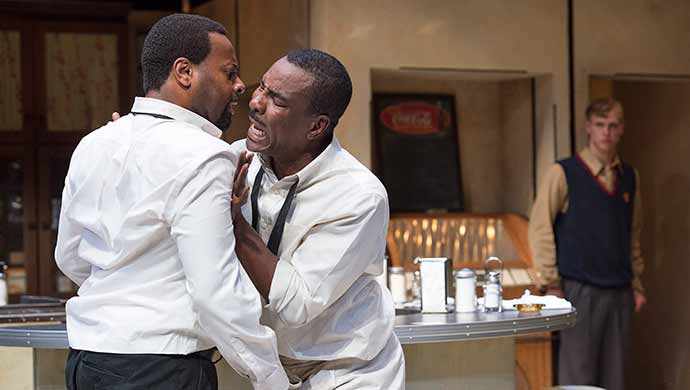 'This three-actor, one-set piece packs a lot of power into its 90-minute, no intermission presentation.'
Similar to some families in the American South, young white children grew up with black servants as friends or guides, only to become trapped in the inequitable mores of their society upon reaching adulthood.
In this play, young Harold (James Daly) checks in daily in the tearoom owned by his mother and run by long time family servants Sam (Andre Sills) and Willie (Alan Louis). Harold's father has long resided in a disabled hospital so to some extent the now middle-aged 'boys' had been surrogate playmates and models for him. Now 17, he does his homework at the tearoom. Time divided discussing history and great men thereof with Sam, the more philosophical of the two, and reminiscing about fond memories, such as flying a kite together.
Sam is also coaching Willie to enter and hopefully win a regional dance contest that Harold dismisses as a barbaric relic of emotional content.
Little disagreements add up and heat up as the boys get more uppity and Harold demands to be called Master Harold henceforth rather than the more familiar 'Hally' of the past.
Expert pacing by director Philip Akin keeps things moving along.
Dance sequences organized by Valerie Moore introduce more movement into what could have been too stationary a script.
The admirable script introduces hopes for 'progress' in a subtle and non-ranting way that may puzzle some of today's post apartheid viewers as to the South African government's over reaction.
Our local Black Theatre Workshop worked in association with the Segal in publicising this show, which I highly recommend.
Intrepid theatregoers may remember Centaur theatre's Maurice Podbrey's introduction of Fugard to Montreal with Master Harold… and the Boys in 1985 (as well as The Road to Mecca in 1988 and My Children! My Africa! in 1990).
As promised above, here is a short list of examples of great plays once banned (there are many more):
Lysistrata (Aristophanes)
Oedipus Rex (Sophocles)
Salome (Wilde)
Mrs Warren's Profession (Shaw)
The Children's Hour (Hellman)
Ghosts (Ibsen)
The Crucible (Miller)
A Streetcar Named Desire (Williams)
The Barber Of Seville (Beauharnais)
Send us, under 'comments', others you may know of.
Master Harold… and the Boys runs at the Segal until February 11.
514 739-7944
segalcentre.org
Read also: The Post, a great reminder of Vietnam deceptions
---
Byron Toben is the immediate past-president of the Montreal Press Club.


---
---