Measure For Measure:
#MeToo in 1604
Latest Shakespeare-in-the-Park play a timely choice
By Byron Toben
This review of Shakespeare's Measure For Measure marks my 312th posting for WestmountMag.ca since my first one back on July 23 of 2015.
That one was also a Repercussion Theatre Shakespeare in the Park (SITP) production, namely Twelfth Night. My, how indeed tempus doth fugit along!
Measure For Measure (1604) is especially timely in this era of #MeToo, 415 years later. Women are subject to the demands of powerful men and no one is likely to believe them.
Woven into this plot as well, described by Director Amanda Kellock in her Program Notes, was the Catholic vs. Protestant clash that would have been more obvious to audiences of the day. This observation reminded me of Shaw's great play, Saint Joan, wherein the voices heard by a teenage girl would result in her being crushed by the emerging forces of Nation-alism and Protest-anism.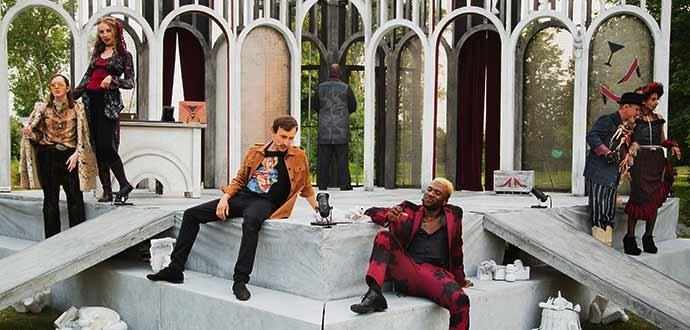 Of Shakespeare's 39 plays, a tabulation since 1911 lists them in order of which have been performed the most in Canada and the USA. See the top dozen at the end of this review. Measure for Measure was listed at 21st.
Here, Duke Vincentio of Vienna (Matthew Kahwe, a six-time SITP actor) decides to go underground in disguise as a monk for a few days, leaving his deputy, Angelo (Alex Goldrich) in command. Angelo is assisted by Escalus (Nadia Verrucci).
All six actors… as well as the four others in the cast, acquit themselves exceedingly well. Six of the ten double in amusing minor roles, particularly Mr Barrette as Constable Elbow… and Ms Verrucci as convict Bernardino.
The ultra zealous Angelo condemns young Claudio (Trevor Barrette) to death for getting his fiancé, Juliet (Quianna MacGilchrist) pregnant. Claudio sends his friend, Lucio (Anton May) to inform his sister, noviciate Isabella (Samantha Bitonti) to plead for his life. This she does. Angelo develops a lust for her and agrees, if she would sleep with him. How she evades this and how Claudio is saved depends upon the incognito actions of the disguised duke.
All six actors mentioned above, as well as the four others in the cast, acquit themselves exceedingly well. Six of the ten double in amusing minor roles, particularly Mr Barrette as Constable Elbow, a bumbling official in the spirit of Dogberry from Much Ado About Nothing and Ms Verrucci as convict Barnardine.
The talented artistic team of eight and the production team of fifteen remind me of the cliché that, "it takes a village to raise a child".
I must single out Movement Director holly Greco for lots of crisp and creative moments that lent greater texture to the characters, as well as the stage bows after.
Oh yes, the aforesaid dozen most produced Shakespeare plays…
A Midsummer Night's Dream
Romeo and Juliet
Twefth Night
Hamlet
Taming of the Shrew
As You Like It
Much Ado About Nothing
The Tempest
MacBeth
Comedy of Errors
Julius Caesar
King Lear
Measure For Measure began on July 11. It continues until August 11 at many outdoor locations throughout the greater Montreal area.
Westmount Park is the only one with multiple appearances, with the next shows at 7 pm on Saturday, August 10 and Sunday, August 11.
Visit repercussiontheatre.com for the full schedule.
Images: Valerie Baron Photography
Read more articles from Byron Toben

---
Byron Toben, a past president of The Montreal Press Club, has been WestmountMag.ca's theatre reviewer since July 2015. Previously, he wrote for since terminated web sites Rover Arts and Charlebois Post, print weekly The Downtowner and print monthly The Senior Times. He also is an expert consultant on U.S. work permits for Canadians.


---
---