Meet the Westmount–Saint-Louis candidates
Jennifer Maccarone, incumbent MNA and liberal candidate
---
Dear WestmountMag.ca reader,
In view of informing you on the various parties' platforms for the upcoming election, WestmountMag.ca invited all the Westmount–Saint-Louis candidates to submit an article about them and their program. Here is the unredacted article submitted by the only candidate who responded to our invitation, Jennifer Maccarone of the Quebec Liberal Party.
---
Dear Residents of Westmount–Saint-Louis,
Since 2018, I have had the privilege of representing you at the Quebec National Assembly. As your MNA, I have tirelessly defended your interests and rights. My desire to create a more inclusive Quebec for all citizens, regardless of their language, religion, ethnocultural origin, abilities, sexual orientation, and/or gender identity, motivates my political commitment and informs my actions. That is why, during my mandate, I strongly opposed Bill 96, created an anti-racism action group, forced the government to revise hospital triage protocols impacting people living with a handicap, fought for the rights of people on the autism spectrum, fought for local education in our riding, and introduced legislation to ban conversion therapy. It is also why I have tabled a petition to keep the Dawson College expansion project on track, and a petition to remove public educational institutions from the scope of Bill 21.
I am committed to the well-being of the citizens of Westmount–Saint-Louis, a riding that encompasses the wealthiest city in Canada, and 50% of the province's homeless and itinerant population. I have worked hard to reach out and help each and every one of you who needed me, and to be your voice. During the COVID-19 pandemic, our riding office never closed. My team and I helped our seniors schedule their vaccination appointments, go to clinics, and printed their proof of vaccination. We also distributed hundreds of meals and groceries to people experiencing homelessness, and we created a newsletter to inform citizens of the various public health measures and services offered by my office.
I have dedicated my career to the advocacy and rights of all citizens, for the disadvantaged, for the disabled, for the poor, for minority communities, for those who cannot make their voices heard. I have run for office and continue to run for office, opposed to playing politics. I have not taken one day in your service for granted, and I have made it a priority to bring our riding, our concerns, and our vision, to my caucus and the National Assembly.
My record as an MNA includes: 400 citizen meetings, over $300,000 in funding to local NGO's, support to 200 community organizations, 7 mandate initiatives, 4 bills, and 12 petitions. I have also been your spokesperson for dossiers related to families, social solidarity, the fight against poverty, people living with a handicap or autism, diversity and inclusion, and the rights of the LGBTQ2 community. Positive and beneficial for all, my achievements are clearly different from those of the CAQ government.
Over the course of the last four years, François Legault's party has run roughshod over the Quebec English-speaking community's linguistic rights, denied the religious rights of believers of many faiths, abolished our school boards, referred to immigrants as a threat and source of violence, done little to slow or stop climate change, and let Quebec's economy slide into inflation and economic distress.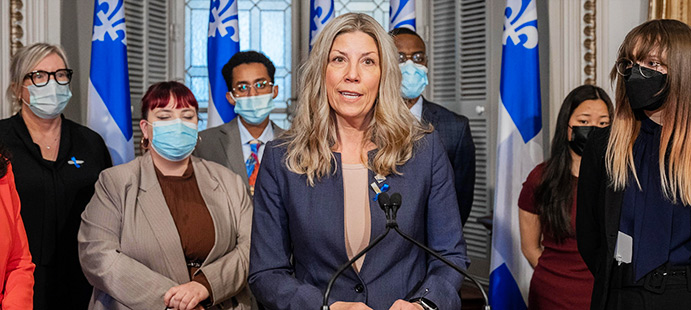 On October 3rd, you will decide if we have effective representation in the National Assembly, a voice in defense of our rights, and a voice for improvement and change.
Now more than ever, the residents of Westmount–Saint-Louis must unite to send a clear message to François Legault.
Now more than ever, we must recognize the CAQ is whom we need to fight against, not each other.
The Liberal Party of Quebec voted against Bill 96, Bill 40, and Bill 21. To suggest otherwise is false and desperate. Without any malice toward any candidate in this election, we must recognize that a vote for a one-issue protest party is a vote for the CAQ, and this is exactly what Legault wants. Single interest groups will never influence laws nor possess any real power in Quebec. Dividing our vote will further dilute our voice and our rights, and it will not accomplish our goal of ensuring a future for our diverse community.
My vision for Westmount—Saint-Louis and for Quebec is clear. I am committed to:
Facilitating access to local health, mental health and home care services, including a review of the PREM;
Obtaining funding to open new school facilities in the riding, from elementary to adult and vocational learning, allowing all students, including those with learning disabilities or other handicaps, to have access to quality educational services;
Ensuring the redevelopment of the Hôtel-Dieu Hospital site into social and community housing, local healthcare services, First Nations and Inuit specific services, and more green spaces;
Ending to the division of Bill 96 by depositing new legislation that will:

Repeal the notwithstanding clause;
Repeal clauses limiting access to health and social services;
Repeal provisions that allow searches without a warrant;
Repeal provisions imposing an administrative burden on businesses;
Repeal the six-month deadline imposed on newcomers to learn French;
Repeal the freeze on English CEGEP enrolment, give all students back the right to make their own choices about their post-secondary education, and reinstate the urgently needed expansion of Dawson College;
Restore judicial independence and giving the magistrature back the right to appoint judges according to their needs;
Exempt Indigenous Peoples from Bill 96.
I ask that you unite behind me. I ask that you give me your support. I ask that you give me your trust and your faith that in the National Assembly, before the Quebec government, and elsewhere, that your voice will be heard.
On October 3rd I ask that you vote Liberal. I have worked to earn your support and will always continue to do so.
Yours truly,
Jennifer Maccarone, your Liberal candidate for Westmount–Saint-Louis
Images: Courtesy of Jennifer Maccarone
---
---
---