Melted fontina cheese
with sundried tomatoes
Winter comfort food
Recipe and photos by Josee Brisson
During the winter months, Montreal offers us skating in Westmount Park, the Old Port or Beaver Lake, hockey and cross-country skiing on the Mountain, or the pleasures of the illuminated seesaws in the Quartier des Spectacles.
As we play outside in the winter, our cold noses, rosy cheeks and exhilarated giggles always bring us back to childhood. After an afternoon outdoors, there is nothing better than coming home and nibbling on something warm and delicious, like a gooey, bubbly cheese dish.
After an afternoon outdoors, there is nothing better than coming home and nibbling on something warm and delicious, like a gooey, bubbly cheese dish.
This recipe will fill your house with the warm and comforting aromas of melted fontina cheese, garlic and fragrant herbs. Simply add fresh bread and a lovely glass of wine to perfect it.
Fontina has been produced in the Aosta Valley in the Italian Alps since the 12th century. This semi-soft cow's milk cheese has a natural tan, orangey rind that occurs during the ageing process. It is said that the very best fontina is made during the summer months, when the cows are moved to a higher altitude to graze on rich grass. Fontina Val d'Aosta enjoys a protected designation of origin (PDO) from the European Union, giving it an official status as a unique cheese, authentically produced.
Italian fontina is used to create fonduta, a melted cheese sauce made with cream, butter and eggs. Personally, I find that cheese is substantial enough without having to add other ingredients.
Two Quebec producers make fontina. Agropur produces Fontina Prestigio, enveloped in a distinctive red wax rind. The Fromagerie de Saint-Benoît-du-Lac produces two award-winning, rindless fontinas, regular and smoked. Sweden, Denmark, France, Argentina and the United States also produce fontina-like cheeses.
If you are unable to find fontina, you can use Le Fin Renard from Fromagerie Bergeron, or a mild, young Gouda.
I paired this melted fontina dish with Willm Réserve Pinot Blanc, a dry, medium-body fruity white wine by Alsace Willm. I am not recommending a red wine, as I found it took away from this perfectly balanced cheese dish.
Melted fontina cheese with sundried tomatoes, garlic and herbs
Serves 2 people
Preheat the oven on broil
½ lb (250 g) of fontina cheese (I used Agropur's red wax rind Anco Fine Cheese Fontina)
3 tablespoons of extra virgin olive oil + more for serving
1 large garlic clove, finely chopped
4 sundried tomatoes, finely chopped
3-4 sprigs of Italian parsley
2 sprigs of basil
2 sprigs of oregano
Pinch of Aleppo pepper (to taste)
Freshly ground black pepper
Baguette or country bread
Place the oven rack close to the element.
Pour the olive oil into a small mixing bowl. Add garlic, sundried tomatoes and chopped herbs. Season with pepper and mix until well combined. Set aside.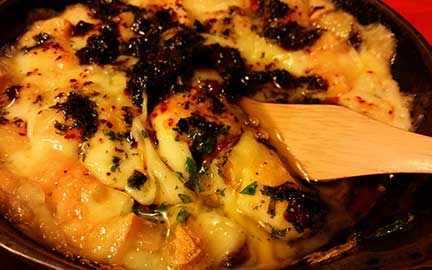 Cut the fontina into small cubes and place half in a small cast iron skillet (six inches). Add the ingredients in layers. Top with half of the herb mixture, then add the remainder of the cheese. Finish with the last of the herbs and sprinkle with Aleppo pepper.
Place the skillet on a cookie sheet to prevent any oil from dripping into the bottom of the oven. Place in the oven and broil until the cheese is melted and bubbly, about 7 minutes. Do not overcook the cheese as it will separate and harden.
Finish with a drizzle of olive oil and serve immediately with slices of fresh baguette or a good country bread.
My previous recipes in WestmountMag.ca:
Roasted Tomatoes and Herbed Feta Crostini
Grilled Halloumi cheese with pomegranate arils and syrup
Roasted fresh figs with goat cheese and rose-scented honey
Oven-roasted almonds with garlic, rosemary and thyme
---

Josee Brisson is a culinary creator passionate about archaeology, mythology, history, literature, and the arts. She trained as a professional cook at École Hôtelière des Laurentides, in Sainte-Adèle, Québec. Among other food projects, she collaborated on two cookbooks with world-renowned food and wine expert François Chartier, and offered a Chef at Home service. Josee is also a translator, researcher and social media community manager. Her cookbook, L'Apéro: Appetizers & Cocktails, was #1 Best Seller in Appetizer Cooking at Amazon. Here's the link to Josee's book.
---
---