Mizushobai world premiere
at the Segal Centre
Julie Tamiko Manning's play breaks new ground as an intergenerational and intercultural exercise
By Byron Toben
October 16, 2023
Mizushobai (The Water Trade) breaks new ground as an intergenerational and intercultural exercise, produced by Tableau D'Hôte Theatre and presented at the Segal Centre. It is the third play written by accomplished actor Julie Tamiko Manning, who recently starred in a two-hander (Beyond The Sea) at the Hudson Village Theatre. Mizushobai is a five-hander and all-female, directed by Yvette Nolan.
The sparse set depicts a mountain around whose edges Japanese women toil at menial jobs with little future, presided over by Mama Kay (Yoshie Bancroft), who wends her way around the set as her descendants, Kiyoko (Hanako Brierly), Ki (Brenda Kamino), Enemy Alien Kiyo (Katelyn Morishita) and Okiyo San (Dawn Obokata) gradually tell their stories over time and space of cheap labour exploitation, let alone male domination, forcing them into more lucrative occupation such as geisha girls, and emigration to North America where World War II caused round-ups into internment camps and loss of property.
To me, the Shavian fan that I am, this resonated with GBS's Mrs. Warren's Profession in emphasizing the economic causes of choices rather than the so-called immoral causes. Ms. Manning drew much of her inspiration from the life of Kiyoko Tanaka-Goto.
All of this fits in with Tableau D'Hôte's More Than A Footnote program to unearth buried stories that have shaped the communities within Canada. This world premiere is the first such to be produced.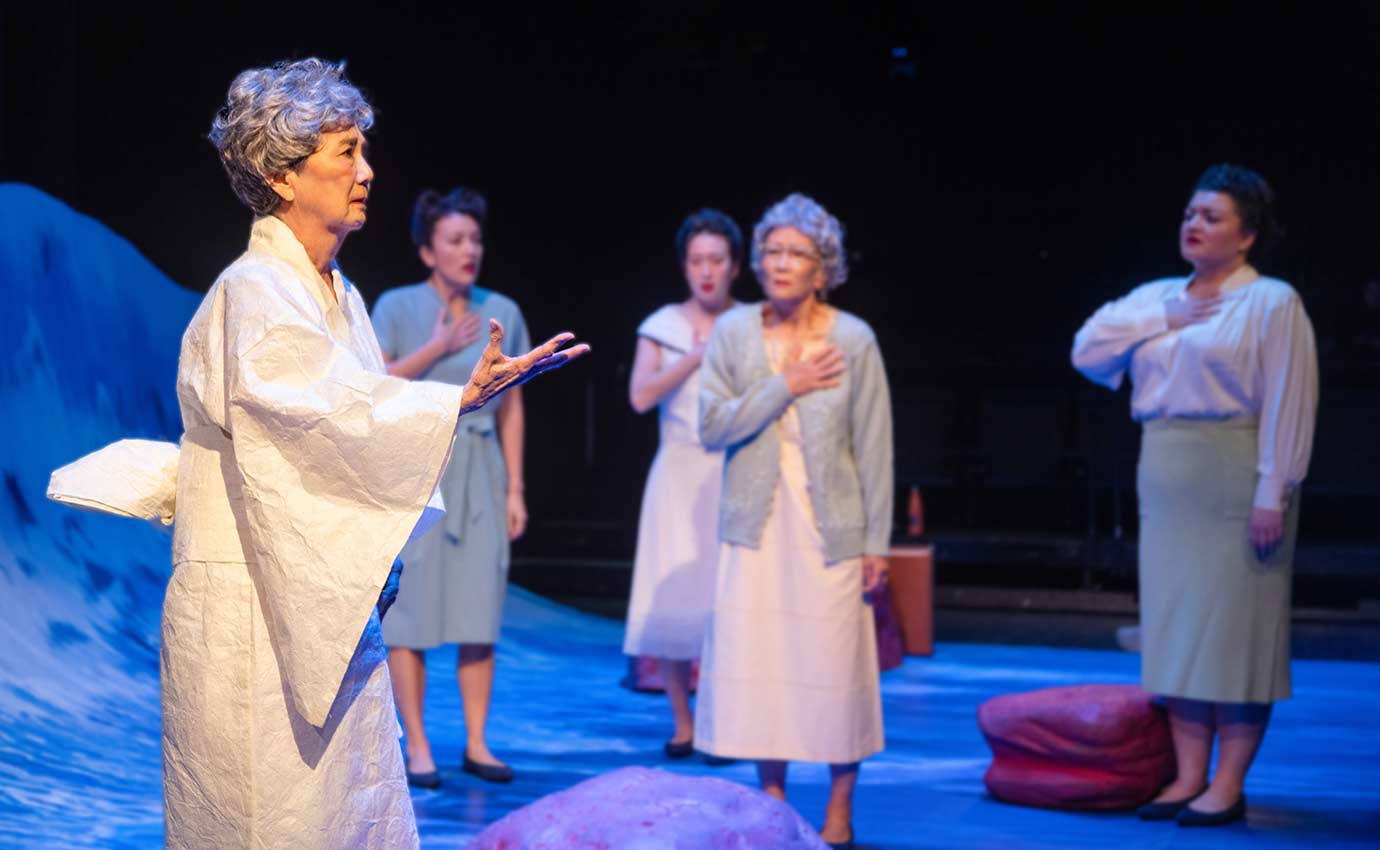 I, for one, await more and end with a real footnote. As Mathieu Murphy Perron, artistic director of Tableau D'Hôte, explained to the crowd, the cast's costumes had been stolen, three days before opening! So, plaudits to costume designer Mayumi Ide-Bergeron for replicating those gowns in just two days.
Mizushobai (The Water Trade) continues at the Segal studio space until October 22.
Images: A J Korkidakis
Other articles from Byron Toben
Other recent articles
---
Byron Toben, a past president of The Montreal Press Club, has been WestmountMag.ca's theatre reviewer since July 2015. Previously, he wrote for since terminated websites Rover Arts and Charlebois Post, print weekly The Downtowner, and print monthly The Senior Times. He also is an expert consultant on U.S. work permits for Canadians.


---
---