Mob marks Catherine-Anne Toupin's English Canada debut
English version of French Canada hit play La meute comes to the Centaur
By Byron Toben
Catherine-Anne Toupin has accomplished a lot in Quebec theatre since graduating from drama school in 1999. Finding it difficult to get acting assignments as a young female, she started writing her own plays, starring, why not, herself! A few short plays and the creation, with partners, of a theatre company, Theatre ni plus ni moins, led to a successful writing career as well as a television series.
This "do it yourself" path resonated with me as it was the one followed by my friend, T.J. Dawe, who became one of the kings of the Canadian Fringe circuit with his creative mostly monologues.
In any event, Ms. Toupin's current play, the three-hander La Meute, was so successful in French that it was reprised four times – all sold out! This attracted the attention of Centaur artistic director Eda Holmes who arranged for its English Canadian debut under the title Mob. Translated by British Chris Campbell (ex Literary Manager of London's Royal Court Theatre), it has been translated and performed in several other languages.
Influenced by Hitchcock films and Pinter plays, Mob does contain traces of an unarticulated menace. Bits of humour balance the danger.
When I saw that Ms. Holmes had managed to corral the ever-creative Andrew Shaver (last seen here in the fast-moving 39 Steps) as the director, viewing this show became a must for me.
Influenced by Hitchcock films and Pinter plays, Mob does contain traces of an unarticulated menace. Bits of humour balance the danger.
Sophie (actor/dancer Adrianne Richards) arrives solo at a rural Bed and Breakfast owned by elderly Louise (stage/film/TV actor Susan Bain) who is helped out by her portly nephew Martin (busy stage, screen and video game actor Matthew Kabwe). Upon arriving at night at the B&B, nervous Sophie promptly vomits on the floor. What is she escaping from?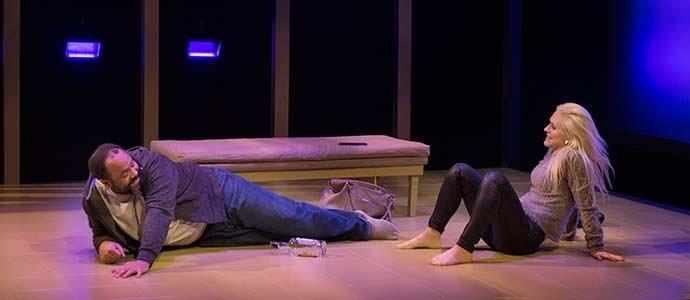 Unpacked and rested, the three discuss things. Alcohol a-plenty is present. Martin is depressed, having no great skills or regular job, but longing to reside in a more exciting place than this boring hamlet. Sophie may offer a solution but it may also create embarrassment. One thing leads to another, often amusing, allowing Mr. Kabwe to demonstrate his physical acting skills. Will violence erupt? How will it all end?
I don't want to be a spoiler, dear reader, so you will have to see it for yourself.
Mob continues at the Centaur until March 29.
514 288-3181
centaurtheatre.com
Images: Andrée Lanthier
Read more articles from Byron Toben

---
Byron Toben, a past president of The Montreal Press Club, has been WestmountMag.ca's theatre reviewer since July 2015. Previously, he wrote for since terminated web sites Rover Arts and Charlebois Post, print weekly The Downtowner and print monthly The Senior Times. He also is an expert consultant on U.S. work permits for Canadians.


---
---