Eastern music and poetry
meet western technology
Traquen'Art and Théâtre Outremont present Niyaz – The Fourth Light Project
An evolutionary force in contemporary Middle Eastern music
– The Huffington Post
As part of the Music and Traditions of the World Series, Traquen'Art and Théâtre Outremont present The Fourth Light Project, a unique multimedia show from the electro-acoustic ensemble Niyaz and visual artist Jérôme Delapierre (Montreal), on March 18 at Théâtre Outremont.
The Fourth Light Project combines music inspired by traditional Middle Eastern songs with electro-acoustic elements, sacred dance performances with the participation of a dervish dancer, interactive technologies, and cutting-edge projection and body-mapping techniques.
The audience at the heart of the performance
An alliance between digital staging and live music, the resulting new genre experience creates a three-dimensional illusionist atmosphere that eliminates the distance between the performers and the audience, providing an unparalleled narrative and multisensory experience.
'The Fourth Light Project works. […] it's a standing ovation guaranteed.'
– Anisa Meddi, Filmmaker
The visual aspects of the show were brought into play by the renowned Montreal visual artist Jérôme Delapierre who collaborated with various artists, researchers and companies such as Cirque du Soleil, Cœur de pirate, DJ Champion, and Alex Nevsky.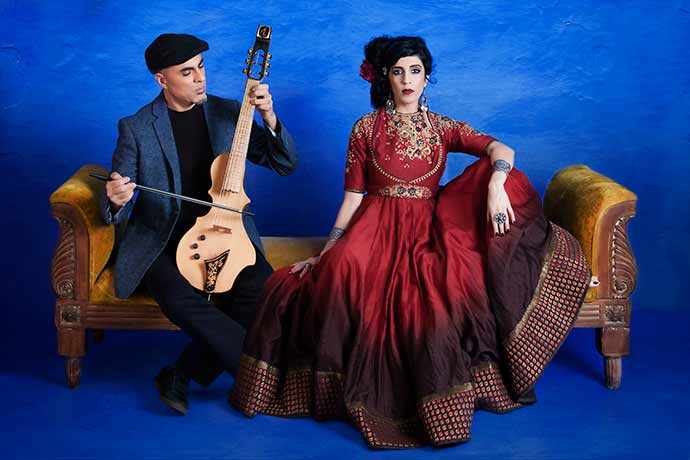 He has masterfully created a brand new program that projects images ranging from architectural landscapes to the most distant constellations on a giant screen and transparent panels positioned in front and behind the musicians. Thanks to a never-seen interactive mapping technique, images move across the stage to the rhythm of the steps of Tanya Evanson – one of the rare women dervish dancers – with vocal inflections through the sublime voice of Azam Ali inspired by the 8th-century writings of poet and first female Sufi ascetic saint Rabia Al Basri, and with the movements of the musicians on stage.
The performers
Azam Ali, vocals
Loga R. Torkian, electric kamaan and lafta
Sinan C, kaval, kopuz
Ravi Naimpally, tabla
Stéphane Gervais, keyboards and electronics
Tanya Evanson, Sufi whirling
Will Young, visual artist
About Niyaz
Niyaz was founded in 2004 by Azam Ali (voice, percussion and santoor) and Loga Ramin Torkian (multi-instrumentalist). The Iranian couple and their child lived in Montreal for about a decade, then moved to California to compose soundtracks for movies and television. Between solo projects, four albums have followed.
'The Fourth Light [album], they continue to mine medieval Sufi Muslim poetry as well as instruments and songs from across the Middle East. With electronic beats, they create a swirling, whirling palette of colours fronted by Ali's rich and precise voice.'
– NPR Music
Niyaz's music is focused on the enchanting voice of Iranian born, Indian raised Azam Ali. Twice nominated for prestigious JUNO awards, she worked on many Hollywood film and television soundtracks such as The Matrix – Revolutions, Prince of Persia, Thor – The Dark World, True Blood, Alias and Prison Break.
JUNO-nominated multi-instrumentalist and composer, Loga Ramin Torkian is internationally recognized as a visionary in his field for his mastery in fusing classical Persian repertoire with modern composition. He created the very first quarter-tone guitar with moving frets which allowed him to develop new techniques, melodies and traditional Iranian music using his own musical expression and unique compositions.
Highly sought after by many Hollywood filmmakers (Mychael Danna, Harry Gregson Williams, Hans Zimmer et Ramin Djawdi), Loga composed original soundtracks for the films Body of Lies, Iron Man and Prince of Persia, among others.
The Fourth Light
Recorded in Montreal and Istanbul, The Fourth Light (Six Degrees Records, 2015) features the duo's original songs, to which Turkish, Afghan and Iranian pieces are added, on an intriguing mix of exotic rhythms and exceptional acoustic performances, without forgetting the bewitching melancholy of Azam Ali's voice.
From many perspectives, The Fourth Light is a feminist album. The songs are inspired by poet and first female Sufi ascetic, Rabia Al Basri, born in the 8th century where Iraq is today.
Enslaved at a young age, Rabia was able to thwart destiny and find the inner strength and determination that led to her liberation as a woman and then as a spiritual symbol.
Niyaz – The Fourth Light Project
Wednesday, March 18, 2020, at 8 pm
Théâtre Outremont
1248 Bernard W, Montreal
Tickets
On sale at the Théâtre Outremont box office:
1248 Bernard W, Montreal
514 495-9944 ext. 1
theatreoutremont.ca
Price: $45 – $39 – $30 (including service charges and taxes)
---
---
---