A dark descent into
inspiration's meanders
Nocturnal Animals: an under the radar gem in this season of blockbusters
By Luc Archambault
This motion picture will have passed under the radar in this season of blockbusters. Adapted from the novel Tony and Susan by Austin Wright, this film, altogether fairly darksome, was directed and written by Tom Ford. It stars Amy Adams, Jake Gyllenhaal, and Michael Shannon. The story? Susan Morrow (played by Amy Adams), the rich owner of a Los Angeles art gallery, is contacted by her first husband, whom she divorced years ago because of his lack of ambition. He sends her the manuscript of his novel entitled Nocturnal Animals. This work relates the story of Tony Hastings and his family, during and after a fateful trip through Texas.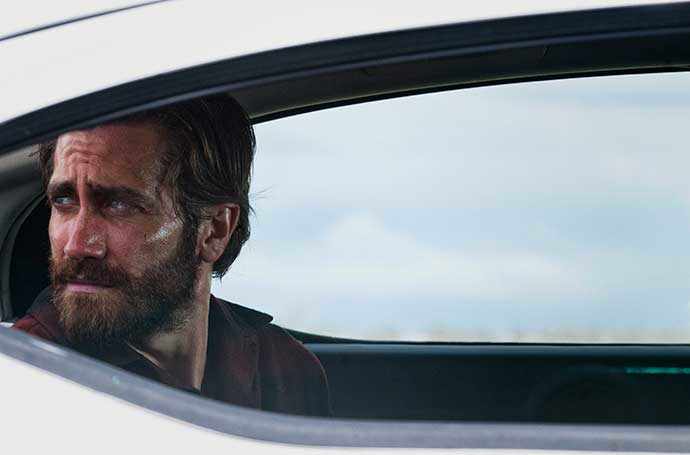 First confusing fact: the role of Tony Hastings and that of Edward Sheffield (Susan's ex) are both played by Jake Gyllenhaal. But since this viewing of the novel is based on Susan's perceptions of the story, this double role permits an intertwining of the two narrative weaves.
Of course, the differences between novel and film are enormous. How can one best transpose to the screen a novel based on the narrator's train of thoughts (or at least when it concerns the 'real' storyline, and not the novel-within-the-novel), how to bring to life the mental ruminations of characters, when cinema is a visual art, built on concrete deeds and actions? Without revealing the end of the film, let's just state that Edward's act of vengeance seems rather weak, considering Susan's reaction. But even in the original Tony and Susan novel, the ending is even more convoluted, reduced to a brief exchange of notes, without lasting consequence.
So why should you pay attention to this movie? Certainly not for Amy Adams' somewhat flat acting (especially when compared to the character she plays in Arrival, a role that should at least bring her an Oscar nomination), nor for Jake Gyllenhaal's, even if in double mode, is way too similar in both characters. No. This film rests mostly on the shoulders of Michael Shannon, in the role of the old cop leading the investigation in the novel-within-the-novel. Best known for his role as General Zod in Man of Steel (2013), he brings here the complete range of his immense talent to a role in which darkness and death are given free reign (his character, detective Bobby Andes, is consumed by an incurable lung cancer, and has not long to live). He plays with the determination of a condemned man without anything to loose, and gives an outstanding performance with his emaciated features. A number of well-chosen secondary characters support significantly the main trio. Especially Aaron Taylor-Johnson, in the role of Ray Marcus.
…he (Michael Shannon) brings here the complete range of his immense talent to a role in which darkness and death are given free reign…
Being only Tom Ford's second feature, Nocturnal Animals is the exploration of phantasms and broken dreams. The novel-within-the-novel (or, to be more precise, the movie within-the-movie) comes as a concrete manifestation of Susan's own dark and superficial life. After having abandoned Edward early in their lives, she seems to perceive an immanent justice, hovering menacingly above her life-choices. At least, that's how she describes her reactions as she receives the novel penned by her ex and starts to devour it, as her own husband is on a business-trip with his new mistress.
The novel behind this movie was written by Austin Wright and was published in 1993. The importance placed on both the rape and murder of Tony's wife and daughter bothered and put off many women readers. When he died in 2003, the movie adaptation rights had given him a somewhat comfortable monetary margin. But, even so, there was a profound chasm separating him from commercial success, even less from a venue at the movie theatres. Now again, one cannot think of a major profitable run at the Cineplexes. The darkness of the movie and Amy Adams' highly detached if frozen-cold acting transform this film into a small gem that will have come out unnoticed on our screens but which should at least have a strong staying power on streaming channels and DVD sales.
Images: Merrick Morton – Universal Pictures

---
Luc Archambault
Writer and journalist, globe-trotter at heart, passionate about movies, music, literature and contemporary dance, came back to Montreal to pursue his unrelenting quest for artistic meaning.
---
---