Noises Off is High Octane Show
A Tony Award winner produced all over the world as well as having been made into a film
By Byron Toben
Noises Off written by prolific British author Michael Frayn, has been a Tony winner and produced all over the world as well as having been made into a film. It is the epitome of a show containing a play within a play.
This device has been used by many famous playwrights, from Shakespeare (Hamlet) through Chekov (The Seagull) and Pirandello (Six Characters in Search of an Author) and Molnar (The Play's The Thing) down to Wertenbaker (Our Country's Good) and Brooks (The Producers) as well as Montreal's own Ackerman (L'affaire Tartuffe).
In Noises Off, a local company is rehearsing a play called Nothing On with all kinds of personal animosities, forgotten lines and stage movements, omitted cues and the like. Its fast paced door slamming (eight doors!) and back stage costume changes demand a real workout by the often forgotten stage managers, here exceedingly well done by Samira Rose and assistant Birdie Gregor.
Somehow, plates of sardines are essential to the props. You'll have to go see it – which I highly urge – to figure that out.
Young Jacob Tierney is emerging as a sort of wunderkind director to add to his acting and writing creds since age six, having successfully also directed Stoppard's Travesties at the Segal last year.
Assistant director Caitlin Murphy and fight director Jean-Francois Gagnon made Mr Tierney's task slightly easier in this athletic, Hell's a popping presentation.
Doesn't hurt to have a top notch cast to deliver the goods. And that is here in spades.
Great to see Stratford alum Andrew Shaver back in town after transferring his innovative SideMart Theatrical Grocery to Toronto a few years ago. Here he plays Garry, bringing his potential bedmate, Brooke (Amanda Lisman, last seen at Segal as Desdemona in Othello) to an empty home – so he thought – maintained only by Dotty (Stratford and Shaw alumna Martha Burns), a concierge.
However, the owner Freddy (Stratford and NAC alum Marcel Jeannin) unexpectedly returns from Switzerland, where he had taken residence to avoid high British income taxes. Prone to nosebleeds, he is accompanied by Belinda (NTS alumna Chala Hunter).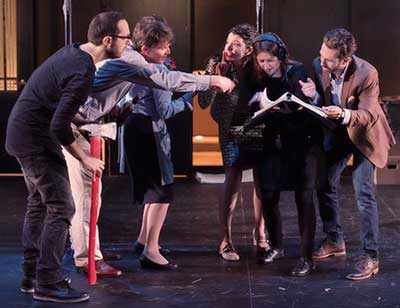 The Noises/ Nothing ensemble is led by exasperated Lloyd (David Julian Hirsh) who hopes to whip the group into shape in time enough to ship out to his next directing gig at Stratford.
Frequent Segal player Daniel Lillford appears as forgetful senior actor Selsdon, while Dawson grad Kaitlyn Riordan (as stagemanger/prompter Poppy) and John Abbott grad Michael Musi (as techie and swing extra Timothy) round out the cast.
I became a fan of Mr Frayne back in 2000, when I saw his other top rated play, Copenhagen, which dealt with the attempt by Nazi scientist Heidegger to wrest some nuclear secrets from Danish physicist Bohr in a cat and mouse series of conversations. I was amazed at how it generated full houses dealing with mathematical formulas and great applause, even without the benefit of pratfalls.
The wonderment of great theatre is that it can encompass so many different styles and subjects, so long as they coalesce in something that "works" or, as Duke Ellington quipped, "If it don't swing, it don't mean a thing."
Noises Off continues at the Segal Centre until February 19.
More information and tickets at 514 739-7944 or segalcenter.org
Images: Andree Lanthier
---
Byron Toben is the immediate past-president of the Montreal Press Club
---
---