Oedipus Part One:
assembly revives Sophocles
Scapegoat Carnivale Theatre presents a modern adaptation of the classic myth
By Byron Toben
Sophocles was one of the "Fab Four" of the ancient Greek dramatists who incubated Western theatre. They wrote in an all-encompassing polytheistic world (save only tiny monotheistic Judea) roughly 450 years before Jesus sparked today's monotheism worldwide. Thus they naturally attributed cause and effect to an array of meddling Gods, often at odds with one another.
This quartet consisted, by age, of Aeschylus, Sophocles, Euripides and Aristophanes. The first three were tragedians and each had a go at the ancient myth of Oedipus. (Little did they dream that millennia later, in 1899, one Dr. Freud in his classic Interpretation of Dreams would rely on that story to suggest his controversial Oedipus complex theory.)
McGill professor Lynn Kozak made a literal translation of Sophocles version as a basis for local playwright Joseph Shragge to create a modern adaptation. Organized by his and Alison Darcy's Scapegoat Carnivale Theatre, the script was presented recently at the Centaur in an impressive staged reading for only three performances. Hopefully, funding will be found for a full-scale show in the future, not to mention the creation of a still unannounced Part Two.
… an impressive staged reading for only three performances. Hopefully, funding will be found for a full-scale show in the future…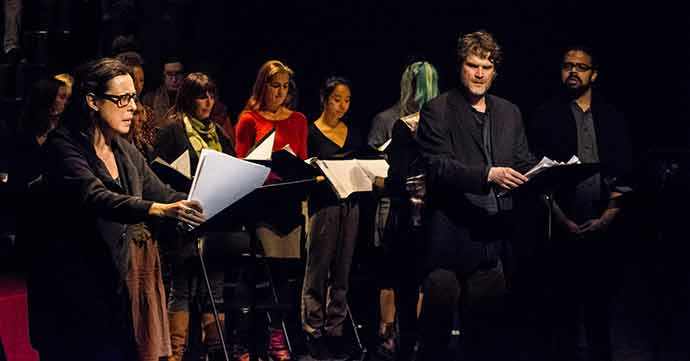 Despite the fact that Montreal has an amazing selection of technical guys and gals – lighting, sound, costumes, design, etc. – I have always believed that the best backgrounds are in the imagination of the human mind. Thus, with only a good script and fine actors, a dramatic reading can be fully satisfying. As Matthew of gospel fame proclaimed, "In the beginning was the Word". Right on!
Director Andreas Apergis had at his disposal for the eight speaking roles eight of our top actors.
Marcel Jeanin held all together as Oedipus, ruler of Thebes, doomed despite human intervention, to accidentally kill his father and unknowingly wed and bed his mother, not recognizing the pieces of the puzzle as witnesses gradually reveal the clues.
The witnesses were Leni Parker as soothsayer Tiresias, Harry Standjofsky as a shepherd and Chip Chiupka as a visitor from Corinth, all imploring Oedipus not to keep asking questions to his regret. Brett Watson handled Creon, Oedipus's brother in law (and real uncle) suspected of fomenting a revolution. France Rolland became Jocasta, Oedipus's wife (and real mother) before hanging herself off stage, as related by messenger Alison Darcy. Throughout all this, a Priest (Mike Payette), gave other worldly counsel to little avail.
David Oppenheim strummed his guitar to music provided the huge chorus singing/chanting compositions by Brian Lipson.
Said Chorus was a wonderful innovation in this show. But first a shout out to Aeschylus, who invented the practice of having several characters interacting with each other on stage instead of the pre existing practice of only one actor pleading to the chorus.
The chorus here was actually three local choruses massed together, supplemented by three "talking head" choristers in centre stage – Gitanjab Jain, Mellissa Trottier and Janet Warrington.
The groups were the 18 member women's Choir Maha (est. 1991), the 13 member Greek Association Zakynthines Phones and the 19-strong mixed voice Montreal Artists Choir created especially for this production. Glad to see publicist Janis Kirshner amongst them, as well as singer Rosie Callaghan and actor Alex Petrachuk.
A total of about 65 people were on stage. When this one is remounted, I hope but doubt that it can re-assemble such a talented cast. Grateful to have caught it while I could.
Going back to polytheism, here the workings of a mischievous Apollo, Shakespeare summed it up in King Lear, where Gloucester, himself blinded as was Oedipus, uttered "As flies are to wanton boys, so are we to the Gods. They kill us for their sport."
Oedipus Part One: Assembly played at the Centaur October 20 to 22.
Images: Emilio Espinosa
Read also: The Mountaintop
---
Byron Toben is the immediate past-president of the Montreal Press Club.
---
---