Ol' Man River
Homage to Paul Robeson at the Théâtre Outremont a moving event
By Byron Toben
Tuesday's one night homage to the incredible Paul Robeson at the Theatre Outremount on May 17 was a moving event in more ways than one.
In addition to the musical talents of accompanist Andrew Cowan (piano and guitar) and the powerful singing of Robeson expert Thomas Fox, the event was a benefit for Parkinson en mouvement, a group which uses song and dance to aid persons living with Parkinson's to articulate.
Accordingly, the performers were supplemented in a few selections by a 12-person chorus of such persons, particularly with Didn't My Lord Deliver Daniel and Go Down Moses. The largely French audience particularly enjoyed there being featured the Quebec song Un Canadien errant.
Fox and Cowan have performed Robeson shows before from Fox's vast repertoire. This one featured songs known to have been performed by Robeson in Montreal. Earlier versions included appearances at La Sala Rosa and the Unitarian church (twice) as well as my own sponsorship of them at the Atwater Library (twice).
For the 300 attendees at the Theatre Outremount, famous actor (and artistic director of the theatre) Raymond Cloutier provided a description of Robeson's amazing life and works en francais.
Ol' Man River, the title song of the event, from Jerome Kern's musical Showboat, was particularly well received. Tom Fox's bass-baritone voice did it great justice. Click to hear Robeson himself singing it in the 1936 film.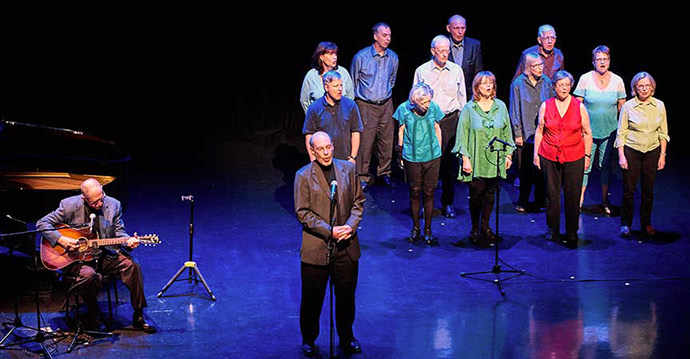 Robeson sang in about 14 languages. Fox added some verses in Spanish, Italian, German and Yiddish.
For one of the three encores, Fox included labour organizer Joe Hill who "never died". Perhaps the same can be said for Robeson who was granted a US postage stamp in 2004 after years of being harassed by the US government for his civil rights activities.
In my opinion this show is a natural special event for the Segal Centre or perhaps the Centaur.
Ol' Man River: Homage à Paul Robeson was a one night special benefit at the Théâtre Outremont.
Feature image: Library of Congress Prints and Photographs.
Other images: courtesy of Thomas Fox

---
Byron Toben is the immediate past-president of the Montreal Press Club
---
---