Parasite, a compelling
parable of class struggle
Mixing horror, farce and libertarian manifesto, director Bong Joon-Ho has a big surprise in store for us
Author-director Bong Joon Ho (Okja, Snowpiercer), who has almost complete mastery of his profession, takes an urgent and brilliantly stratified look at current social themes with Parasite, winner of the Palme d'Or at the Cannes Film Festival in 2019.
A powerful social satire at the crossroads of genres, Parasite had won dazzling success in Korea and France last spring, where it positioned itself as the international movie that has won the most admissions since Fahrenheit 9/11 in 2004. The film is a real social phenomenon, speaking to all audiences and dealing with universal themes. Back in brilliant form, the filmmaker retains his favourite themes, family and class inequalities with this powerful social satire, at the crossroads of satiric and horrific genres.
Parasite is actually a big tick full of bitter blood. "It's about poverty, and the raw side of the film can be a little embarrassing for some viewers," says Bong Joon-ho. Bong Joon Ho actually speaks about real social issues, mixing genres and remaining large enough to keep his audience together. The director moves from one genre to another with disconcerting ease while never betraying his personal themes.
Even if the film is titled Parasite, the director points out that this is a bit of a lie since the story does not contain any parasites or even any creatures. It would be more like following a family of four, each of whom would be endowed with a particular talent.
Parasite takes an urgent and brilliantly stratified look at current social themes.
In the New York Times, A.O. Scott described Parasite as "an extremely entertaining film, the kind of intelligent, generous and aesthetic cinema that abolishes the worn distinctions between art films and popcorn films". Parasite is a work in a state of constant and agitated transformation. In his review, in which he gives the film five stars, Dave Calhoun of Time Out praises the social commentary and states: "It is a stunning, surprising and striking work from beginning to end, full of surprises and reversals".
By casting roles, Bong Joon-ho retained his favorite actor, Song Kang-ho, as well as Lee Sun-kyun, Cho Yeo-Jeong and Park So-dam. The director also enlisted the young actor Choi Wooshik who previously played in Okja.
Synopsis: The Kim family lives in an unhealthy basement, in an extremely precarious state, which does not prevent its four members from being united and sharing the same "work": folding pizza boxes for a large local delivery chain. After the eldest son, Ki-Woo (Woo-sik Choi) found himself teaching English to the daughter of the Park, a neighbouring wealthy middle-class family living in an incredible architect's residence, he encouraged his sister to try her luck as a fake art teacher for the Park.
The machine is thus set in motion, and it is finally by fraud and with falsified diplomas that the four Kims succeed in getting hired by their wealthy neighbours, without the latter noticing that their employees all belong to the same family.
Parasite has been a resounding success in Korea and France, where it is positioned as the foreign film that has had the most admissions since Fahrenheit 9/11 in 2004. Presented to sold-out audiences at many international festivals, the film is a true social phenomenon, speaking to all audiences and dealing with universal themes. Winner of the Palme d'Or at the Cannes Film Festival, and audience favourite at the TIFF, the film will represent South Korea at the Oscar Ceremony for Best International Film.
The most anticipated film of the fall, Parasite is beating records at the American box office, where it has been showing since October 11, as well as in Toronto, where it is the foreign-language film with the best box office results in 20 years. In Montreal, the film is shown on no less than five screens since Friday, October 25.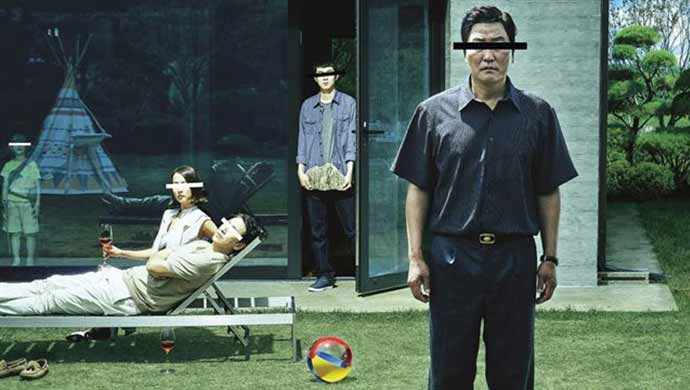 A lot of praise for Parasite
"With something between a horror film, a terrifying popular farce and a libertarian manifesto, the Korean filmmaker returns to Cannes as a serious contender for the Palme d'Or" Jacques Morice – Télérama
"A masterpiece that moves from social comedy to black comedy, from black comedy to horror film, from horror film to disaster film, with incredible control and fluidity and scenes destined to become cult." Yannick Vely – Télérama
"The director returns to a much more intimate vein, with a strong dose of suspense. – L'Express
"The director has never been more biting, explosive, incisive than at home in Korea… This is precisely what Parasite is talking about, leaving no doubt that Bong Joon-ho is not only a virtuoso stylist but a true political filmmaker." Mathieu Macheret – Le Monde
"The director once again shows a mastery of humour in this family drama about class struggle. – CinéSéries
Parasite
South Korea, 2019
Genres: black comedy, drama, thriller
Duration: 131 minutes
Classification: all audiences
Directed by: Bong Joon-Ho
Script: Bong Joon-ho and Han Jin-won
Editing: Yang Jin-mo
Music: Jeong Jae-il
Distribution: MK2 | MILE END
With Song Kang-ho, Cho Yeo-Jeong, Park So-dam, Hyae Jin Chang, Jung Hyeon-jun, Lee Sun-kyun, Woo-sik Choi, Jeong-eun Lee.
About MK2 | MILE END
MK2 | MILE END is a Canadian distribution company co-founded and managed by Charles Tremblay. Since the launch of its activities in January 2017, it has aimed to promote the cinematographic works of the greatest national and international authors as well as quality cinema for the general public.
Images courtesy of MK2| MILE END
Read also: other articles on movies
---
---
---