The multiple facets of
the Quartier des spectacles
A selection of activities of all kinds that drive the city's most exciting square kilometre
Quality shows, amazing exhibitions and unifying events: from festivals to venues, from avant-garde creations to restaurants, discover the many facets of the Quartier des spectacles.
Cinema
From February 21 to March 3, this celebration of Quebec's movies is a perennial favourite for professionals, serious film aficionados and the general public. Over the festival's 11 days, some 300 films, including a hundred premieres, will be shown on screens around the Quartier. There are also more than thirty free activities to accompany the screenings.
Pour vivre ici, written and directed by Bernard Émond, kicks off the 36th annual Rendez-vous and to close the festival, Sophie Dupuis will present her first film Chien de garde during the TAPIS BLEU evening. The full program will be unveiled in early February.
Music
Machine Head
Club Soda
February 11
Machine Head started off 2018 with an explosive ninth studio album, Catharsis. The heavy metal group is now kicking of a multi-city tour, stopping in Montreal before heading to Europe. Vocalist and guitarist (and sole original band mate) Robb Flynn has promised fans an epic set of classic Machine Head, with no opening act and 2.5-3 hours of music. The members of Machine Head recorded this album in their hometown of Oakland, California.
Event
Montréal en Lumière
Quartier des Spectacles
February 22 to March 4
Always one of the city's top winter events, this festival's tried and true formula combines fine food and music to warm the frozen city and delight festivalgoers. For ten days, Montrealers will sample delicacies from around the world and attend shows featuring excellent artists like Gregory Porter, The Franklin Electric, David Myles and La Bronze. The public will also be enjoying the Illuminart circuit, fusing art, lighting and technology, presenting various projects.
Dance
Technologies contemplatives / Tangente
Wilder Building
February 8 to 11
This daring program features a pair of avant-garde works. In Èbe, Sarah Bronsard and Patrick Saint-Denis explore how tides affect human beings. The piece features a chorus of automatic accordions whose movements and sounds influence the dancer's movements. Next, choreographer Kim-Sanh Châu presents Kaléidoscope, a colourful organic creation mid-way between dance piece and art installation. The work takes the audience to a synesthetic dream-world in which the dancers' bodies seem to multiply infinitely.
FREE EVENTS
Exhibition
Solastalgia
Centre for Sustainable Development
Until February 17
This exhibition takes its name from a neologism coined by philosopher Glenn Albrecht to describe the psychological distress triggered by changes in our immediate surroundings. The paintings by artist Ge L'Heureux draw our attention to the waterways surrounding us and their movements both on and below the surface. They express our powerlessness in the face of nature's degradation, as well as nature's hardiness against the stresses of our time.
All Hat No Cattle
Projet Pangée
Until February 17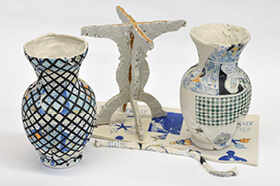 The works in this show invite you to think about repetition and artistic production, and the process of creating beauty. Artist Trevor Baird, with influences from drawing and photography, creates ceramics that combine elegance and functionality in ambiguous shapes. For her part, painter Simone Blain presents minimalist pieces with a certain wry humour, evoking everyday life, with a palpable sense of its rhythms.
Music
Philip McLaughlin
L'Escalier
February 5, 12, 19, 26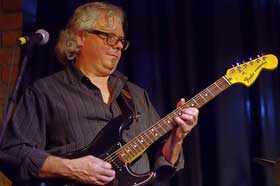 Folk singer-guitarist Philip McLaughlin warms up your cold Sunday evenings in February at L'Escalier. Join the Montreal performer at 4 pm, and stay for an eclectic mix of jazz, folk and klezmer music at the cozy, alternative venue.
Colloquium
I.A.RT Colloquium
UQAM
February 22
Artificial intelligence isn't just sci-fi anymore: it's a topic of serious study and an influential force extending into the arts and public space. The public is invited to a full day of presentations and talks by experts in the field, with moderator Matthieu Dugal. Sessions will explore the possibilities opened up by emerging technologies. There will also be interactive experiences based on big data and AI.
To see the complete programming of cultural venues in the Quartier, visit quartierdesspectacles.com

Images: courtesy of Quartier des spectacles
Read also: Ten original outings for Valentine's Day
---

Located in downtown Montreal, the Quartier des spectacles is the city's cultural heart. Within its boundaries, you will find the highest concentration and the greatest diversity of cultural venues in North America.
---
---