Rogue One: big, splashy sidekick
Star Wars spin-off transports you to a well-known universe
By Luc Archambault
When one deals with the Star Wars universe, one has to deal with years of fandom, with years of accumulating expectives, with years of speculations and dreams. I remember seeing the first Star Wars (Star Wars IV: A New Hope) at the pristine age of 17, at the end of my high-school years and awaiting ever since the next instalment in the franchise.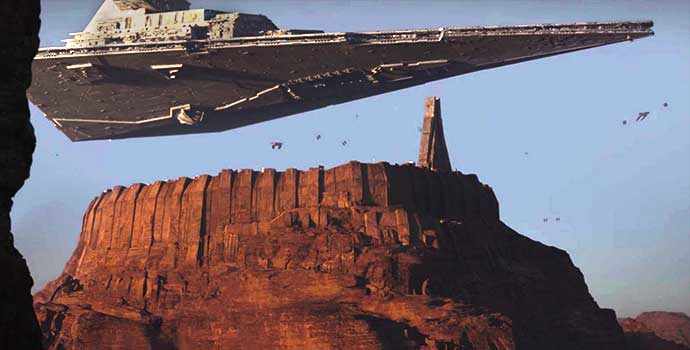 Visually, this film is breathtaking. Now this franchise has reached new heights with this instalment.
So, now that Disney has taken over and expurgated the Extended Universe (you know, that immense number of novels previously published about the pre- and post-era developed in the films), to replace all this with a new canon, it goes to figure that this Earthly Empire would feel the need to squeeze some more blood from movie goers than just the main franchise. So someone came up with these spin-off concepts, Rogue One being the first in line, to be released between the films from that main stem (which implies that the saga won't end with Star Wars IX?). But, monetary issue aside, is this new instalment worth it from a fan's perspective?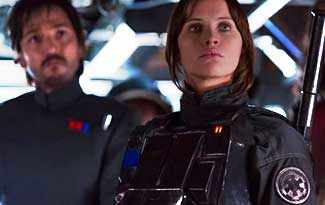 Well, yes. It is a gritty war movie, in the true sense of the word. Character development is down right great, with Jyn Erso (Felicity Jones), Cassian Andor (Diego Luna), and the rest of a stellar cast, including secondary roles given to the great Mads Mikkelsen (who plays Jyn's father, Galen Erso, the designer of the Death Star plans), Forest Whitaker as Saw Gerrera, Ben Mendelsohn as Orson Krennic, and the rest. Noteworthy: James Earl Jones gives Darth Vader his sinister voice, as in the other franchise films.
Now, for those who didn't have the pleasure of seeing this film already, the rest of the text will contain major spoilers.
Visually, this film is breathtaking. The view of a star destroyer hovering over Jedha is just amazing. The space and land battles give out a feeling of total visual mastery. Now this franchise has reached new heights with this instalment. The only sour note: the music. The score had been first assigned to Alexandre Desplat, who was replaced with about five weeks to go with Michael Giacchino. Now, he did an interesting work, but not on the scale of a John Williams score. There isn't the normal operatic feel to this one. Even though this film is a stand-alone plot with extinguishable characters, and there is a lot of cannibalising of the franchise music, there just isn't a deeper layer to the musical environment. Perhaps the little time to compose this score is behind the lack of depth. Hopefully, this won't be the case with the upcoming films.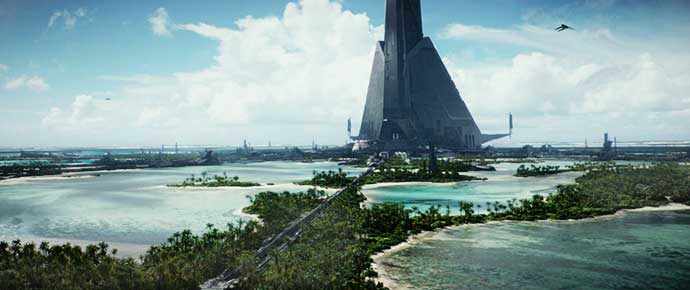 Another major deception is the absence of an opening scroll. In many interviews, both the producer (Kathleen Kennedy) and the director (Gareth Edwards) relate the discussions behind this decision. Now, I don't subscribe to their arguments: this is a stand-alone movie, beside the main franchise, so it can be different from the 'normal' format. I feel that the opening scroll would have given Rogue One a more Star Wars touch, an inclusive overture to the canon.
In choosing to explore side-stories, the Star Wars HQ is giving viewers and fans an unreached depth…
The ending. I know there were some last minute reshoots, involving the end of the movie. What I didn't know was that the original script ended with Jyn and Cassian on another planet, living out their lives happily in love… not dead on a Scarif beach. I, for one, would have preferred the rebels killed by Darth Vader while giving away the Death Star plans to Princess Leia's troops, through the doorway. I was a bit disappointed with the anonymity of these sacrified minions. An ending with the massacre of the principal characters would have been truly memorable!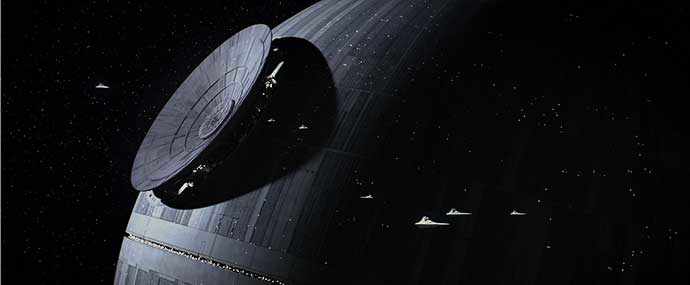 So, in spite of these minor irritants, should you go and dish out your hard-earned cash for this movie? In my view, you should. This story is worth spending both close to twenty bucks and two-and-a-half hour of your life. It will transport you into another universe, one that you know already. In choosing to explore side-stories, the Star Wars HQ is giving viewers and fans an unreached depth (well, for those who don't read the novels from this particular universe). And, in spite of the dubious choice of using computer versions of Peter Cushing and a young Carrie Fisher (one has to shudder at the prospect of Star Wars IX's virtual Princess Leia), this film holds enough firepower, both visually and laser-gun-wise, to force the surrendering of our critically-charged viewing. Just enjoy the movie, return to your younger self, and see this film as it intends to be: a rich sidekick to a galaxy far, far away.
Images: Walt Disney Studios Motion Pictures
---
Luc Archambault
Writer and journalist, globe-trotter at heart, passionate about movies, music, literature and contemporary dance, came back to Montreal to pursue his unrelenting quest for artistic meaning.
---
---