Dialogue with nature
at lac Archambault
A residence in perfect harmony with its history and the nature that surrounds it
Via v2com
This country home is located in Saint-Donat in the Laurentians. It was built on steep, wooded terrain bordering Lake Archambault. The land, measuring over 1,600 m², features dense vegetation that provides shade and cooling during the summertime.
Built over 40 years ago by the current contractor's father, this family chalet required significant renovations to meet the present owners' needs, including making it more comfortable for the summer and winter seasons. The clients wanted to preserve its existing charm while creating a modern, up-to-date environment. The addition of outdoor areas for enjoying nature and the creation of spaces to facilitate year-round sporting activities was a top priority.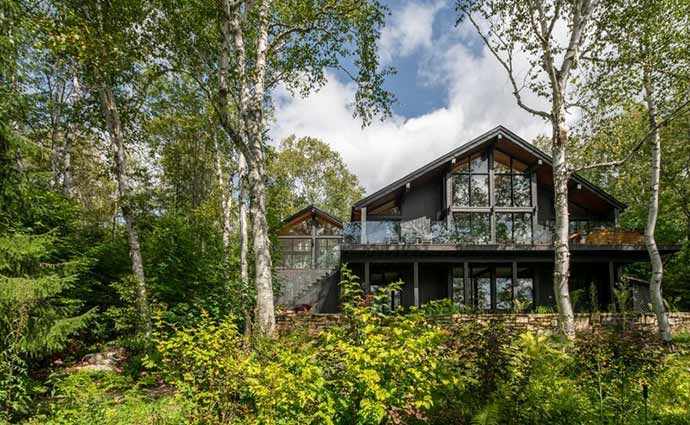 The chalet was expanded northward and westward. To the north, the extension includes a garage, storage spaces for sporting equipment, and a mudroom. To the west, a new three-season space prolongs the amount of time the owners can spend outdoors and offers an incredible panorama of the surrounding forest. The two new extensions, which are outfitted with dark wood, mirror and enrich the existing structure.
The existing patio, which faces the lake, was extended to connect with the new three-season space, creating an essential outdoor surface for enjoying some sunshine. The solid wood railing was replaced by a glass wall, giving way to an unobstructed view of the lake and lush vegetation.
The materials used in the renovated areas complement the existing design, while still giving off a modern vibe.
The western facade was opened up and both the width and height of the kitchen windows were expanded. The main living area is now brighter from sun-up to sundown. The original kitchen was reorganized and made to be open-concept. These changes made the space more functional, lending to gathering around a large island that has become a beacon of family time.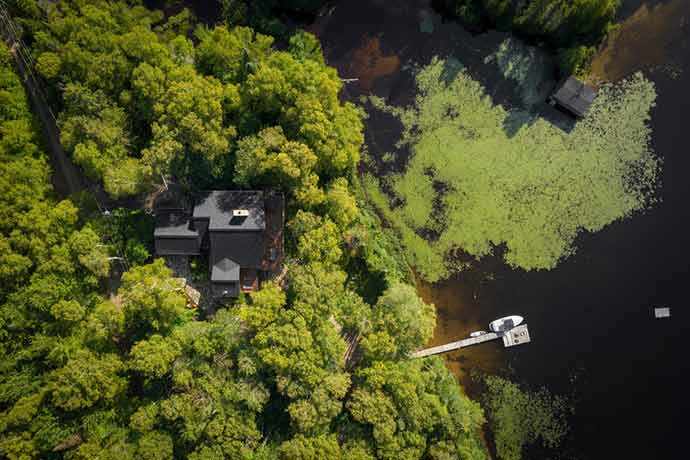 The materials used in the renovated areas complement the existing design, while still giving off a modern vibe. The original stone fireplace and the wooden beams, ceiling, and walls complement the modern, sleek design of the kitchen, veranda, and entranceway. Only a few decorative elements, such as the stools made with tractor seats, the light fixture designed with a wooden wheel, and some industrial elements were integrated into the decor as a nod to the home's history.
Following its transformation, the chalet now meets the whole family's needs, no matter the season. This Saint-Donat residence is now in perfect harmony with its history and the nature that surrounds it, becoming a true haven of comfort and warmth.
Technical sheet
Location: Lac Archambault in St-Donat, QC, Canada
Area: 3,030 s.f.
Architect/designer: Cardin Julien
Design team: Jean-François Julien, Gabrielle Roberge et Lakmé Gremillet
General contractor: Construction David Simard
Images: Olivier Blouin
Read also: other articles on architecture/design
---
---
---