Sea Scallop and
Coconut Dreams
Pan seared scallops with perfumed coconut milk reduction, cilantro oil and passion fruit juice
Recipe and photos by Josee Brisson
This recipe is significantly different from previous ones in a number of ways. Firstly, it does not contain cheese. Secondly, it is very versatile and can be served as an appetizer, or with rice as a main dish. Thirdly, you can altogether omit the scallops and use large, pan seared shrimp instead. And fourthly, it is slightly more complicated to make.
You should choose scallops, and all seafood, based on their provenance. Look for the easily discernible blue label from the Marine Stewardship Council (MSC). MSC ensures that the seafood comes from independently certified sustainable fisheries that use good management practices to help ensure healthy fish stocks, protect marine environment and secure the livelihoods of fishing communities.
In Quebec, we are fortunate to have access to sublime, fresh or flash-frozen on the boat, wild Atlantic sea scallops from Nova-Scotia. These meaty, sweet and delicately flavoured bivalve molluscs will literally melt in your mouth.
In Quebec, we are fortunate to have access to sublime, fresh or flash-frozen on the boat, wild Atlantic sea scallops from Nova-Scotia.
Purchase a brand of coconut milk with the least amount of additives, and if you can, get organic.
I served this dish with the white wine Torres Viña Esmeralda produced by Miguel Torres in Catalunya, Spain. This delightfully fruity and floral wine has clean and fresh mouthfeel that pairs quite well with the creamy coconut milk reduction.
Pan seared scallops with perfumed coconut milk reduction, cilantro oil and passion fruit juice
Serves two
14 scallops (I used size 20/40)
1/3 cup of grapeseed oil + 1 tablespoon
1 can (400 ml) of coconut milk (shaken)
1 small garlic clove, smashed
12 branches of cilantro, leaves and stems separated
1-inch piece of fresh ginger, cut in slivers
1-inch piece of fresh chili pepper (I used red finger chili)
1 small lime, 1-inch piece of peel removed with a vegetable peeler
2 passion fruits
Grey French sea salt
Freshly ground pepper
Perfumed Coconut Milk Reduction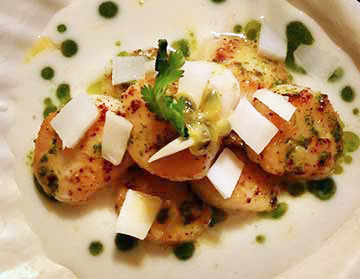 In a non-stick pan, pour the coconut milk and bring to a boil. Reduce the heat and season with salt and pepper, add the garlic, cilantro stems, ginger, chili and lime peel. Simmer on low heat while stirring frequently, until the milk thickens and is reduced by half (approx.1/2 hour). Make sure not to overcook as the milk will separate from the fat. Remove the aromatics and squeeze the juice of half the lime. Reserve. Mix well before using.
Cilantro Oil
Meanwhile, pour 1/3 cup of grapeseed oil into a blender, add cilantro leaves and a good pinch of salt and blend until amalgamated. Pour into a fine mesh sieve set over a small bowl, and press through with a spoon. Reserve. Mix well before using.
Passion Fruit Juice
Cut both passion fruits in half. With a spoon, scoop out the inside of the fruits into a fine mesh sieve set over a small bowl. Mash with the spoon until nothing but the seeds remain. Reserve. Mix well before using.
Scallops
Remove and discard the side-muscle (small protuberance) from the scallops. Place them on a plate and pat dry with a paper towel. In a skillet, heat 1 tablespoon of grapeseed oil on medium-high heat. Season the top side of each scallop with salt and pepper and carefully place, seasoned sides down, into the hot skillet. Season the other top sides with salt and pepper. When the scallops become slightly opaque, carefully turn them onto the raw side, turn the heat off and cook for an additional 2 minutes or so, depending on the size of the scallops. The residual heat from the hot pan will continue to cook the scallops. Be careful not to overcook them as they will lose their buttery and silky texture. Since the aim is to create a thin golden crust on the tops and bottoms of the scallops, I don't recommend using a non-stick pan.
To serve, spoon some of the coconut milk reduction in the bottom of two plates. Divide the scallops and arrange them onto the plates. Spoon droplets of cilantro oil over the scallops and finish by spooning droplets of passion fruit juice. If you happen to have fresh coconut flesh on hand, finely slice some to garnish the plates.
My previous recipes in WestmountMag.ca:
Roasted Tomatoes and Herbed Feta Crostini
Grilled Halloumi Cheese with Pomegranate Arils and Syrup
Roasted Fresh Figs with Goat Cheese and Rose-scented Honey
Oven-roasted Almonds with Garlic, Rosemary and Thyme
Melted Fontina Cheese with Sundried Tomatoes
---

Josee Brisson is a culinary creator passionate about archaeology, mythology, history, literature, and the arts. She trained as a professional cook at École Hôtelière des Laurentides, in Sainte-Adèle, Québec. Among other food projects, she collaborated on two cookbooks with world-renowned food and wine expert François Chartier, and offered a Chef at Home service. Josee is also a translator, researcher and social media community manager. Her cookbook, L'Apéro: Appetizers & Cocktails, was #1 Best Seller in Appetizer Cooking at Amazon. Here's the link to Josee's book.
---
---