Two jewelry artists at the
Galerie Noel Guyomarc'h
Silvie Altschuler and Coco Sung tell stories through their work
August 30, 2023
This new exhibition brings together two jewellery artists, Montreal-born Silvie Altschuler, now based in Philadelphia, and Korean artist Coco Sung, who is now based in Berlin. Driven by the desire to tell stories through their work, both artists have distinctive approaches. Altschuler proposes unusual compositions filled with humour, where gold meets silicone while Sung creates intentional accumulations of different materials which she imbues with surprising power.
Silvie Altschuler
Silvie Altschuler's jewellery gracefully defies predictability. It embodies the unstructured allure of existence itself, basking in the mystique of ambiguity. Much like the prose of a James Joyce novel, her pieces break free from conventional moulds, beckoning us into a realm of limitless creativity. In her exploration, Altschuler reshapes the value of gold and precious stones, daringly challenging established norms. Just as life follows its intricate path, her art escapes predictable boundaries.
Through materials like silicone and felt, she shapes characters that dance between whimsy and the mysteriously unfamiliar. The interplay of humour and irony seamlessly woven into her pieces disrupts the mundane, transcending expectations. Much like life's enigmatic journey, her art invites us to embrace the unexpected and find grace in the unconventional. Silvie Altschuler's jewellery captures life's complexity, inviting us to discover solace in the uncharted territory of the undefined.
After graduating with a Bachelor of Arts degree in literature, Silvie left everything behind to study jewellery-making at the Alchimia School in Florence, under the tutelage of Manfred Bischoff. Graduating in 2006, she was selected for the prestigious Schmuck exhibition in Munich, and presented her first solo show at the gallery. Her creations have been seen at various international exhibitions, most recently in Thailand.
'Everything you touch changes you'
'The only lasting truth is change'
Octavia Butler quotes, artist's maxim
Coco Sung
A painter for several years, Berlin-based Korean artist Coco Sung has turned her attention to the creation of contemporary jewellery, a wearable, tactile and intimate work of art. The dialogue between the object – the artist – the wearer and the viewer, the establishing communication, motivates and stimulates Sung's practice.
Through the process of assemblage and collage, she imbues her creations with magical qualities and power. After sketching, she builds and transforms the materials and elements she chooses according to her project and inspiration, to reflect her preoccupations. With removable or articulated parts, her vibrantly coloured jewellery comes to life in a staging that both amazes and questions.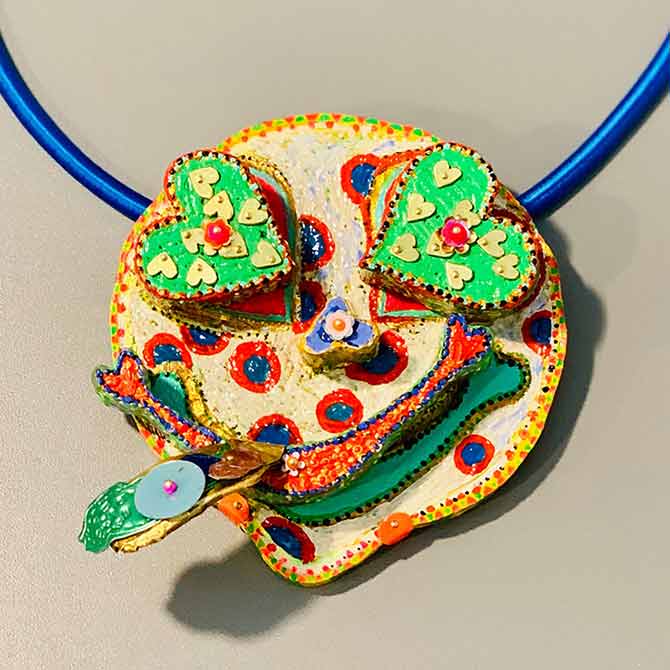 In 2004, after studying painting in Ulsan, South Korea, she decided to enroll at the Burg Giebichenstein University of Art and Design in La Halle sur Saale, Germany, with Daniel Kruger. She obtained her master's degree in 2014, having in the meantime spent two years at Tokyo University of Fine Arts studying music and contemporary jewellery design. Her work has been seen in numerous international exhibitions and is included in prestigious private and public collections.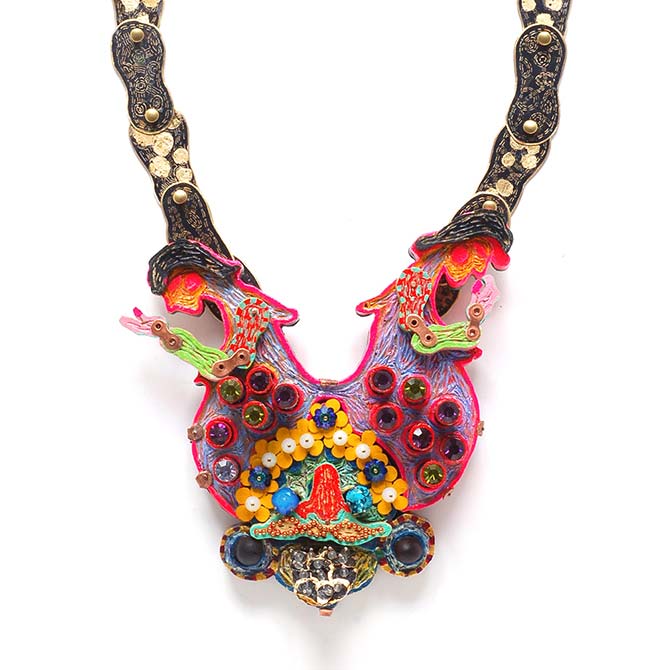 Silvie Altschuler and Coco Sung Duo Exhibition
From September 2 to 23, 2023
Opening: Saturday, September 2, 2023, from 1 pm to 5 pm, in the presence of Silvie Altschuler.
For further information: info@galerienoelguyomarch.com
Visit our website Galerie Noel Guyomarc'h
Gallery opening hours
Wednesdays, Thursdays and Fridays, 11 am to 6 pm
Saturday, 11 am to 5 pm
Images Silvie Altschuler: Anthony McLean
Images Coco Sung: Coco Sung
---
Galerie Noel Guyomarc'h
4836 St-Laurent Boulevard
Montreal QC  H2T 1R5
514 840-9362
galerienoelguyomarch.com
The gallery is open Tuesday to Friday, 11 am to 6 pm, Saturday and Sunday, 11 am to 5 pm, and also by appointment.
Images: courtesy of Galerie Noel Guyomarc'h
---

Galerie Noel Guyomarc'h encourages visitors to take a fresh look at jewels. Much more than a simple decorative object, the creation of a piece of jewelry is the result of research that focuses on both form and content. Like any authentic work of art, a jewel can therefore move us, seduce us, make us think, or disturb us. Bold and committed, the works of our creators bear witness to the diversity of languages and ideas that characterize today's production. info@galerienoelguyomarch.com

---
---