Impressions of expressionist
art at Duc de Lorraine
Café provides perfect setting for Sorensen-Savage painting exhibit
By Byron Toben
I had not visited the patisserie/restaurant Duc de Lorraine for some years due to some sad memories. I now have some joyous new memories there that require more frequent visits.
Of memories sad…
I used to meet there with my friend, the late Kimon Valaskakis, who passed away two years ago, July 2016, at the age of 77. I enjoyed solving all the world's problems over coffee with him, which solutions coincided with us often quoting "Great minds think alike" to each other.
This trilingual economics professor had it made, being appointed Canada's ambassador to the OECD in Paris (1995-99), he had formed many groups, written many books and papers, but tragedies followed closely with his dancer sister Iro's death in 2004, his first wife Concordia prof Gail's death in 2007, his second wife Iris' a few months later.
Despite these setbacks, he continued to create conferences, particularly planning at the Duc the Montreal Dialogues in 2011, which, as the then president of The Montreal Press Club, I covered.
I now recall his mentioning, in passing, that this cafe would make a cute place to have an artistic vernissage. And, lo, that musing came to pass…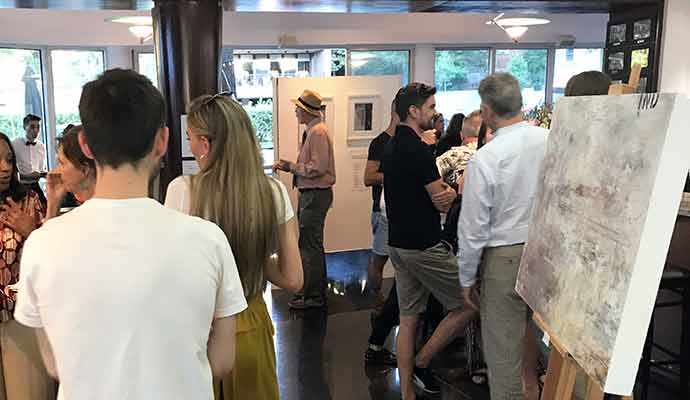 Of memories joyous
As readers of Westmount Magazine will remember, it recently posted an article about the double vernissage to be held there on August 8 and 10. This event was the brainchild of Verona Sorensen, a contemporary expressionist painter who had been featured earlier on this site in an article about creative artistic people who combine their talents with projects of social significance.
For instance, one of Ms Sorensen's is Food for Thought For the Homeless wherein she and colleagues distribute knapsacks to street people containing not only nutritious food items, but writing materials as well. "Man does not live by bread alone" (Deuteronomy) might be the concept. Fifteen per cent of sales of her pieces go to this project.
Joining the exhibit was Westmount born and bred, now back from years in Alberta, Sunny Savage. (Not to be confused with another Sunny Savage, a wild food expert often on TEDX.) With the co-operation of Duc de Lorraine owner Victoria Sorensen (no relation) the event was launched.
Under Victoria's reign, the place has been really jazzed up. New outdoor canopied tables are delightful, even during the current ultra hot spell. Visits by such as mayor Valerie Plante and comic super star Sugar Sammy have enhanced its popularity.
The place, founded in 1952 as Montréal's first Paris style patisserie, passed through several owners before being acquired by Victoria about ten years ago.
At the vernissages, creative and delightful hors d'oeuvres and canapés were served.
I attended, as did Westmount Magazine owner Andrew Burlone. We noted that the large canvases were balanced on the wide window ledges and smaller ones were positioned on a triangular portable "wall" to maximize the available space.
Verona has a thing about numbers. Many of her works are under the rubric of Mapping the Mystery with Measurement and some under Numbers from Zero to Infinity. Several indeed had a painted number as part of the images, I counted some from 37 to 43.
Larger works bear names like Beyond or IND – for India, where she once visited on an extended world tour.
In addition to her paintings, she published a catalogue with cover Absence and Presence in 2013.
All in all, a delightful evening in a delightful venue.
Duc de Lorraine
514 731-4126
ducdelorraine.ca
Verona Sorensen
veronamex@yahoo.com
veronasorensen.ca
Sunny Savage
Facebook
Images: courtesy Verona Sorensen / Duc de Lorraine

Read also: Double vernissage for duo painting exhibit
---
Byron Toben is the immediate past-president of the Montreal Press Club.
---
---