Spring has arrived to
the Quartier des spectacles
This new program offers you many inescapable rendezvous
PRESS RELEASE
This spring, come to the Quartier des Spectacles for the best of the season: the return of 21 Balançoires/21 Swings, giant chess and free guided walking tours of the Quartier, as well as the return of Les Jardins Gamelin. There are also new features this year, with Our DNA by Patrick Bérubé presented on the Promenade des Artistes and the Space Monkey videoprojection will animate, with a touch of absurd, the various building façades of the Quartier. On May 25, don't miss a very special event for cyclists, Mouvements libres, a unique collective ephemeral artwork. Finally, Sainte-Catherine street will be pedestrian from May 3. Get ready to take a breath of fresh air!
Space Monkey
Until May 31
Since returning to Earth and having visited the USA and Australia, Space Monkey is coming to Montreal for the first time. With a stack of disco records and a crate of bananas, he is ready to take over the six architectural projection sites of the Quartier des Spectacles. Space Monkey has become a world- and galaxy-famous machine for getting people to dance. He's eager to entertain and intrigue the neighbourhood's residents and visitors! Also keep an eye out for his best friend, Banana Man, who sometimes joins in the fun!
21 Balançoires/ 21 swings
April 9 to May 27

The return of 21 Balançoires/21 Swings by Daily tous les jours, for its eighth season on the Promenade des Artistes is the surest sign that spring is back to the Quartier des Spectacles! This interactive installation is part street furniture and part game; Montrealers and visitors amuse themselves day and night with a unique cooperative musical experience. A musical note plays with every movement of each swing, creating melodies that delight kids and adults alike!

Patrick Bérubé, Our DNA
April 9 to May 27
First presented as part of last year's KM3 public art walk, Our DNA (Notre ADN) by Montreal artist Patrick Bérubé returns to the Promenade des Artistes. The immense spiral staircase – a Montreal urban icon – embodies the neighbourly, relaxed culture of the city's back alleys.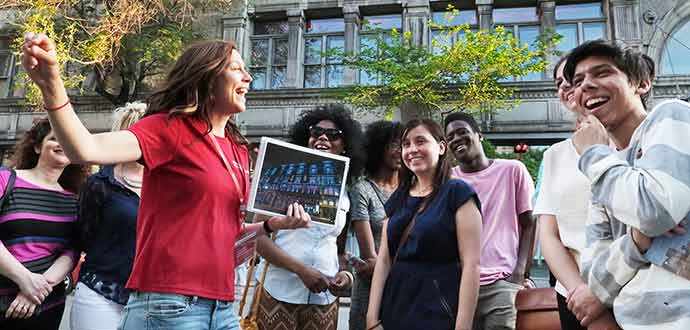 Free Guided tour of the Quartier des Spectacles
May 8 to October 8
Montrealers and visitors alike can learn all about the city's cultural heart thanks to the Quartier's free, two-hour guided walking tours recommended by TripAdvisor. Led by graduates of the Institut de tourisme et d'hôtellerie du Québec (ITHQ), the walks bring the district's vibrant history to life and reveal little-known facts about the luminous pathway, the Quartier's public spaces and some of the city's iconic venues, including Place des Arts and the Monument-National.
More space for pedestrians and the return of Giant Chess
May 3 to September 9
The Quartier's visitors and residents will have more of Sainte-Catherine Street to enjoy, with the return of the pedestrian zone between De Bleury Street and Saint-Laurent Boulevard from May 3 to September 9. Up for a game? Try out one of the giant chessboards!
Starting May 3 and until May 27, a fun new layout comes to Sainte-Catherine Street and the Place des Festivals, where local workers will appreciate the chance to have lunch outside in the sunshine or bask in the fountain's cool mist in a bucolic setting. Details to follow.
Les Jardins Gamelin
May 17 to September 30
Much to the delight of Montrealers, Les Jardins Gamelin will be back for a fourth season, starting with a grand opening on the evening of May 17. Having quickly become a favourite gathering place for friends and families, the Jardins will once again have a varied line-up of entertainment and activities, from dancing to concerts of all kinds. The snack bar and its warmly lit patio will host local students and workers for lively happy hours, with music provided by the Jardins' DJs. Families will be welcome this year again for weekends full of activities at Maison jaune and workshops from Petit bonheur.
The Sentier urbain organization will also be back to look after the green side of the Jardins and do outreach work through workshops and community involvement in its urban agriculture projects. Lastly, Janet Echelman's emblematic suspended sculpture, 1.26, returns to brighten the sky over the Jardins until the end of the season. Les Jardins Gamelin are open 7 days a week until 11 p.m.
Mouvements libres
May 25
Cyclists, from casual riders to all-season commuters, are invited to be part of a unique experience: Mouvements libres, an ephemeral group artwork to be created in the streets of the Quartier des Spectacles. Thanks to the AgitPOV – a small device that displays a word of the rider's choice on their bike wheel – participants will be part of a mobile textual performance and roving artwork.
Photos : Quartier des Spectacles
Read also: A garden oasis in the heart of Montreal
---

Montreal's cultural heart, the Quartier des spectacles offers the largest concentration and diversity of cultural venues in North America. It is animated all year round by a large number of festivals and events, which include a large amount of free outdoor programming.
---
---