The day when everyone is Irish
Montreal

hosts the

oldest
St. Patrick

's Day parade

in North America

Photography by James St Laurent
St.Patrick's Day is named for Saint Patrick, the first guy to feed Guinness to a snake.
Conan O'Brian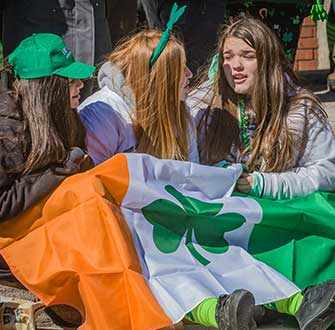 The ever-popular Montreal St. Patrick's Day Parade took place at noon Sunday, March 18 in downtown Montreal following a new route this year.
The revitalization of Ste Catherine Street forced the move of the 195th edition of St Patrick's Day Parade to de Maisoneuve Street. The change didn't dampen the festive mood of any participants, and possibly the slightly narrowed "stage" gave a somewhat more personal experience in the end.
The spring ritual was held under sunny skies but the temperatures hovered several degrees below zero. Despite the chill in the air the entire route was lined with cheering patrons and a myriad of mascots, marching bands, dancers, pets, banners, flags and of course Guiness!
The narrower route didn't impede the parade, although some patrons thought the change went against the 50 year old of tradition of the parade moving along Ste Catherine Street. In the end no ones compass was in a furor of the parade moving westward this year instead of following the eastern winds. The route did finish closer to many of the Bishop and Crescent street bars, delivering patrons to their favourite watering holes where the Guiness was just right, and in some cases green.
Montreal's is the oldest St. Paddy's Day parades in North America. There was no shortage of green, from flags and balloons, to costumes and even beer, as thousands of people came out to celebrate. The parade attracts just about everyone — young and old, families, couples and singles, people of all ethnicities — we're all Irish for a few hours!
---
James St Laurent – My work is all about the idea – to communicate through images that convey an emotive context and engage the viewer by presenting a visual paradox. Different types of subjects and genres require different approaches, but the end result is still a compelling image that captures your attention. Despite having had a camera early on, I found myself in a career as a stage set and lighting designer, then accidentally stumbled and fell back into photography. Since then I have shot a variety of genres, ranging from fashion to travel to portraits to concerts, and exhibited in galleries in both group and solo shows. There are photographs everywhere – the problem is to find the interesting images or those that no one else sees. The obvious is easy– the unique takes a little more time. jamesstlaurent.com
---
---