Sunny, Lemony
Stracciatella Zuppa
Homage to the classic Italian soup
Recipe and photos by Josee Brisson
Italian cucina povera, "cooking of the poor" or peasant cooking, yields some of the most comforting, simple and delicious food you will ever be tempted to devour. Thankfully, stracciatella zuppa falls in this category.
This traditional egg drop soup from the Lazio, Abruzzo, Emilia-Romagna and Marche regions of Italy, is essentially impossible to bungle. Although there are variances, the base is always a hot, clear meat broth, beaten eggs, salt and pepper, grated nutmeg and grated parmigiano reggiano cheese. And, depending on which region the recipe is from, there might also be grated lemon zest, semolina, finely chopped parsley or cooked spinach.
Stracciatella, meaning little shreds, takes its name from the thin strands created by the eggs cooking in the scalding broth. In Rome, stracciatella alla romana is typically served on Christmas and St. Stephen's Day, December 26. However, you will come to find that this wonderful soup entirely suits every fall and winter month.
My recipe is a more substantial and lemony homage to this classic Italian soup.
My recipe is a more substantial and lemony homage to this classic Italian soup. To enhance the broth, I use grated garlic and fresh lemon juice but omit the nutmeg. And as I always serve this soup as a main course, I add small pearl pasta known as ancini di peppe, as well as a considerable amount of raw parsley and frozen spinach.
I served this stracciatella zuppa with Tertium, an Italian red wine from the Lazio region produced by Cantina Cerveteri SCA. This dry, medium-bodied wine, made with Merlot, Sangiovese and Cabernet, has smooth tannins and is also quite lovely on its own. I would also recommend pairing this soup with a white Trebbiano or Soave.
Sunny, Lemony Stracciatella Zuppa
Serves two as a main dish
900 ml of good quality chicken stock
2 eggs
1/2 cup of ancini di peppe (small pearl pasta)
2 lemons (1 for the soup and 1 for serving)
1 large garlic clove
1/4 cup of frozen spinach, thawed and chopped
4 sprigs of Italian parsley, finely chopped
Pinch of cayenne pepper
Grey French sea salt
Freshly ground pepper
Extra virgin olive oil
Parmigiano reggiano, finely grated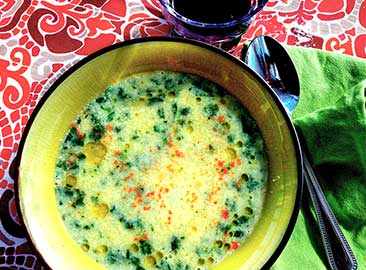 Pour the chicken stock into a large pot and bring to a boil. Using a microplane, grate the garlic and the zest of one lemon directly into the stock, and season with salt and pepper. Squeeze the juice of half the lemon into the stock — reserve the other to use later in the recipe.
Meanwhile, break the two eggs into a coffee cup and beat with a fork until amalgamated and frothy. Set aside. Finely chop the spinach and parsley, and set aside. Cut the remaining lemon into quarters, and set aside for serving.
When the stock is boiling, rectify the seasoning if required. Add the ancini di peppe and cook until al dente, 6 to 7 minutes.
Remove the pot from the heat. Take the fork and lightly touch the tines to the bottom of the pot. Start to gently spin the broth while slowly adding the beaten eggs. Make sure you do this quite gingerly so the eggs turn into long stands as they cook. Stir in the spinach and parsley and add the lemon juice from the reserved half lemon. Serve immediately.
Ladle the soup into large bowls and top with a drizzle of olive oil, a dash of cayenne pepper, a squeeze of lemon and lots of freshly grated parmigiano.
Buon appetito a tutti!
My previous recipes in WestmountMag.ca:
Roasted Tomatoes and Herbed Feta Crostini
Grilled Halloumi Cheese with Pomegranate Arils and Syrup
Roasted Fresh Figs with Goat Cheese and Rose-scented Honey
Oven-roasted Almonds with Garlic, Rosemary and Thyme
Melted Fontina Cheese with Sundried Tomatoes
Pan Seared Scallops with Perfumed Coconut Milk Reduction, Cilantro Oil, Passion Fruit Juice
---

Josee Brisson is a culinary creator passionate about archaeology, mythology, history, literature, and the arts. She trained as a professional cook at École Hôtelière des Laurentides, in Sainte-Adèle, Québec. Among other food projects, she collaborated on two cookbooks with world-renowned food and wine expert François Chartier, and offered a Chef at Home service. Josee is also a translator, researcher and social media community manager. Her cookbook, L'Apéro: Appetizers & Cocktails, was #1 Best Seller in Appetizer Cooking at Amazon. Here's the link to Josee's book.
---
---