A summer teeming with
activities at the MMFA
The MMFA's abundant summer program has plenty for everyone, big and small
Fascinating discoveries are promised this summer at the Montreal Museum of Fine Arts (MMFA) – the city's most popular cultural destination – with something to capture the imagination of everyone, big and small. For those who are fans of fashion design or are drawn to socially engaged African art, are avid about learning more about Indigenous cultures, or fancy a sunny stroll through the magnificent Sculpture Garden, the MMFA's abundant summer program has plenty for everyone.
From July 8 to August 26, 2019, the Museum will be open every day, including Mondays.
Families will be happy to note that the Museum is free at all times for anyone aged 20 and under. What's more, visitors can enjoy half-price admission every Wednesday from 5 to 9 pm. to see the exhibitions Thierry Mugler: Couturissime and Montreal Couture.
Spotlight on fashion, the exhibition of the year!
Already over 140,000 visitors (and counting) have fallen under the spell of Thierry Mugler: Couturissime. Drawing from the multiple creative worlds of the visionary couturier, director, photographer and perfumer, this major exhibition plunges the viewer into pop culture spanning the 1970s to today. It is a feast for the eyes with some 150 outfits, numerous photographs, archival documents and never-before-seen sketches. Notably, in early June eight new stage costumes will make their grand entrance in the Macbeth Gallery.
Visitors can round out their experience with Montreal Couture, and get an up-close look at the work of local designers. This exhibition brings together the creations of established and emerging talent who, each in their unique way, are redefining contemporary Quebec fashion. Until September 8, 2019.
Socially engaged art from here and abroad
Contemporary art lovers will be thrilled with the first-ever Canadian monographic exhibition dedicated to Omar Ba – one of the most influential African artists of his generation. Showcasing a selection of his major works as well as a large-scale mural created specially for the Montreal public, Omar Ba: Shared Dream is at once a bold critique of tyranny, a celebration of the human spirit and an ode to the resilience of the world's youth. May 30 to November 10, 2019.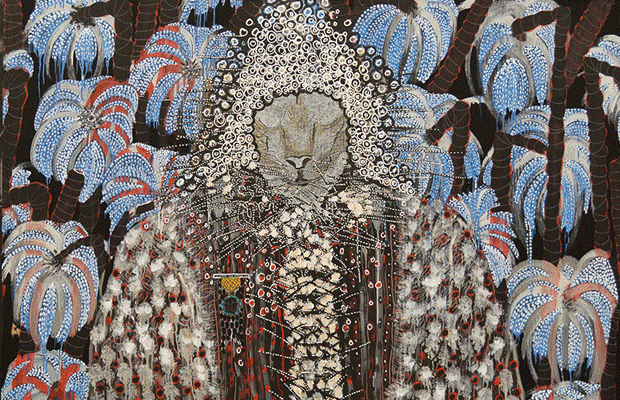 An Artist and her Nation: The Waban-Aki Basketmakers of Odanak
The first retrospective of Alanis Obomsawin prints to be organized by a Canadian fine arts museum, Alanis Obomsawin, Printmaker. An Artist and her Nation: The Waban-Aki Basketmakers of Odanak for its part will see visitors discover a little-known talent of this great Canadian filmmaker. A member of the Waban-Aki Nation, the multidisciplinary artist has for many years been creating exceptionally beautiful artworks inspired by the legends, experiences, memories, sufferings and claims of her people and other Indigenous communities. June 7 to August 25, 2019.
Games galore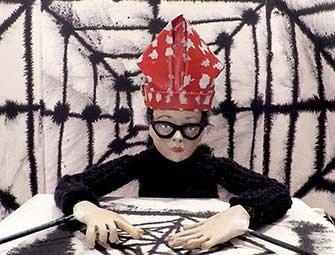 Many contemporary artists employ game strategies in creating their art. Complete with children's games, role-playing, mind-benders and immersive games, the exhibition Contemporary Artists at Play: Flirting with Codes, Tricks and Subterfuge presents a panoply of works that, through their forms, processes, references or narrativity, use play to stimulate our reflection. July 2, 2019 to June 2020.
Collections to discover again and again
Did you know the MMFA's encyclopedic collection comprises more than 43,000 works? In exploring the five pavilions of the museum complex, visitors will discover treasure upon awe-inspiring treasure, presented along six themes: archaeology and world cultures, early to modern international art, Quebec and Canadian art, international contemporary art, decorative arts and design, and photography and graphic arts. On view at all times.
To bask in the sun
A nice, warm day is the perfect time to stroll through the MMFA's Sculpture Garden. Running along the Museum's various pavilions, this pathway of public art features 29 works by such renowned artists as David Altmejd, Valérie Blass, Alexander Calder, Lynn Chadwick, Dale Chihuly, Jim Dine, Joe Fafard, Elisabeth Frink, Charles Joseph, Henry Moore, Jaume Plensa, Jean-Paul Riopelle, Auguste Rodin and Armand Vaillancourt, among others.
This summer, the MMFA will once again transform Du Musée Avenue into a pedestrian walkway to present the installation Strut the Catwalk! inspired by the exhibition Thierry Mugler: Couturissime. On the agenda: music, performances and other events!
Creative family time
The MMFA's creativity workshops are an opportunity for families to enjoy memorable experiences together. Offered for free every Saturday and Sunday all summer long, they draw on themes from the Museum's collection or the exhibition Thierry Mugler: Couturissime to encourage participants to give free rein to their imaginations. Passes are available at the Ticket Counter on the day of the activity.
Cultural calendar: https://www.mbam.qc.ca/calendrier/en/
Major partner: BMO
Partner: DeSerres
Public partners: Ministère de la Culture et des Communications du Québec, Conseil des arts de Montréaland Canada Council for the Arts
Images courtesy of the Montreal Museum of Fine Arts
Read also: World Premiere Thierry Mugler: Couturissime
---

Boasting more than 1.3 million visitors annually, the MMFA is one of Canada's most visited museums and the eighth-most visited museum in North America. The Museum's original temporary exhibitions combine various artistic disciplines – fine arts, music, film, fashion and design – and are exported around the world. Its rich encyclopedic collection, distributed among five pavilions, includes international art, world cultures, decorative arts and design, and Quebec and Canadian art. For more information, consult the Website mbam.qc.ca 
---
---