The Chain just as impressive
thirty years later
A successful revival of Montrealer Vittorio Rossi's first full-length play
By Byron Toben
Thirty years ago, Montrealer Vittorio Rossi wrote his first full-length play. Centaur Theatre founder Maurice Podbrey, looking for local input, spotted the raw talent and, as he did with David Fennario, championed Rossi's career.
That play, The Chain, opened Centaur's 20th season in 1988 and went on to an admired run at the National Arts Centre in Ottawa. That start lead to twelve other successful plays as well as an acting career for him. Many of the stories deal with the Italian-Canadian immigrant community.
Still from the particular, we often best see the universal.
Such has been the case with the large numbers of Jewish-American playwrights (Clifford Odets, Arthur Miller, Neil Simon) and the fine Irish-Americans (Eugene O'Neill, George M. Cohan, Mary Chase) who, if not specifying recent immigrants, capture the essence of their weltanshauung.
A highlight of the recent annual Blue Metropolis literary festival last June was the announcement by writer Marianne Ackerman at the Rialto, of a new company, Magjusjen Entertainment, which will sponsor a revival of three of Mr Rossi's plays, as reported by me in my WestmountMag.ca article Vittorio Rossi tribute a smashing success.
The first one, The Chain is off and running at the 306-seat Moyse Hall on the McGill campus.
Next year, Rossi's new play, Legacy, will trace the lives of these characters 30 years in the future.
Magjussen, headed by Barry F. Lorenzetti who, like Rossi, grew up in the working class Ville Emard district, has Mr Rossi as the director of his own play. A fine cast of local actors has been assembled.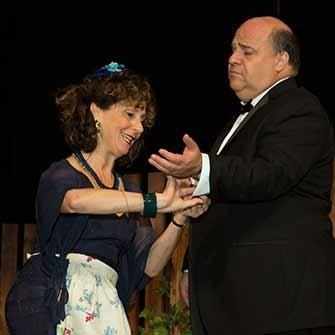 The plot centres around the Testa family, headed by hard working landscape contractor, Tullio (Harry Standjofski) who delivers a nuanced Italian accent to his role without lapsing into a caricature. His wife, Filomena (Toni Elwand) impresses as the sensible wife trying to keep things together. This becomes hard as sibling rivalry arises between the two sons, business manager Massimo (Saro Saroyan) and hands-on operator Joe (Vince Benvenuto). All becomes complicated with the arrival of Tullio's long estranged (and richer) brother from Italy.
In the meantime, their relatives, the Scurios, share their duplex and young Rina (Pauline Cassio) is about to be married to a WASP accountant, Michael (Paul Van Dyck) whose reserved manner contrasts with the more expressive Latins. Rina's mother, Anna (Alexandra Valassis) and brother Enzo (Giuliano Fiorilli) provide fine detail to the whole.
The excellent dialogue is punctuated by a vigorous fight scene, as well as a drunken one. Despite arguments and banishments, is blood thicker than water? See this show to find out.
Next year, Rossi's new play, Legacy, will trace the lives of these characters 30 years in the future. (Shades of The Doll House Part Two, where some one else wrote a sequel to Ibsen's classic – here it's by the original author). Harry Standjofski will direct that one. Can't wait to see it.)
The Chain continues at Moyse Hall until October 12.
Visit thechainplay.com for tickets.
Images: Hera Bell

Read more articles from Byron Toben

---
Byron Toben, a past president of The Montreal Press Club, has been WestmountMag.ca's theatre reviewer since July 2015. Previously, he wrote for since terminated web sites Rover Arts and Charlebois Post, print weekly The Downtowner and print monthly The Senior Times. He also is an expert consultant on U.S. work permits for Canadians.


---