World premiere of The Covenant
at the Segal Centre
Play awakes memories both public and personal. Bravo Théâtre Ouest End!
By Byron Toben
November 17, 2022
Montréal's Théâtre Ouest End began life in the spring of 2019 but thwarted by COVID-19, did not have its first full production until the spring of 2022 with Still Got Something to Say: 6 plays on Age wherein six commissioned playwrights had their one-acts performed by several talented actors.
Now, as live theatre slowly returns, it has produced an important world premiere with The Covenant by Alice Abracen. This original play is based on a true but underpublicized story from 1944 wherein Nazi Germany deceived a Swiss Red Cross team investigating the treatment of Jewish inmates at a camp in Theresienstadt, Czechoslovakia, disguising it as a cheerful cultural centre.
I had been following this story, which reeks of the 1787 Russian Potemkin villages to fool Catherine the Great on her tour to observe conditions in the newly conquered Crimea.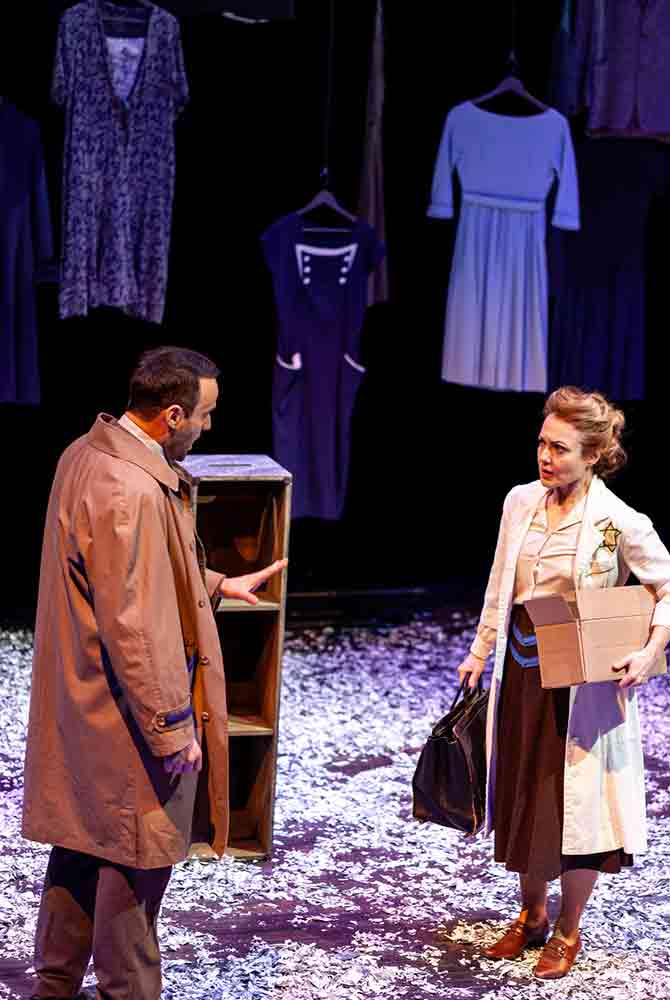 My interest had been piqued by my friend Bob Sickinger, a New York-based director who had written a musical version of the classic 1930 German film, The Blue Angel, its first all-talkie, which shot Marlena Dietrich to fame as Lola Lola, who reduced Emil Jannings from a stuffy professor to a clown in her strip tease act, aided by magician Kurt Gerron.
I had toyed with the idea of writing a play about the fate of Mr. Gerron and his relationship to Theresienstadt but Ms. Abracen's play, while not mentioning him, is better so it saves me the trouble.
In a nutshell, Gerron, from a well-to-do German Jewish family, had served in the German army in the first World War, and was a medical school dropout who went into theatre and became prominent as an actor, director and producer. (He played Tiger Brown in the groundbreaking Brecht/Weill 1929 premiere of The Three Penny Opera and was the first person ever to sing Mack the Knife on stage.)
With the rise of Hitler, he fled with his parents and wife to Amsterdam. Hollywood offered him refuge in America, but he insisted on staying in Europe.
When the Nazi blitzkrieg overran Holland, he was trapped. The conquerors offered him the freedom to produce music and theatre at the Theresienstadt camp in return for eventual freedom for the participants. Alas, the day after, the Swiss delegation left, broken promises, and off to Auschwitz and the gas chambers.
In The Covenant, the essence of Kurt Gerron is captured in the character of Peter (Jonathan Silver) who is reluctantly appointed the "mayor" of the new perfect city. He is persuaded by perfectionist Eric (Brett Watson). Mr. Watson's 25-year career on stage, film and TV is admirable. I particularly enjoyed him in Kear Cutler's 2017 Fringe hit Teaching Hamlet.
[The] quintet of fine actors was ably orchestrated by director Murdoch Schon, who accented the few humorous passages in the otherwise serious script.
The two male actors above are joined by three females of note. Holly Gauthier-Frankel portrays Hilde, a medical doctor working in the camp. Although primarily known for her comedic or sexy roles like Miss Sugarpuss, I have always appreciated her serious side such as in the 2014 David Fennario Motherhouse, and she works that demanding characterization well here.
Laura Mitchell vividly portrays the character of Karla as she has over the years as the lead in Dawson College English department colleague Ann Lambert's various one-act plays, such as Two Short Women. Romi Shraiter, an Israeli immigrant to Canada, is a real find as Judith.
This quintet of fine actors was ably orchestrated by director Murdoch Schon, who accented the few humorous passages in the otherwise serious script.
Diane Uribe's set is an appropriate bed of ashes with several rectangular boxes doubling as benches or coffins. The backdrop wall is festooned with empty costumes, some used by the actors, all designed by costume designer Zoe Roux.
The whole silently raises the question to audiences, what would I do, placed in such a situation as this?
Théâtre Ouest End (TOE) was co-founded by Ann Lambert, Laura Mitchell, Alice Abracen and Danielle Szydlowski.
'The whole silently raises the question to audiences, what would I do, placed in such a situation as this?'
The Covenant is staged just as the 84th anniversary of the Kristallnacht riots (November 9-10, 1938) is observed when Jewish-owned shops and institutions across Germany were broken into and vandalized, and Jews murdered on the streets, even to the extent of being criticized by Nazi Hermann Goring as an excessive reaction orchestrated by Uber-Nazi Heinrich Himmler!
The Covenant's impressive guest appearance at the Segal Centre's studio continues until December 3.
Watch for TOE's appearance at the Centaur Theatre's Brave New Looks selection of Alice Abracen's earlier work What Rough Beast in March 2023.
Images: Pavlo Tull
---
Byron Toben, a past president of The Montreal Press Club, has been WestmountMag.ca's theatre reviewer since July 2015. Previously, he wrote for since terminated web sites Rover Arts and Charlebois Post, print weekly The Downtowner and print monthly The Senior Times. He also is an expert consultant on U.S. work permits for Canadians.


---
---