The Goblin Market:
circus, theatre and dance
From New Zealand, a contemporary circus adaptation of a bizarre Victorian poem
By Janis Kirshner
We must not look at goblin men / We must not buy their fruits / Who knows upon what soil they fed / Their hungry thirsty roots?
Christina Rossetti, Goblin Market
Montreal is a renowned circus city, along with dance and theatre. Combining all three, Mike Edward and Eve Gordon, co-artistic directors of New Zealand's pre-eminent circus company The Dust Palace, are delighted to return to their favourite city with The Goblin Market. This striking show celebrates the female gaze in its exploration of sexuality and the power of sisterhood through double trapeze, mask, acrobatics, film, aerial work, music and spoken word. After wowing audiences last November, it returns to Centaur Theatre for three nights only – September 27 to 29. The show contains nudity and adult themes.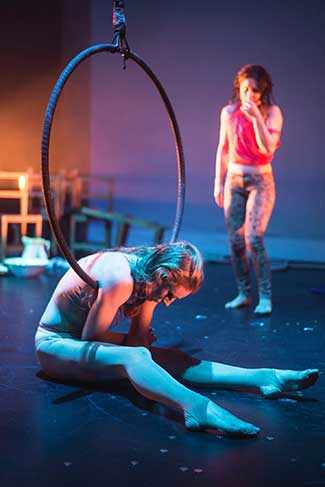 Spring-boarding from Christina Rossetti's iconic poem Goblin Market, this fantastical, contemporary circus re-telling of the seminal Victorian work is visually stunning with a dynamic soundtrack. The bizarre tale will captivate and draw you in as you follow two sisters through temptation, addiction, sacrifice and eventual salvation. Here, delicious circus is precariously balanced with gritty performances and candid story telling. This is a boutique circus show with Southern Hemisphere flair, integrating multidisciplinary art for a stunning and poetic theatrical presentation of cirque artistry and skill. The sisters beautifully perform in the aerial hoop, the tortured goblin solo in silk is riveting, and their chair balancing will have you at the edge of your seat.
The siblings are played by Eve Gordon and Rochelle Mangan, who see this 1859 poem as entirely relevant, with new life breathed into it; a reminder of how art can be timeless. Gordon confirms, "Rossetti has written such a powerful piece of literature that the universal nature of the ideas stand up to this day, more than 150 years after they were written. Among other issues, we are still struggling to de-stigmatise sexuality in young women."
'Gordon, Mangan and Clendon enthral from beginning to end, painting a sensual picture and coherent narrative with their graceful and perfectly synchronized bodies…'
Allysia Duval, La Bible Urbaine
Show director Mike Edward connects strongly to the theme of female empowerment, "I feel like the world is on the cusp of women finally shattering the glass ceiling. Even though we're clearly not there yet, my daughter is being raised knowing that she can achieve anything. This gives me heart and hope," he said.
Gordon, who performs in and designed the show, reveals, "Examining addiction, whether to drugs, sex, a person or anything, is really exciting and disturbing. Danger is attractive to humans, and addiction is the biggest self-test there is." She is also a filmmaker and was thrilled to use techniques she developed years ago in the AV component of the production, "I've always wanted to join my world of experimental film and circus; I only stopped focusing on film because I realized that physically, circus has a limited life span!"
'For your sake I have braved the glen / And had to do with goblin merchant men.'
Goblin performer Edward Clendon loves the Victorian text and being lost in that world, "The poetry and the magic permeates the show and heightens everything, like being in a dream. I adore this feeling," he adds. For Mangan, the physical challenge of the piece is electrifying and fun, while the emotional journey of the character can be daunting. She clarifies, "Having to go to a point where I feel hopeless, and having to perform circus routines with these emotions, is always scary for me."
The company can't wait to return to Montreal. They love the architecture and the history, the wonderful street art, and the beautiful, welcoming people. We in turn are lucky to have them back for an all too short run.
About The Dust Palace
Well-known New Zealand actors Mike Edward and Eve Gordon have combined their passions of theatre and circus in their company, The Dust Palace. They focus on creating works where the story is most important. The unconventional married couple, who met in drama school, now also give classes to all ages as well as offering a scholarship program for underprivileged youth.
The Goblin Market
Presented by New Zealand's The Dust Palace
At Centaur Theatre, 453 St François-Xavier
3 shows only: Wednesday, September 27, Thursday, September 28 and Friday, September 29 at 8 pm. Reservations at 514 288-3161 or centaurtheatre.com/the-goblin-market
Special Offer!
2-for-1 Tickets in honour of World Tourism Day (September 27, The Goblin Market opening night): Tickets for all three nights are 2-for-1 off the regular price ($39) if purchased by phone using the code word 'GOBLIN' at 514 288-3161
---
Special Contest for WestmountMag.ca Readers!
You can win a pair of tickets to the Thursday, September 28 show.
Answer the following question and email the answer with your name, address and phone number to info@westmountmag.ca by noon Monday, September 25.
Q: What is the name of the author of the poem The Goblin Market is based on?
The winner will be announced on this post Tuesday, September 26.
UPDATE – And the winner is… Diana Halfpenny of Montreal.
Images: Jen Raoult
Read also: Volta delivers high voltage action

---
---
---