The Lake's Flower,
exquisite estate for sale
Don't miss the opportunity to make this stunning waterfront domain on Lake Saint Francis yours
The sprawling Flower of the Lake property offers three unique buildings as well as a large boathouse to ensure that everything your family and out of town guests could want is readily available for never-ending lakeside enjoyment. Full of mature trees and nearly 500 ft. of Lake Francis waterfront and completely fenced in, you're guaranteed to enjoy total privacy and serenity every single day. You'll enjoy incredible daily sunrises and sunrises from the main home.
The main home has been thoughtfully designed for everyday living, offering 5,000 sq. ft. of living space and room to entertain, cook or just relax the day away. Tons of natural light and plenty of stunning lake views flow in from an abundance of windows throughout the space.
Words simply can't do this home the justice it deserves. High-end finishes, unique features and an unbeatable location make this one-of-a-kind home an absolute must-see. Schedule your private showing today to check out this amazing lakeside beauty.
Strategically situated just a few feet from the water, its grandfathered blueprint allows rebuilding a brand-new house using the same old blueprint, therefore allowing it to be closer to the water than normally allowed by the municipality. You won't be able to build this close to the water anywhere else.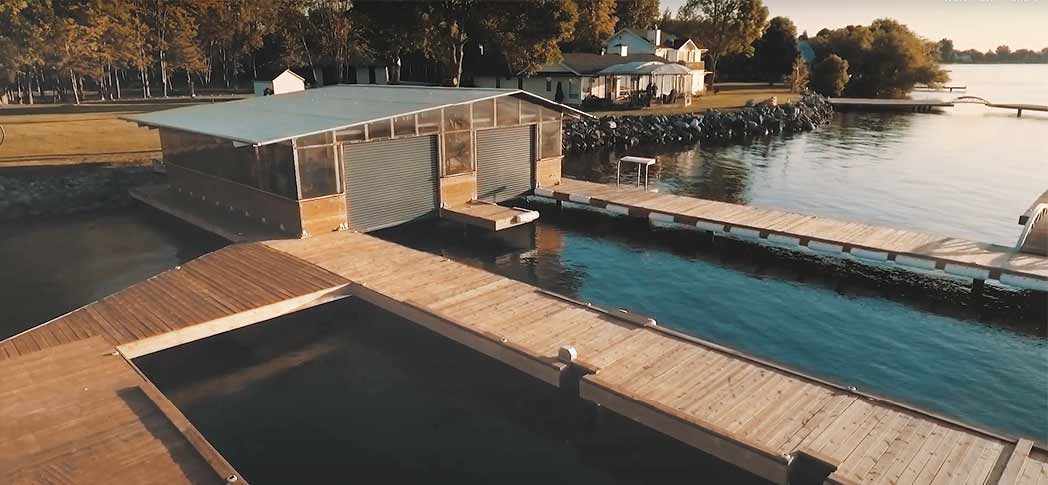 What would a lakeside property be without room for all your favourite water toys and activities? On the shore side of your new home is a brand-new 3,000 sq. ft. boathouse equipped with two lifts. You'll enjoy plenty of dock space with a one-of-a-kind 300-ft. dock allowing room for multiple boats and several ladders for easy water access.
Behind the main home, you will find a new multi-purpose 4,500-sq. ft. building that acts as a garage, a workshop, a guest house and a premium lounge area. You will be blown away by this modern livable space that offers everything from a full guest suite including a full kitchen, a bedroom and bathroom with shower, to a theatre room, a playroom with pool table and projector, and a mechanical shop with space for four cars, equipped with a full car maintenance area, car lift and a car wash station.
Next to it is the naturally heated sauna. You will never want to leave the 2,000-sq. ft. red cedar log sauna that offers heated floors and its own private terrace.
Full of mature trees and nearly 500 ft. of Lake Saint Francis waterfront completely fenced in, you're guaranteed to enjoy total privacy. A quick commute to highways 20/401, you can be downtown Montreal in just 45 minutes, in Ottawa in an hour and 20 minutes or in Toronto in 3 hours and 30 minutes.
Given the big size of the estate, an investment opportunity can be considered in the form of lot splitting. Below is a scheme of a potential way to split the main 10-acre (4 Hectares) lot. Once split, each resulting lot can be sold as a separate residential property lot, therefore multiplying the potential return on investment. The access roads are already built and accessible. Common areas would allow all lots to have access to the water (including a community dock) and the tennis/basketball court. Those common areas also include a large piece of grass-covered land which would allow kids to have a playground.
ASKING PRICE: $3,990,000.00 USD / 4,799,000.00$ CAD
Building
Total area
Living area
Bedrooms
Bathrooms
Inside parking
Outside parking
Main house
465 sq. m
(5000 sq. ft)
465 sq. m
(5000 sq. ft)
4
3
2 cars
12 cars
Guesthouse and Sauna
185 sq. m
(2000 sq. ft)
100 sq. m
(1070 sq. ft)
1
1
n/a
2 cars
Residential garage
418 sq. m
(4500 sq. ft)
65 sq. m
(700 sq. ft)
1
1
8 cars
4 cars
Boathouse
280 sq. m
(3000 sq. ft)
n/a
n/a
n/a
– 1 boat 8 m (26 ft)
– 2 jet skis
Boats 6-20 meters (20-60 ft)
Location
Distance from:
Lot area and buildings
Entry and security
Marina
Sport and activities
Near Highway 401,
on the coast of Lake St. Francis
and the St. Lawrence River, Ontario, Canada
– Montreal 75 km (46 miles)
– Ottawa 100 km (62 miles)
– YUL Montreal Airport 50 km (30 miles)
Lot: 4,1 hectares (10 acres),
2/3 of the lot is covered with a spacious pine forest with hiking trails.
Buildings:
– Main house
– Guesthouse and Sauna
– Residential garage
– Boathouse
– 2 entry roads: Main entrance and Service entrance
– Gated
– Video surveillance
– 190 m (620 ft) of docks length
– Exterior parking for boats 6 – 20 meters (20-60 ft)
– Boathouse
– Walking paths 1,3 km (4260 ft)
– Tennis court 37 m x 18 m (121 ft x 60 ft)
– Water sports
– Shooting range
---
---