The Shadow Box raises
end of life questions
D² presents its version of the Pulitzer and Tony award winning play
By Byron Toben
The Shadow Box won the 1977 Pulitzer and Tony for best play. It was written by theatre actor/director/writer Michael Christopher and later adapted into a 1980 Emmy winning TV movie directed by Paul Newman.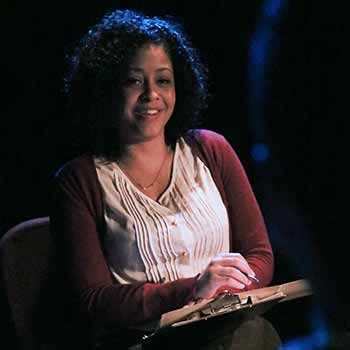 What a pleasure to see it revived by the little local company that churns out good stuff, D² Productions, here in association with Mainline Theatre. It has an abundance of both gutsy and subtle passages so it is an actor's delight. Here they are ably directed by Dale Hayes, one of the founding members of D squared.
An interviewer (Teneisha Collins) chats with the residents of three cottages on the grounds of an institution for the terminally ill, each of whom have different approaches to their fate.
All of the experienced actors herein have extensive experience on stage, screen or TV, unusual for a small company which usually relies on recent grads.
It has an abundance of both gutsy and subtle passages so it is an actor's delight.
Cottage One hosts Joe (Genti Bejko), who is being visited for the first time by his wife, Maggie (Susan Corbett) who wants him back to die in their city apartment and young son Steven (Anthony Schuller) who has not been informed of the reason for his father's stay on the bucolic grounds, thinking it just a retreat to nature.
Cottage Two hosts Brian (Sofian Lahyanssa), a talkative writer of bad books (Christopher Plummer in the TV movie) being attended by Mark (Max Mehran), an unemployed drifter who had been given room and board by Brian and now helps because he 'oes' him but wishes for his soon demise. Enter Beverly (Alexandra Valassis) a flamboyant libertine lady from Brian's past and sparks ensue. (This role starred Newman's wife, Joanne Woodward in the TV film.)
Cottage Three contains a cantankerous wheel chair bound old mother Felicity (Helena Levitt, who so impressed as Andrea Dworkin in Aftermath) – played by 1930s screen star Sylvia Sidney in the TV version – cared for by her spinster ugly daughter Agnes (Nadine Cayer) who has hidden from her the fact that her favoured beautiful daughter had died years ago.
However these three await their end, with patience, bemusement, hidden anguish or forgetfulness, none of them rage, as did Dylan Thomas "Rage, Rage Against the Dying Of The Light".
In case you're curious, Paul Newman passed on in 2008, Sylvia Sidney earlier in 1999. Joanne Woodward, Christopher Plummer and Michael Christopher are still with us, and long may they be.
The Shadow Box ended at the Mainline Theatre on April 30.
The next D² production Late Company, a Montreal premiere by Canadian Jordan Tannahill, will appear at the Mainline from November 8 to 12, 2017.
Images: courtesy of D² Productions

Read also The Last Five Years of a marriage in song
---
Byron Toben is the immediate past-president of the Montreal Press Club
---
---