The Shoplifters
will steal your heart
The Centaur presents Morris Panych's fast paced comedy
By Byron Toben
It's not often that a new play by a famous Canadian playwright premieres in the United States. Such was the case, however, for The Shoplifters by Morris Panych. It first appeared in Washington, D.C. in 2014. It later ran to many plaudits in Vancouver and now makes its Quebec debut.
Mr. Panych has elected to direct this production himself, as he often does, and I was not disappointed even though I had initially felt that this fast moving play was right up Centaur artistic director Eda Holmes's alley.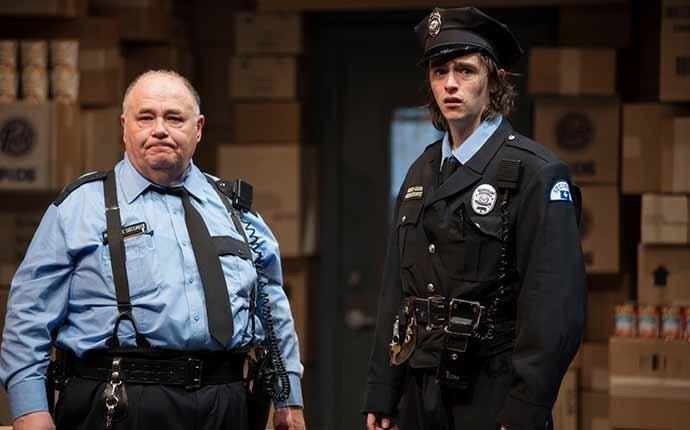 He has also selected a "right on" cast for this effort. Ellen David as Alma, the older experienced shoplifter and Michel Perron as Otto, the mature security chief on the verge of retirement are both well known to local audiences and always a delight. Marie-Eve Perron as Phyllis, the younger apprentice shoplifter and Laurent Pitre as Dom, the overly enthusiastic new security recruit, echo the relationships of the older duo in a different key.
Mr. Panych has elected to direct this production himself, as he often does, and I was not disappointed…
The action takes place in a giant grocery store's storage room after the two female shoplifters are apprehended when a purloined sixteen-ounce steak falls to the ground from under Phyllis's skirt.
Lots of other hidden objects and hidden motivations are revealed along with handcuffs and religious preaching.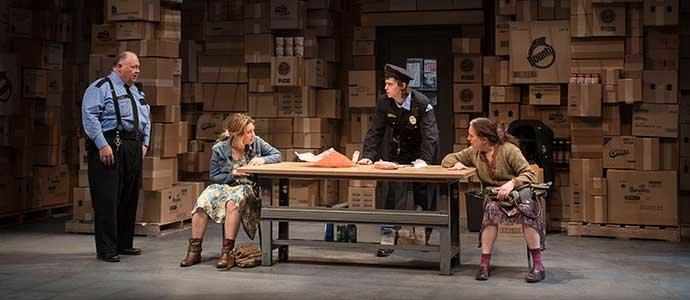 Is it sometimes better to turn the other eye over minor items?
Where are the "blind spots" on security cameras?
All this audience friendly frenzy bespeaks, in my opinion, a possible extension at the end of this run.
As usual, Barbara Ford's interview with Mr Panych in the printed program casts insights into his motivations as well as summarizing his many awards.
The Shoplifters runs until April 7.
514 288-3161
centaurtheatre.com
Images: Andrée Lanthier
Read more articles from Byron Toben

---
Byron Toben, a past president of The Montreal Press Club, has been WestmountMag.ca's theatre reviewer since July 2015. Previously, he wrote for since terminated web sites Rover Arts and Charlebois Post, print weekly The Downtowner and print monthly The Senior Times. He also is an expert consultant on U.S. work permits for Canadians.
---