Tower of Song,
a towering tribute concert
Montrealers and the world of words and music say goodbye to citizen Cohen
By Wanda Potrykus
Now I bid you farewell, I don't know when I'll be back / They're moving us tomorrow to that tower down the track / But you'll be hearing from me baby, long after I'm gone / I'll be speaking to you sweetly / From a window in the Tower of Song
Tower of Song, I'm Your Man, Leonard Cohen, 1988
And how sweet it was!
The Tower of Song concert was truly a towering tribute to a beloved papa, poet, philosopher, prophet, performer and… friend.
Canadians, Quebecers, Montrealers, Westmounters and indeed representatives from much of the rest of world came together at the Bell Centre in Montreal on November 6, 2017 to say a public goodbye and celebrate the life of greatly beloved native son, Leonard Cohen.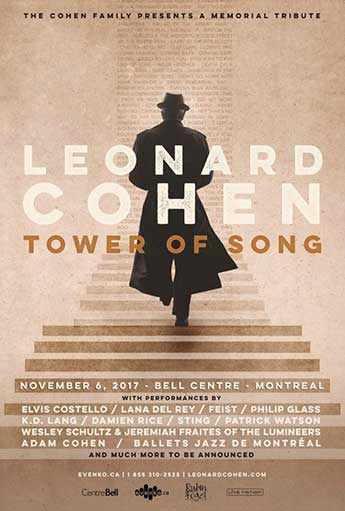 And what a world-class wake it turned out to be! For one magical evening, the 15,672 people present, no matter where they actually came from (Australia, France, Germany, Spain, UK, USA, the rest of Quebec and Canada, etc.), were all honorary Montrealers, family, friends and neighbours mourning and remembering a close, personal friend. (This number was a capacity crowd for this venue, which, although it advertises itself as the largest hockey arena in North America with over 21,000 seats, that is only for hockey games. The number of saleable seats drops exponentially since for concert and other such events, a stage has to be set up at one end, blocking certain seats.)
Nevertheless, total attendance numbers aside, the atmosphere at the Montreal Canadiens hockey team's home base was reverential, and oh so intimate, which is, perhaps, a somewhat strange thing to say when you are seated with over 15,000 other people; however, as one devoted attendee so succinctly phrased it:
"You could hear a pin drop throughout most of the concert as each star, starting with Sting, wasting no time tugging at all our heart strings in Leonard Cohen Land. Adam sang So Long Marianne, it could have been Leonard, he can sound exactly like his dad. This wonderful gift to us, the audience, song after song had people longing for Leonard, and they gave us Leonard on the screen, talking to us, reciting his poetry and giving us the Leonard we all loved and knew. Thank you Adam, who gave every ounce of himself, you thanked us, but we thank you. I will never forget this concert as long as I live. Thank you so much Adam and your guests."
– Terry McGimpsey, Westmount, Quebec, November 6, 2017
Closing Time
'And I loved you when our love was blessed / and I love you now there's nothing left / but sorrow and a sense of overtime / and I missed you since the place got wrecked / and I just don't care what happens next / looks like freedom but it feels like death / it's something in between, I guess / it's closing time'
Closing Time, The Future, Leonard Cohen, 1992
And yes, it was indeed Closing Time, an event long promised by the family that would provide his legion of fans with closure, and scheduled to take place one year after his death last year on November 7, 2016. Devotees of the man everyone liked to quote, sing along and dream with, and who often put into words what they were struggling to express, would get their opportunity to publicly mourn his passing.
"… and if you want a public event do it in Montreal"
So read the instructions from Leonard to his son Adam: "My father left me with a list of instructions before he passed: "Put me in a pine box next to my mother and father. Have a small memorial for close friends and family in Los Angeles… and if you want a public event do it in Montreal," said producer-singer-songwriter Adam Cohen, "I see this concert as a fulfilment of my duties to my father that we gather in Montreal to ring the bells that still can ring."
The Cohen family, fronted by Adam Cohen, Leonard's only son, along with some of the greats in the world of music gave us a memorial event that was simply second to none, or, as we say in this part of the world, sans pareil.
"Cohen lived a thought-provoking life. He sang and recorded, he toured, he wrote books of poetry and drawings. He oozed intrigue, and many in his following felt he emanated sex appeal… "I never discuss my mistresses or my tailors", he told an interviewer. It was a rule he broke a few times, describing an encounter with Janis Joplin in the song Chelsea Hotel No. 2. But Cohen didn't just lend his words to music, he also wrote poetry and novels. He wrote several books of poetry, including Book of Mercy, Stranger Music, and Book of Longing."
– Razz Lalani, Toronto Star staff reporter, Nov 11, 2016
The Window
The crowd, many of the men decked out in dark suits, red memorial poppies and fedora headgear, filed slowly into the arena, due in part because of the security measures and partly to do with the fact the average age of the attendees was in the upper ranges, and certainly not your typical Bell Centre crowd, most of whom were definitely unused to navigating the vertiginous steepness of the arena seating rows, which made the process steady but somewhat slow. Nevertheless, everyone was eventually seated and unusually subdued, as we were all there to remember, to mourn as well as to celebrate; and only 15 minutes after the advertised start time the lights dimmed, and an image of Leonard Cohen appeared, framed in a lighted window looking out at the crowd.
'Why do you stand by the window, / abandoned to beauty and pride? / The thorn of the night in your bosom, / the spear of the age in your side; / lost in the rages of fragrance, / lost in the rags of remorse, / lost in the waves of a sickness / that loosens the high silver nerves. / O chosen love, O frozen love / O tangle of matter and ghost. / O darling of angels, demons and saints / and the whole broken-hearted host / Gentle this soul. Gentle this soul.'
The Window, Recent Songs album, Leonard Cohen, 1979
The End of Love
'Dance me very tenderly and dance me very long.'
Dance Me to the End of Love, Various Positions, Leonard Cohen, 1984
The stage was in darkness, the band, the orchestra, the conductor, the back-up singers, all were ghostly silhouettes, as the crowd held its collective breath, mega star Sting, he too dressed in an uncharacteristic sombre dark suit, adorned with a red poppy, appeared, walking down the central staircase from the base of the tower to centre front stage, with Leonard framed high in the lighted window behind him, where he broke into Dance Me to the End of Love.
The crowd was quite simply mesmerized and for next three hours remained transfixed (except for the requisite short intermission for a bathroom break and for the Bell Centre to sell more mediocre, overpriced beverages and snacks).
Company of greats: "Ring the bells that can still ring, forget your perfect offering"
Producers Adam Cohen and Hal Willner oversaw the makeup of the tribute concert, whose proceeds (except for those scalped by the bots and ticket re-sellers) will be shared between the Canada Council for the Arts, le Conseil des arts et des lettres du Québec, and the Montreal Arts Council. Leading up to the concert Willner said: "Leonard Cohen is a literary and musical icon of word-craft… On the first anniversary of his passing, we… present a tribute to an artist… universally acknowledged as one of the great poets and songwriters of all time."
'But I have many friends and some of them are with me.'
The Partisan, Songs from a Room, Leonard Cohen, 1969
The A-list of musical artists chosen (Elvis Costello, Lana del Rey, Feist, k.d. lang, Courtney Love, The Lumineers' Wesley Schultz and Jeremiah Fraites, Damien Rice, Ron Sexsmith, Sting, Patrick Watson) shared their love of Leonard with us that night; along with others, who are perhaps not so well-known (either to the reviewer or to some of those in attendance, due in part perhaps to the age of the audience or the age of the performer) such as BØRNS, Basia Bulat, Coeur de Pirate, Bettye LaVette, Javier Mas, Sharon Robinson, the Webb Sisters, and the entire orchestra and band, as well as the male choir from the Shaar Hashomayim synagogue here in Westmount.
They were joined by a series of video clips of Leonard himself, as well as a cross-section of other famous names (Céline Dion, Peter Gabriel, Chris Martin, Willie Nelson) who were filmed singing a verse from the Tower of Song.
"Tonight the great mysteries have unravelled and I've penetrated to the very core of things," said Cohen, from the screen. I couldn't agree more.
In the event you take umbrage if some of the singers and songs (as well as Canada's PM Justin Trudeau and his wife Sophie Gregoire) are not commented on in detail and are your personal great faves, I apologize, as brevity or absence should not be taken as a disapproval, but simply a question of article length as the entire evening was unabashedly magical, extremely emotional and all the performers gave their all in a star-studded tribute to a man who's words and music touched so many across the years and the generations. I am sure there was simply something for everyone.
"It was a simply spectacular concert. So very emotional from beginning to end. Each singer was well-matched to each song. It felt like Leonard was there. That image of him in the window. Wow. It was draining, it was amazing. It was quite simply perfect."
– Louise Charbonneau, Montreal, November 6, 2017
Adam Cohen was the host, Elvis Costello the social conscience, Sting the star
The evening was fast-paced, with somewhere around 25 songs and poems, or maybe more, since almost any of Cohen's recorded words as employed that night could potentially be considered poems. And there was little or no chat before or between numbers (except in a few instances where, principally, Adam Cohen addressed the audience "Bonsoir tout le monde… bienvenue à Montreal" and when PM Trudeau and his wife shared some memories of how Cohen impacted their life. Otherwise, no MC was necessary, the name of the next performer was simply flashed up in black and white on the two large screens flanking the stage, song following on song at an almost dizzying pace. Most of the stars performed one number each, some in duets, trios and quartets, while others (Adam Cohen, Elvis Costello, Damien Rice and Sting) did more. All vacated the stage quickly without waiting around for applause, so the momentum never died.
Sting appeared 3 times, my favourite being his swaying then foot-stomping version of Sisters of Mercy, although his rendition of Anthem with that soaring ending in that characteristic rasping Sting crescendo voice came an extremely close second. Elvis Costello sang a bluesy-rock version of The Future that strangely, in some respects, for such a dark song, elicited cheers and later, a rousing, rocking Bird on the Wire accompanied by Leonard's colourful bird drawings as a backdrop (not everything in Len's life was dark).
The political Leonard continued front and centre when Wesley Schultz and Jeremiah Fraites of the Lumineers thrilled with their version of Democracy, a huge rippling American flag reminding us that Leonard died the day before DJT was elected POTUS. "Democracy is coming to the USA" indeed. It seems Len got out just in time.
Ron Sexsmith mesmerized with crowd favourite Suzanne that almost everyone present knew the words to, and Damien Rice gave us a confessional-like version of the Famous Blue Raincoat. One of his insights to Leonard having been shared on his website after Leonard's death last year: "A few years ago I had the honour of opening up for you in Ireland… After the concert, I noticed something curious. My mother, my sisters, my girlfriend and ex-girlfriend were all dripping with love for you. I found it humorous to imagine that after your show many women would be going back home and that their men were not, and would never quite be, Leonard Cohen."
'It's time that we began to laugh and cry /and cry and laugh about it all again.'
So long, Marianne, Songs of Leonard Cohen, 1967
Much of the audience also sang along to the chorus of So Long, Marianne but the song belonged to Adam Cohen and the Webb Sisters. Adam, sounding so much like his father, performed the latest version with the new stanzas added much later by Leonard, who constantly reworked his poetry and song lyrics "just trying to get it right", and to which Adam had added his own poignant ending by adding parts of Leonard's much-publicized farewell letter to long-time muse Marianne Ihlen. Oh, to be so loved and remembered. In some ways, Damien Rice was spot on with his remark about Len and women.
'Know that I am so close behind you that if you stretch out your hand, I think you can reach mine.'
Extract from Leonard Cohen's letter to Marianne Ihlen while on her deathbed in Norway, July 2016
Adam Cohen also sang Chelsea Hotel No. 2 in a duet with Lana del Rey, in which his father reminisces on a brief New York dalliance with Janis Joplin. It's called #2 because there is an earlier, longer version, which Leonard rarely sang. Her performance was one of my least favourites of the evening, although many of her fans will not agree. Probably a generational difference of opinion.
Leonard's long-time lieutenant
Sharon Robinson, Leonard's long-time friend, collaborator on writing and refining lyrics as well as backup on so many of his recordings and performances, was fourth up, following on from Patrick Watson, who gave us his heart-rending rendition of Who By Fire and who followed Feist, with her take on Hey, That's No Way to Say Goodbye.
Robinson, centre stage for once, provided a somewhat different and "tongue in cheek" (so very Leonard in that respect) Motown take on the beloved Cohen classic I'm Your Man. She also sang backup on many other songs throughout the evening. She was tireless. She sang from the heart and she sang for her departed friend, mentor and collaborator and we mourned her (and our) loss along with her.
Chorus of heavenly voices, music that tingled one's spine
The Webb Sisters – Charley and Hattie – who hail originally from County Kent in the UK and who had first joined Leonard on tour in 2008, were on stage almost the entire time proving that the voice is just as much a musical instrument as anything else. Singing back up on many of the songs along with Sharon Robinson, they were spectacular, very much the image we retain of the early "Cohen type of girl" – tall, blonde, willowy with great voices and stars in their own right. Adam Cohen also made sure they were front and centre on other songs he performed.
Shining stars of the show – the sparkling firmament of musicians
One of the highlights without question was the amazing orchestra and backing band. The extraordinarily high-quality and superb skills of the musicians came to the fore time and time again throughout the evening. This was no ordinary pop concert backing band of musicians. These were premier quality, world-class purveyors of the art of music making: harpists, violinists, keyboardists (grand piano, Hammond organ, etc.), saxophonists, guitarists, trumpeters, drummers, a lutist, etc. The conductor Steve Wiseberg, concert master Melanie Beaudoin, musical director Steven Bernstein, and the arranger(s) outdid themselves.
If you need to do it, do it well
Indeed, Leonard had always ensured he was backed by superb musicians and singers, recognizing time and time again that his 'voice' came through via the power of his words and music and, of course, his dry wit and commentary, but incontrovertibly did not lie in the quality of his vocal chords (which was especially evident as he aged). He needed those musicians and singers to provide the range he felt he lacked as a solo performer and he always made sure we appreciated what they gave and brought to the performance.
In fact, when asked to sing the most famous of his works, Hallelujah, in the Opening Ceremonies of the 1986 Olympics in Vancouver, he re-directed organizers to k.d. lang instead, recognizing that it was her voice that was needed for that performance, not his.
Who's the man with the lute?
Not something you hear too often in a hockey arena in North America! Still, it's hard to choose who exactly to single out among the marvellous musicians on stage for the entire show, most of whom courtly British gentleman rocker Elvis Costello took the time to name and introduce to us, recognizing how important their contribution to the success of the evening truly was.
Nevertheless, crowd favourite was, without a doubt, Javier Mas, celebrated Spanish guitarist, mandolinist and lutist. He held us spellbound during the extended intro to The Partisan, sung in both English and French by Adam Cohen, Coeur de Pirate and Damien Rice.
"Merci Adam de perpétuer la mémoire de votre père. Le Partisan, un texte que nous français gardons au plus profond de notre cœur, la chanson de tous les partisans qui luttent contre la dictature et toute forme de répression. Ne jamais se résigner !"
– Dominque D. Youtube, November 10, 2017
Talk about an international presentation with international appeal. Its haunting refrain and poignant message reverberated in one's head and heart long after the song ended, as did the magnificent lute playing of Senor Mas.
Hallelujah did not disappoint… but does it ever?
The only arena-wide standing ovation of the night (apart from the one at the close of the show) was for k.d. lang with her rendition of Hallelujah. Her amazingly rich, powerful, resonating, resounding voice literally brought the crowd to its collective feet. Somehow one still questions why this singer has not won more awards and accolades worldwide? She is a true Canadian treasure, no voice can fill a huge arena like k.d.'s can. No matter how many times I hear this incredibly overplayed song, it is k.d.'s interpretation that captures my soul.
"It was a sublime, moving tribute that did Cohen justice. As you would expect with an event celebrating his music, this was no head-banging ear-splitting experience, but a quieter, more reflective moment that felt most appropriate. You want to be able to think about the words you're hearing.
I'd seen k.d. lang perform live and close up many years ago, and fully expected a spine-tingling Hallelujah; I just thought it would be the last number in the show. Instead, it was the last number of the first half. Sting was magnificent and generous with his time and talents. Courtney Love's Everybody Knows was a surprising delight. And the orchestra, particularly the lute or mandolin player, was amazing."
– Doug Sweet, Montreal, November 9, 2017
Grunge rock and the mistress of soul
It was an evening of strange bedfellows to be sure, as befits any wake and/or memorial service. Who would ever think to put together the erstwhile 'queen' of grunge rock – Courtney Love and the long-time queen of soul, blues and jazz – Bettye LaVette on the same bill? Yet it worked. Courtney, in her first appearance on stage for almost two years, is not everyone's taste to be sure, but many of the people there, who, for the most part, would never pay in their everyday lives to go see her sing, were oddly touched by her performance and her overtly brazen upbeat interpretation of Everybody Knows.
For me, the eclectic line-up underscored the wide-ranging tastes of Leonard himself along with the vast range of people his songs, poetry, and performances appealed to. Who knew that Courtney Love as a youngster bought and played Leonard Cohen recordings and dreamed of being "a girl in one of Leonard's songs". Definitely not quite the persona she has projected in her life and singing career, is it? Although some have likened LC to the "oldest Goth ever" with his dark songs and outlook, and Love's husband, Kurt Cobain of Nirvana, drawled on Pennyroyal Tea: "Give me a Leonard Cohen afterworld, so I can sigh eternally."
North America's best-kept soul secret
Bettye LaVette, on the other hand, unless you really 'know' your soul singers is one of the longest lasting, unbelievably talented but mostly unfeted singers in North America. But what a voice, what a stage presence… and what a stage exit! I have long wanted to see LaVette perform and her version of In My Secret Life did not disappoint. It used to be impolite to mention a lady's age… but suffice it say, Bettye LaVette simply wowed us, dressed in a classic black jumpsuit and sporting magnificent jewellery. That lady has been touring the soul-blues-jazz circuit for over 55 years. Wow indeed! What an honour Bettye. Welcome to Montreal!
Field Commander Cohen
'I know you need your sleep now. / I know your life's been hard, / But many men are falling, / where you promised to stand guard.'
Field Commander Cohen, Leonard Cohen, Field Commander Cohen – Tour of 1979 album, issued 2001
There wasn't a great deal of performance poetry (as I had sort of hoped for) but we did get Leonard performing a spine-tingling sensual reading of A Thousand Kisses Deep as well as Canadian actor and comedian Seth Rogan, who gave us a formidable recitation of Field Commander Cohen with its plaintive refrain: "I know you need your sleep now", which touched deeply in light of why we were all there.
He prefaced it, however, with a bit of comedic banter saying he promised not to sing, although he knew we all expected he would perform Hallelujah, along with a friendly dig at his and Leonard's Canadian Jewish heritage: "I can honestly tell you as a Jewish Canadian there is no higher honour than reading a Leonard Cohen poem in the middle of a hockey arena." That only highlighted still further the fact that the venue, the crowd, the choice of performers, were all somewhat incongruous, and yet in spite of that it all came together and worked wonderfully well.
For how many times indeed does a Jewish boy get to recite a poem at a hockey arena or a cantor sing in one, or the world renowned Sting share the stage with Québécois fave Coeur de Pirate, the grungy Courtney Love, or the somewhat gender neutral BØRNS, the American indie-electro-pop sensation, whose falsetto voiced version of If It Be Your Will introduced most of the Bell Centre audience to a representative of a new generation of Cohen cover artists, since most in attendance probably had no idea of who he was?
"That's how the light gets in"
No summation would be complete without a mention of the lighting, staging and special effects. It wasn't over the top to be sure, but neither was Leonard C, but it was very effective. Talk about lighting and Montreal and the name Moment Factory springs to mind, and yes, they did a simple, understated job for Leonard that was completely appropriate. All eyes were on Leonard in his window-filled tower, which grew progressively higher as the night progressed. Somehow they created an atmosphere that was reverential, and oh so intimate, like we were in a living room.
"I, too, felt we were indeed not a bunch of disparate people but simply a large gathering of 'friends' at the wake of a good friend. Somehow Adam and Co managed to convey that impression and also make it so very 'intimate' into the bargain. Truly it was like being in someone's house (yes, a rather large house to be sure) mourning and celebrating the life of a friend with other friends and family, but certainly not gathered at North America's largest hockey arena. Not truly sure quite how that was accomplished… lighting? Line-up choice? Type of people in attendance? Who really knows? But, without a doubt… that's how the light gets in through a crack in everything"
– Stefania Lupton, Montreal, November 6, 2017
Who was missing?
Adam Cohen commented that it had been an immensely difficult show for he and co-producer Hal Willman to organize due to the large number of people who had wanted to participate, apparently upwards of 200 to 300 in number: "We had a wall with names on postcard-sized pieces of paper that kept getting moved around and being put up and taken down."
A show can only be so long and it is evident, in retrospect, that difficult decisions had to be made as regards to the choice of which of the many Cohen songs were to be featured, who would sing them, and sadly, what had to be unavoidably left off the performance playlist.
My regrets… yes, there are some
'Poetry is the evidence of a life. If your life is burning well, poetry is just the ash… and not life itself.'
Leonard Cohen
Personally, as a poetry lover, I had been looking forward to seeing and hearing modern classical music as performed by the great composer Philip Glass in person and in witnessing an extract from the Glass-Cohen collaborative venture song cycle with music composed by Glass and illustrations and poetry excerpted from Cohen's Book of Longing.
That show has toured many festivals and locations, including Germany, the Netherlands, New Zealand, the UK and USA, however, Toronto was the site of its première not Montreal, and sadly, it has never been performed here. But, as yet, there has been no explanation as to why this did not make it into the programme as promised.
In addition, a performance from Les Ballets Jazz de Montréal (BJM) had also been advertised as part of the show since they have (somewhat controversially) obtained the worldwide dance performance rights to Cohen's music for five years, unfortunately and inadvertently cutting out other long planned performances, including Montreal's Margie Gillis, who has been using Cohen music for 40 years, and who had choreographed an original piece, entitled Blue destined to be performed to the soundtrack of Cohen's Famous Blue Raincoat song, last April, two weeks after the BJM announcement. It went ahead… danced in silence… under a new name. Loud comment indeed.
Also, Les Grands Ballets Canadiens de Montréal had a Cohen tribute show planned for June 2018, although it seems Les Grands, are still going ahead with it as part of their season closing Soirée des étoiles entitled Dance me to the end of love; however, with the Petits Chanteurs de Montréal singing Leonard Cohen, and the featured Company dancers only performing to other artists' music and not to Cohen's, seemingly hoping to sidestep the rights issue.
Unlike Glass though, an opportunity is still available to see Les Ballets Jazz perform Cohen, in their show Dance me, this December 5 to 9 at the Théâtre Maisonneuve, in Montreal.
During the tribute concert evening, however, not having been alerted by the concert organizers or the media that they were not to appear, I kept waiting to see just how they were to be incorporated on stage at the Bell Centre and, in some ways, left somewhat disappointed that had not happened. I am willing to concede I am perhaps somewhat in the minority in this regard, not everyone being as big a fan of ballet and of poetry as I am, as most don't seem to have noticed, or cared, they weren't there.
It's the poetry and word play that moves you
"The Tower of Songs Concert – Leonard Cohen with his music and poetry is expressing what we feel and do not know how to say, helping us to understand ourselves in a better way. The eclectic group of musicians reflected my own diverse feelings of, and about, love and love lost. The concert, for me was a pleasure… from the beginning of the show to the last note. Adam Cohen. Well done. Thank you."
– Harold Kaltz, Montreal, November 6, 2017
I, too, came to my love of Leonard Cohen through his word-craft. His poems and song lyrics have spoken volumes to me through the years. This is why throughout this article most of the links provided are to his song lyrics, in the hope you want to read some of them, as somehow for me the words still remain long after the music has faded.
Magnified… Sanctified… Vilified… Crucified… Here I am, my Lord
But Leonard also drew, recorded, appeared in films and film clips, as well as singing and performing in many venues throughout the world and somehow the Cohen family managed to showcase all of these talents in one form or another during the evening. There were video and voice recordings of him talking, reading poetry or singing and interacting with his family, son Adam, daughter Lorca and his grand-children.
There was also a magnificent 'mélange' of his voice, a darkened stage and the combined voices of the choir of the Shaar Hashomayim synagogue in Westmount singing You Want it Darker with that otherworldly interlude where the glorious lyric tenor voice of cantor Gideon Zelermyer soars to the rafters. "Hineni, Hineni, I am here, I'm ready, my Lord." It never fails to inspire, no matter how many times one hears it.
"Congratulations to Adam Cohen and the organizers for a wonderful star-studded tribute to our beloved Leonard Cohen. With almost 16,000 persons in attendance the Bell Centre was electric as performers such as k.d. lang, Sting, Elvis Costello and Courtney Love, among many others, performed their own renditions of the most well-known of Cohen's repertoire. A highlight of the evening was the Shaar Hashomayim choir accompanying a recorded version of Leonard Cohen's last work, You Want It Darker. Oh what a night!"
– Caroline Nabozniak, Montreal, November 6, 2017
As the song concluded, the stage and lighted backdrop went black. Leonard in his lighted window atop the tower of song went dark. The tribute was over. Our night of closure had come to an end. Some people, perhaps wanting to beat the exiting crowd, or file their stories, or catch the last train rushed out.
But the end is never truly the end is it?
"… and yes, I agree with you about the Shaar choir… in some ways I still think I would have liked the evening to end there as I am not sure (my opinion, nothing else) that the last two songs really added that much, although I do realize in arena concert going there is 'often' an encore, which was what, in essence, Adam Cohen gave us. However, since this was a memorial tribute and supposed to be a public mourning opportunity as well as a celebration of life… there was something more fitting about the ending it with You want it darker… and the magnificent male voice choir… ah well, turns out I wasn't doing the producing and choreography… so got no say in the matter. Yet, it was still the most fabulous night."
– Overheard in the stairwell while exiting the Bell Centre, Montreal, November 6, 2017
There was an encore to come
Adam Cohen walked back out onto the stage, alone with his guitar, dressed in a black t-shirt and red bandana, this time definitely not in his father's image but his own man. He explained the "raison d'être" of the night was celebration: "The goal was, as in many religions, to sing songs of praise for someone who is no longer with us," he said. "I know my father would be very grateful for… these songs being kept alive by these beautiful voices."
He asked the audience to reseat themselves, said they hadn't really planned any more songs and then spoke haltingly about the first song of his father's that he had learnt to play, a question apparently asked of him by Hal Willman during year-long planning of this tribute concert.
Reading or listening to the lyrics of Coming Back to You one recognizes it is remarkably telling song for a child and a son to sing about a famous father, especially when that father had composed it.
'Maybe I'm still hurting / I can't turn the other cheek / But you know that I still love you / It's just that I can't speak / I looked for you in everyone / And they called me on that too / I lived alone but I was only / Coming back to you'
Coming back to you, Various Positions, Leonard Cohen, 1984
As he began to sing for us, he asked folk singer-songwriter Basia Bulat to come and join him, but it was truly Adam's hymn, Adam's personal message back to his father, since in most of the other songs he performed that night, he had been accompanied or supported by other voices. Bulat merely added an almost inaudible harmony, as if gently encouraging a friend through a very difficult moment.
"The whole song is beautiful… In my opinion the song is just about someone he truly loves and he always ends up thinking about."
– Comment from NVG, songmeanings.com website
However, Basia's own turn in the spotlight came with the song many had been waiting for, Closing Time. It was a rocking, spirited, rollicking version… Leonard, Adam, Hal and the rest obviously hadn't wanted us to leave on a dark note… it was party-time… life must go on and she and the band and orchestra gave us a version that underscored that message.
Last words belong to Leonard
Leonard loved life, he loved us, and as he had already told us:
'You'll be hearing from me baby, long after I'm gone
I'll be speaking to you sweetly
From a window in the Tower of Song'
And indeed he did. Thanks Mr. Cohen. Both Mr. Cohens. Thanks to the extended Cohen family, to the orchestra, the conductors, the arrangers, the band, all the performers and musicians, the sound and lighting technicians, the camera men and women, the videographers, the montagists, the film editors, Moment Factory, The Queen E hotel, all the Bell Centre workers and stagehands. Indeed, everyone involved in giving us and Leonard our closing time. You did us proud and it was one heck of a send-off. I hope you all enjoyed it as much as we did.
"Thumbs ups. Numero uno. Perfect. Best concert ever!"
– Laura, Montreal, November 6, 2017
For some of us, it was simply the best concert and the best tribute ever. Even Elvis Costello remarked: "I will remember this night forever" and since he gets to attend so many concerts and meet so many artists that was some praise. Merci beaucoup à toutes et tous et bon courage as we navigate a world without Leonard Cohen in it to help us say what we want to say.
We're sad but we're also elated and we leave with hope in our hearts into our darkened world.
Our poet-prophet is dead… long live our poet-prophet!
Fondest regards to Leonard, Adam, Lorca et encore un grand merci… from your extended family in Montréal.
Extract from Leonard Cohen's The Window:
Come forth from the cloud of unknowing
and kiss the cheek of the moon;
the code of solitude broken
why tarry confused and alone?
And leave no word of discomfort,
and leave no observer to mourn,
but climb on your tears and be silent,
like a rose on its ladder of thorn.
O chosen love, O frozen love, O tangle of matter and ghost.
O darling of angels, demons and saints
and the whole broken-hearted host
Gentle this soul. Gentle this soul.
The Window, Recent Songs, Leonard Cohen, 1979
Feature image: Jason Thibault via StockPholio.net

Read also: Leonard Cohen, he's our man
---
Wanda Potrykus is a writer, editor, translator and poet. A graduate of McGill, she has spent most of her career in marketing communications, PR, event and media relations specializing in international aviation, telecommunications, education and the marketing of the arts.
info@westmountmag.ca
---
---