Vanya and Sonia
and Masha and Spike
Famous writers are fair game to spoof and parody
By Byron Toben
The hot ticket on Broadway at the moment is the musical Something Rotten based on a play by one Will Shakespeare taking place in Denmark. And who can forget Wayne and Shuster's take on Who Killed Julie Caesar?
Hendrik Ibsen inspired many spoofs around 1900 and more recently in Joanna Sarazen's, Nothing Never Happens In Norway at the 2012 Montreal Fringe. It had been preceded by Marianne Ackerman's How Ibsen Got His Start, at the 1992 Montreal Fringe.
Even I got into the act by channelling Damon Runyon in reviewing Guys and Dolls for Rover Arts and, last month, Ernest Hemmingway on The Great Gatsby for WestmountMag.ca.
All these great writers had a distinctive style and after all, imitation, even of a sort, is a form of flattery.
Recently, Anton Chekov hove into view with the 2013 Tony winner Vanya and Sonia and Masha and Spike by Christopher Durang. This was presented here by the admirable little group that could, Brave New Productions, helmed by Donald Rees.
Durang himself, who has authored eleven full-length plays and about 36 shorties, denies that V-S-M-S is a spoof or parody, but just an amusement that happens to blend a number of characters inspired by Chekov.
Perhaps. But Vanya, deftly played by Mr. Rees, is even here called 'uncle' as in Uncle Vanya.
Sonia, (BNP regular Emma McQueen) is here his half-sister who shares an aging house with him, seems like a sister out of Three Sisters.
The house itself is reminiscent of the decaying abode in The Cherry Orchard, replete with ten cherry trees.
Their rich sibling Masha, a famous actress, is certainly out of The Seagull and dynamically portrayed by Stephanie McKenna (another BNP regular). Her last role was as a dog in Sylvia. From dog to diva, she does it all.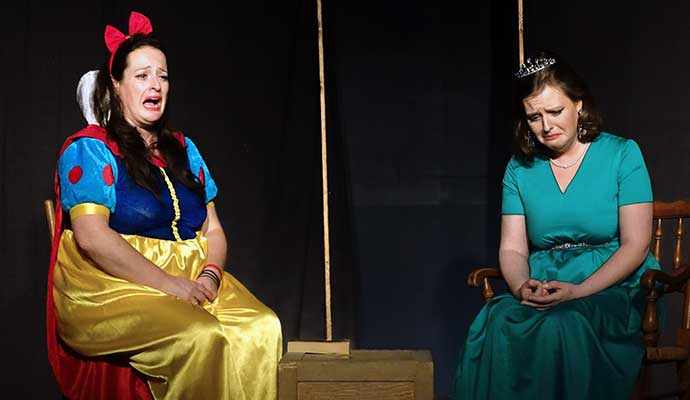 Not in the title, but definitely also from The Seagull, is Irina, an ingénue captured by Riva Rose, a rising Dawson theatre grad.
Not seemingly inspired by Chekov is the character Cassandra (Holly Greco) who, like her ancient Greek namesake is condemned to accurately foretell the future but not to be believed.
Added to this mix is Spike (Sean Curley), a very contemporary narcissistic 'boy toy' actor/gigolo picked up by the aging Masha. A great scene where the usually soft-spoken Vanya explodes at length at Spike's shallowness reminded me of Lucky's pent up outburst in Waiting for Godot.
Nir Guzinski, who once appeared as a goldfish in an earlier BNP show, has now evolved into a co-director on this one.
Since 2011, Brave New Productions has put on seventeen plays and two radio shows, including notably, The Laramie Project: 10 Years Later, 33 Variations, Mistakes Were Made and Sylvia.
Vanya and Sonia and Masha and Spike ran from December 8 to 11 at the Montreal Improv.
Check out past and future Brave New Productions shows at bravenewproductions.com
Feature image: Orlando Lopez

---
Byron Toben is the immediate past-president of the Montreal Press Club
---
---