Westmount Here & There
March 26, 2023
A look at events happening in and around Westmount
Artist Registration: Art Westmount 2023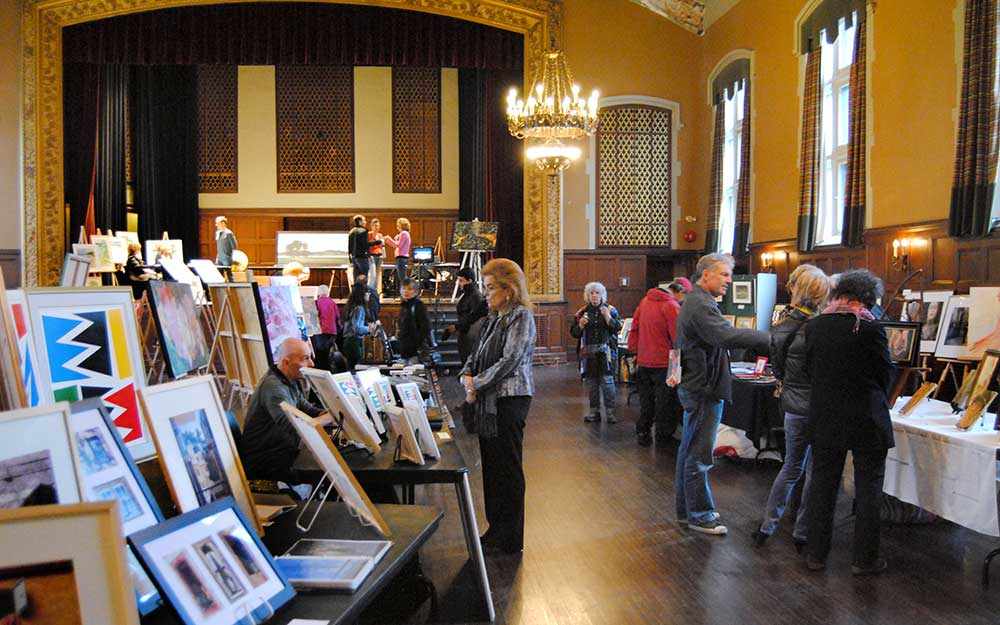 The Art Westmount festival is back! It will take place in Victoria Hall on May 6 and 7, 2023. This event is created to showcase the artists of the Westmount community and offers them a rare opportunity to exhibit and sell their art, commission-free, in a beautiful venue.
If you are an artist who lives or has a studio in Westmount, you can reserve your spot by registering online by March 24, 2023. Participation fee: $60 for the weekend. Please note that your participation will be confirmed once your registration fees are received. To register, fill out the online form.
More information at 514 989-5226.
Image: James St Laurent
Gallery at Victoria Hall – Alexander Slim
The Gallery at Victoria Hall, 4626 Sherbrooke W, is pleased to present an exhibition showcasing the works of Alexander Slim, from March 25 to April 14.
Monday to Friday: 10 am to 9 pm
Saturday: 9 am to 2 pm
More information at 514 989-5265.
INVITATION TO WESTMOUNT ARTISTS
Westmount Artists are invited to submit their candidacy for the next exhibition season of the Gallery at Victoria Hall. This call for proposals is open to emerging, semi-professional or established artists residing in Westmount. Selected artists will be offered a solo or shared exhibition at the Gallery at Victoria Hall.
Please visit the Gallery's web page to learn more about eligibility and application: westmount.org/en/recreation-culture/community-events-gallery/
Annual Application Period: February 15 to April 15
Send your proposal by completing the online form.
For more information, contact galerieart@westmount.org or 514 989-5265.
Image: Andrew Burlone
Watching Shadows
From March 22 to 25, the Professional Theatre Department at Dawson College will perform Watching Shadows by Hans Petter Blad. The show is performed by second-year students.
In Watching Shadows, the disappearance of Rakel, a young Norwegian girl, while on an exchange trip to Italy, sends her friends and family into a whirlwind of emotions. As the days pass and the tension rises, they are faced with unknown emotions and grief, all reacting in different ways while confronting the harsh reality of the world they live in. Watching Shadows is directed by Stefanie Buxton.
Runs Wednesday, March 22 to Saturday, March 25 at 8 pm
Presented at Dawson's New Dome Theatre, 2000 Atwater, Montreal
Cost: Pay What You Can
Image: Courtesy of Dawson College
Montreal Camera Club talk
On Wednesday, March 29, the Montreal Camera Club presents The Importance of the Message Behind an Image by Jean-François Seguin online via Webex from 7:30 pm to 9:30 pm.
Award-winning Canadian photographer Jean-François Seguin will give you a glimpse into the world of commercial photography – how he and his team produce the winning final image that blends with a brand's guidelines, personality, colours, and the goals of its marketing campaign.
Membership is required to get the Webex link. Half-year membership $40.
More information at montrealcameraclub.com
Concert at St. Matthias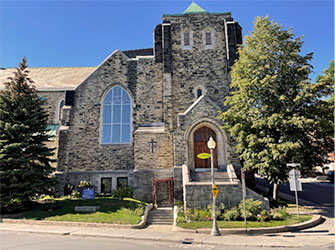 On Saturday, April 1 at 4 pm, the Church of St. Matthias, 131 Cote St-Antoine (corner Metcalfe), presents Musical Meditation, featuring the Stabat Mater by Pergolesi. With Catherine Brunelle, soprano, Christine Harel, mezzo-soprano, and Scott Bradford, organ. Free Admission. 131 Cote St-Antoine (corner Metcalfe)
More information at office@st-matthias.ca
Image: Andrew Burlone
Westmount Historical Association (WHA) Lecture
On Wednesday, April 12, 2023 at 7 pm in Victoria Hall, 4626, Sherbrooke W, the Westmount Historical Association presents a lecture entitled Westmount Train Station: CPR History and a Future Vision with David B. Hanna, PhD heritage expert and former professor of urban planning.
Westmount Train Station was once an important community location featuring some of the most storied trains of the continent. Although saved, it stands unused. How can it become a community-building location once again?
In collaboration with the Westmount Public Library.
For more information, contact Daniel Míguez de Luca at 514 989-5530 or dmiguez@westmount.org
Register on Eventbrite
Activities at Contactivity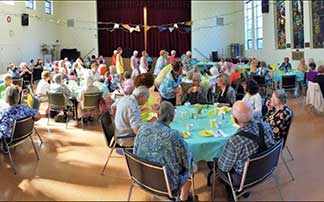 Contactivity Centre, 4695 de Maisonneuve W, is a non-profit community centre that provides a welcoming, caring and safe place for autonomous seniors 60+, where a sense of community and social engagement can be fostered. The centre hosts various courses and interest groups that encompass the mind, body and soul.
Online courses and activities are now available. For more information visit contactivitycentre.org
Image: courtesy of Contactivity Centre
Centre Greene activities
Centre Greene, 1090 Greene, is host to a wide variety of activities for young and old, including a Caregiver's Tea, Themed Activity Nights, Drop-in Daycare, After School Program, Kids' Kitchen, Tumbling Tots Playgroup, Seniors' Lunches, and more!
For more information, call 514 931-6202 or visit centregreene.org
Image: courtesy of Centre Greene
City of Westmount events
The City of Westmount offers a variety of events and activities for adults and children of all ages. Please consult the city's events calendar for more information.
Events at Westmount Public Library
4574 Sherbrooke W, Westmount
Library staff are pleased to welcome all visitors back to a safe environment in which to browse and check out items. Staff will also be there to make/renew memberships and handle your requests and questions.
More information at westlibcat.org
Image: Andrew Burlone
And over at the Atwater Library…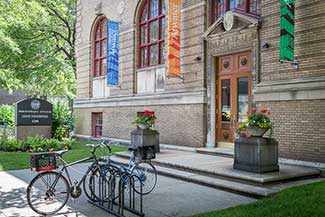 1200 Atwater, Westmount
Information at 514 935-7344.
Image: Frédéric Ryan – Instagram (@feddomtl
The Library and Computer Centre staff and volunteers are now serving the public as usual. The Library is open weekdays from 10 am to 6 pm.
The staff are always pleased to provide information and help by phone and email.
eBooks and digital audiobooks: The Library has increased its selection of digital books for your reading and listening pleasure. For information and help: 514 935-7344 or ebooks@atwaterlibrary.ca
---
SERVICES BY PHONE, EMAIL AND INTERNET
Atwater Library staff are continuing to provide help and information by phone and email at 514 935-7344 (weekdays from 9 am to 5 pm) and at info@atwaterlibrary.ca
Follow the Library on Facebook
---
DIGITAL LITERACY SERIES AND FREE HELP
Monday, March 27 from 1 pm to 3 pm
Via Zoom only: Connect Project Weekly Internet Peer Café – Join Liz Perrin for discussion about using computers, tablets and smartphones. Stay for 20 minutes or the full two hours for sharing, learning and socializing. Register and get the Zoom link here.
---
Questions about your computer or device? Email connect@atwaterlibrary.ca or phone 514 935-7344 daytime during the week. With funding from the Government of Canada.
---
YOUTUBE VIDEO SERIES
During the Spring of 2020, the Connect Project team made a series of YouTube videos to help people be in touch, informed and inspired through digital technology.
Episode 1 – Introduction: be in touch, informed and inspired through digital technology.
Episode 2 – eBooks and audiobooks: get started enjoying books on your device — phone, tablet or computer. With step-by-step instructions for borrowing eBooks and audiobooks from the Atwater Library.
Episode 3 – Podcasts
How to begin enjoying a wealth of free recorded radio programs and other online audio material. Included is info about popular and recommended podcasts.
Episode 4: Filing Your Income Tax Return Online

Episode 5: Zoom Video Conferencing
Step-by-step instructions for taking part in online meetings and events using Zoom. With a "cheat sheet" guide to buttons and functions.
Episode 6: Digital Discussions Lecture Series
A brief intro with links to presenters' slideshows and a guide to YouTube buttons and functions.
Episode 7: Online Ordering for Delivery
A guide with helpful information and local examples.
FINANCIAL LITERACY PROGRAM

Wednesday, March 29 from 2 pm to 3:30 pm
Via Zoom only: Income Tax Preparation – Retired financial planner Lynn Bennett gives an overview of 2022 provisions of federal and provincial income tax. She will explain tax treatment for different types of income and expenses, and let you know about credits and strategies you may use to optimize your tax bill. Q&A. Register and get the Zoom link: lverge@atwaterlibrary.ca

YOUTUBE VIDEO SERIES

Nutrition on a Budget
Video – Eat well on a budget (50 minutes) with Jaimie Yue, Registered Dietitian. You can sign up for her newsletter and receive a free eBook with recipes.

Personal Finances in Times of Crisis
Video (20 minutes) with Michel Gariépy, analyst with Autorité des marchés financiers (AMF). He gives tips for saving money and shares the AMF Budget Sheet and Balance Sheet forms.

RRIF (Registered Retirement Income Fund)
Video (29 minutes) with Certified Financial Planner Lynn Bennett.

Budgeting Basics 2: Protect Your Money and Online Resources
Video (35 minutes) with computer instructor Liz Perrin. She discusses online consumer resources and gives pointers for guarding against scams and fraud.

Budgeting Basics
Video (33 minutes) with computer instructor Liz Perrin on the importance of a budget, even in difficult times, and the three steps to creating one: planning, making and reviewing. Examples of free online budgeting tools are included.

Fraud prevention
COVID-19: Watch Out For Financial Fraud!
Video (25 minutes) with Michel Gariépy, analyst with Autorité des marchés financiers (AMF).

Info on Wills
Video (25 minutes) with Ann Soden, Ad. E., Elder Law Lawyer and mediator, and Anna Kamateros, notary, in conversation with Financial Literacy Program Coordinator, Natalie Domingue. Includes information on how people can write their own "holograph will" while physically isolating, with pointers for minimizing the risk of challenges after death.

Click to access Éducaloi's detailed guide on Wills.

The Atwater Library Financial Literacy Program is funded by Canadian Heritage.
Wednesday, March 29 from 12:30 pm to 2:30 pm
In person only: Hands-On Workshop on Recognizing Suspicious Emails – At Centre Greene, 1090 Greene. Bring your own device and your questions! Register at connect@atwaterlibrary.ca
---
ATWATER LIBRARY LUNCHTIME SERIES
Thursday, March 30 from 12:30 pm to 1:30 pm
In person and via Zoom (hybrid): Book Talk – Author Mary Soderstrom discusses her new book Against the Seas: Saving Civilizations from Rising Waters. Register and get the Zoom link here. For in-person attendance, no need to register. Just go to the Adair Auditorium at the Atwater Library (accessible by elevator).
---
Feature image: Andrew Burlone
Other featured articles
---
---
---