Westmount places
disappeared places
The history behind the familiar, when apartment buildings were introduced within the city limits
By Michael Walsh
Previously published June 15, 2016
There are places I remember
All my life though some have changed
Some forever not for better
Some have gone and some remain
All these places have their moments…
Though I know I'll never lose affection
For people and things that went before
I know I'll often stop and think about them…
In My Life, Lennon-McCartney, 1965
While walking through Westmount's streets, I have often wondered what occupied the areas where today's apartment buildings stand. In fact, I have been deprived of several images for this series, on many occasions, after researching the stories of former occupants, only to discover that their residences no longer exist – perhaps this is meant to be a "story behind the story".
This leads to a bigger question: at what point in time were apartment buildings introduced within the city limits?
It didn't take long to discover that the construction of apartment buildings within the city's limits was a major contentious issue. Even to this day, any change is always met with some degree of contention, a healthy measure of municipal engagement.
This particular issue was reported in the Westmount News on May 7, 1913 and described as an animated meeting of the Municipal Association: "The sentiment of the meeting was strongly against these high buildings being allowed to be run up promiscuously all over the city…"
It didn't take long to discover that the construction of apartment buildings within the city's limits was a major contentious issue.
One Alderman was in favour of a complete prohibition in any part of the city – stating: "What makes Westmount so desirable is its freedom from congestion – its isolated houses with open spaces".
Following this lengthy discussion, the following resolution was passed unanimously by Mr W.D. Lighthall and Mr J. H. Hand:
"The existing system of protecting purely residential districts from stores and apartment houses… should not be interfered with".
"That the commercial development of existing store streets be encouraged…"
"That apartment houses be restricted to store streets…"
"That in situations where apartment houses have been permitted all restrictions be submitted to a board of architects…"
What follows is another late spring stroll through Prospect, Sherbrooke Street (named after Sir John Coape Sherbrooke – appointed governor-in-chief of British North America in 1816) and ending with a story about a missing fountain from Westmount Park.
What makes Westmount so desirable is its freedom from congestion – its isolated houses with open spaces.
Some residences no longer exist; however, as the lyrics state: Some forever not for better, some have gone and some remain…
(As a side note: Prospect was also a major area of controversy. In 1968 this area was the center of a plan, by Hydro-Québec, to build a 69,000 square foot, 60-foot high sub-station at the corner of Clandeboye and Prospect. This project, had it been conceived, would have expropriated 16 residential properties, including Prospect House, a home for the elderly.)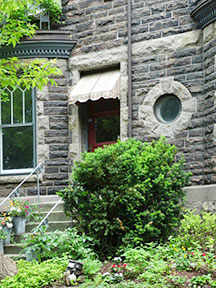 35 Prospect
W. H. A. Olive (1897), Hodgson Brothers.
The Hodgson Brothers were produce commission merchants specializing in exporting cheese and butter. The firm was established in Liverpool in 1856. Henry A. Hodgson arrived in Canada in 1875 to establish the firm's Montreal branch.
41 Prospect
E. J. Fish (1897), J. Rattray & Company, cigar manufacturers.
4101 Sherbrooke
R. H. Clerk (1897), Fry & Clerk
Formerly 4113 Sherbrooke
T. J. Alloway M.D., Chief of gynecology at the Montreal General Hospital (1897)
Formerly 4134 Sherbrooke
John Millen, John Millen & Sons (1897)
"The company was founded in 1872 and dealt first with bicycles. It sold the business to CCM and entered the automotive parts field – the first firm in Quebec to do so. The store's branches stocked parts and automotive paints. Ownership of the firm is still retained in the Millen family and the son of the founder, J. Ernest Millen, 82, arrives at his Montreal office early every morning to superintend details of the expanding enterprise." — Val d'Or Star, September 12, 1952
Formerly 4290 Sherbrooke
John Eddy & Sons, florists and "gardener to Mrs. Redpath" — The American Florist: a Weekly Journal for the Trade, Vol. 4, 1888-1889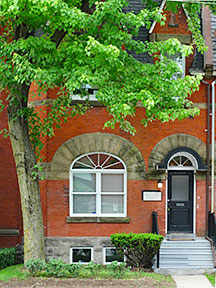 4458 Sherbrooke
A. J. Meharg, buyer, S. Greenshields, Son and Company (1897)
"Greenshields had begun his apprenticeship in the family wholesale dry goods firm, S. Greenshields, Son and Company, in 1869. Initially known as Samuel Greenshields and Son, the business had been established by his grandfather Samuel, a merchant from Glasgow, and his father, John, in 1833. Edward Black became a partner in 1876, head of the firm in 1888, and president of Greenshields Limited in 1903. He presided over the expansion of the business across Canada. By 1907 the company was the country's largest supplier of both imported and domestic dry goods. It handled cottons, woollens, carpets, household furnishings, dress goods, and notions such as gloves, hosiery and laces. In addition, it was the exclusive agent in Canada for several prestigious British and European manufacturers." — Dictionary of Canadian Biography
4485 Sherbrooke
William Stewart, Managing Director, Kingston & Montreal Forwarding Company (1897).
The Kingston & Montreal Forwarding Company was in inland water-carriage company that transported grain between Kingston and Montreal.
4488 Sherbrooke
William D. Brander, Manager, Colin McArthur and Company (1897).
In 1884, the Colin McArthur and Company place of business was the Montreal Wall Paper Factory. Prior to that date, wallpapers were imported from Great Britain or the United States. The company's daily production capacity was 60,000 rolls per day. The factory was located at 15 Voltigeurs Street (formerly used by Molsons College).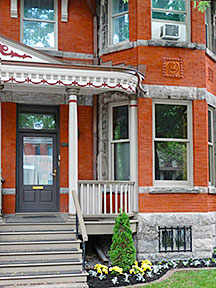 4490 Sherbrooke
William Smith, City Traveller, Dominion Wire Rope Company (1897)
From the Montreal Herald, June 17th, 1892:
The Dominion Wire Rope Co.
Wire Rope
For Hoisting Mining, Inclines Transmission of Power, Towing Ships, Rigging Guys, Etc., Etc.
Also Lang's Patent Wire Rope
For Transmission and Colliery Purposes, Signal Strand Clothes Lines and Seizing Wire.
James Cooper, Agent, 203 St. James Street, Montreal
Formerly 4836 Sherbrooke
George King, Renaud, King and Patterson (1897).
A "fine furniture emporium" located at 652 Craig Street and their factory on 62 and 64 College Street.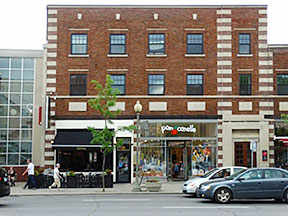 4860 Sherbrooke
Former site of Alex Nelson's residence, Alex Nelson and Company (1897).
Advertisement from the Montreal Gazette, March 30, 1918:
We are Headquarters in Montreal for Infants', Boys', Girls' and Misses' Hats and Caps.
Bring the children to Nelson's for their Easter Hats.
380 St. Catherine St. West, Open Evenings.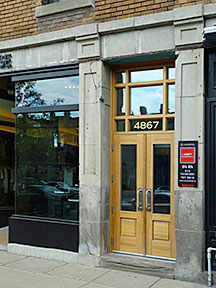 4867 Sherbrooke
Former site of J. W. Hannah (1897), Hannah & Son, grocers.
Westmount Park's Missing Fountain
From Council Proceedings, Municipal Council Minutes, Town of Westmount, May 3, 1897: "Councillor J. R. Walker submitted the report of the Road Committee date 3rd May, making the following recommendation, That, having examined the plan of a fountain which the Women's' Christian Temperance Union proposes to place in Westmount Park, that the plans of the fountain be approved and a location to be selected. On motion the report was adopted, and the matter of a site referred back to the Road Committee."
The City of Westmount Archives and Records Management office kindly did the research, and provided a fascinating insight into this matter. Apparently, in the 1960s a major redevelopment occurred in the park. During that period, the fountain was removed. Interestingly, the City's Archives has a document, with the following photographs, dated 1987, that shows the fountain disassembled, 100 kilometers north of Montreal, in Saint-Gabriel-de-Brandon. How the fountain ended up there is a question – one can speculate that it was given to a City employee who moved it to a country property.
Images: Michael Walsh
Feature image: Andrew Burlone
Read other articles by Michael Walsh
---

Michael Walsh is a long-time Westmount resident. He is happily retired from nearly four decades in the field of higher education technology. A "professional student" by nature, his academic training, and publishing, include statistical methodology, mycology and animal psychology. During this period, he was also an officer in the Canadian Armed Forces. Prior to moving to Montreal, he was contracted by the Ontario Ministry of Education evaluating bilingual primary and secondary school programs. Today, he enjoys spending time with his (huge) Saint Bernard while discovering the city's past and sharing stories of the majestic trees that grace the parks and streets. He can be contacted at michaelld2003 @hotmail.com or through his blog Westmount Overlooked
---
---