Westmount places:
A moment in time
A glimpse of Westmount Park as seen through vintage postcards
By Michael Walsh
Previously published on December 9, 2021
When was the last time you purchased a postcard? Those of us "of a certain age" can recall the time-consuming (and costly) process of taking photographs and waiting days to process the film, only to find several blurred and over-exposed images.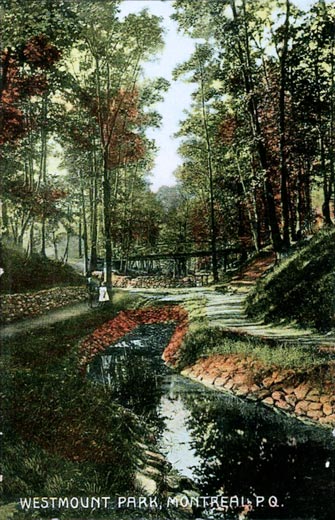 Of course, with today's smartphones, every owner possesses photographic tools that nearly match professional standards. This technical progress has left many of us with thousands of (forgotten or misplaced) images embedded on old memory cards, discarded smartphones and cloud-based servers.
I enjoy collecting postcards from the early 1900s – the main reason is that there are fewer of them in existence. Plus, looking at them closely, one can appreciate the labour required in the composition and lithographic processes given the technical infancy of that period.
You might be surprised to learn that Westmount Park and the City's floral clock were the subjects of several cards photographed and published by the John Valentines & Company in Dundee Scotland. In 1923, they opened a Montreal office and operated until 1980, at which point they were sold to Hallmark Cards.
For your enjoyment, what follows is a glimpse of Westmount's past through the images of postcards:
Welcome to Westmount Park
The early days
At leisure and at play
Westmount's famed floral clock
Images: postcards from Michael Walsh's collection

Read also other articles by Michael Walsh
---

Michael Walsh is a long-time Westmount resident. He is happily retired from nearly four decades in the field of higher education technology. A "professional student" by nature, his academic training, and publishing, include statistical methodology, mycology and animal psychology. During this period, he was also an officer in the Canadian Armed Forces. Prior to moving to Montreal, he was contracted by the Ontario Ministry of Education evaluating bilingual primary and secondary school programs. Today, he enjoys spending time with his (huge) Saint Bernard while discovering the city's past and sharing stories of the majestic trees that grace the parks and streets. He can be contacted at michaelld2003 @hotmail.com or through his blog Westmount Overlooked
---
---