Queues around Westmount
are signs of the times
The origin of the queue as a social norm in North America
By Michael Walsh
An Englishman, even if he is alone, forms an orderly queue of one.
– George Mikes
As we enter our second month of self-isolation, physical distancing and customer capacity restrictions imposed on open businesses, one has ample time to contemplate the act of queuing (or the U.S. noun 'line-up').
How many of us (myself included) believe that queuing originated in the British Isles and, through immigration, became established as a social norm in North America? If that is the case, one would be surprised to learn that queuing (or forming 'tails') was first described in Paris by the British historian Thomas Carlyle:
"If we now look at Paris, one thing is too evident: that the Baker's shops have got their Queues or Tails; their long string of purchasers, arranged in tail, so that the first come to be served, where the shop once open! This waiting in tail, not seen since the early days of July, again makes its appearance in August. In time we shall see it perfected by practice to the rank almost of an art; and the art, or quasi-art, of standing in tail becomes one of the characteristics of the Parisian People, distinguishing them from all other Peoples whatsoever."
–The French Revolution, 1871
In fact, there is an entire field of study that involves queuing theory: the statistical prediction of waiting times while standing in line. Originally published by the Danish mathematician Agner Erlang, in the early 1900s, its principles are widely used today in areas ranging from the airline industry to merchandise outlets.
Armed with this knowledge, let us take a stroll, during a sunny afternoon, along Westmount's streets and observe the queues (that maintain social distancing) along with the few stores that remain open.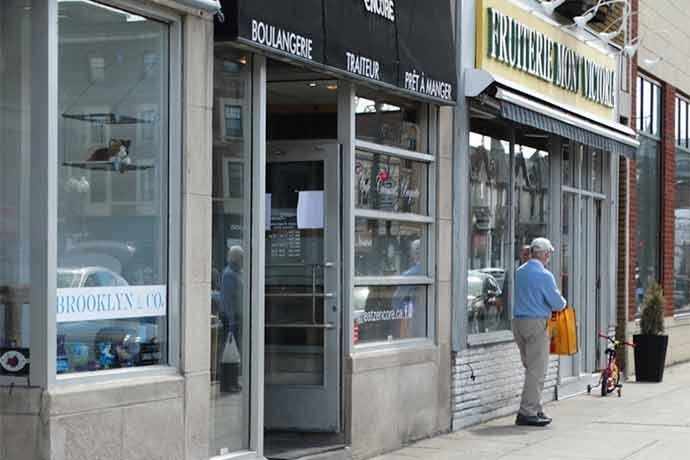 Images: Michael Walsh
Read other articles by Michael Walsh
---

Michael Walsh is a long-time Westmount resident. He is happily retired from nearly four decades in the field of higher education technology. A "professional student" by nature, his academic training, and publishing, include statistical methodology, mycology and animal psychology. During this period, he was also an officer in the Canadian Armed Forces. Prior to moving to Montreal, he was contracted by the Ontario Ministry of Education evaluating bilingual primary and secondary school programs. Today, he enjoys spending time with his (huge) Saint Bernard while discovering the city's past and sharing stories of the majestic trees that grace the parks and streets. He can be contacted at michaelld2003@hotmail.com or through his blog Westmount Overlooked
---
---