Westmount theatre
plays Stoppard and Vidal
Dramatis Personae dazzles with "More Things in Heaven and Earth"
By Byron Toben
Theatre buffs may recognize the above quote as one of the famous lines from Hamlet, Shakespeare's longest play. Like Casablanca has done in film, it has engendered perhaps the greatest number of quotes of any play on stage. A fitting title to a fun double bill.
First, The 15 Minute Hamlet…
Indeed, a rapid fire recital of some of the famous quotes by the nine member cast of the current Dramatis Personae community theatre act as a sort of overture to their rendition of Tom Stoppard's The 15 Minute Hamlet.
Director Chris Moore, who himself played the lead role in the 2013 full scale Persephone Production, here has added some cute directorial touches to the talented amateur cast. For instance, when The 15 Minute Hamlet (Bryan Ribero) recites "Words, words, words", he is reading a copy of Hamlet For Dummies. When the usurping uncle Claudius (Malcolm McRae) banishes Hamlet abroad, it is to the oft mispronounced "Ingleland". When Hamlet hurls his sword toward the King, it is transported twirling thru the air as in a Chinese action movie.
Horatio (Jenipher Chopra), the lone survivor in the original, here surveys the corpse laden scene, and, in exasperation, plops down as well. While Polonius appears (Henry Nesvadba), his famous advice "Neither a Lender Nor a Borrower Be" does not. How wise this statement is in today's world! But you have to cut something to get down to 15 fun minutes.
Director Chris Moore, who himself played the lead role in the 2013 full scale Persephone Production, here has added some cute directorial touches to the talented amateur cast.
Also, the characters of Rosenkrantz and Guildenstern are excised, but Stoppard had previously written a whole play about them.
Anyway, tho " things (may be) rotten in the state of Denmark", there is no question it is better to be in the state of Westmount to witness such community spirit. The encore includes an even more speeded up 2 minute version.
Next. Visit to a small planet.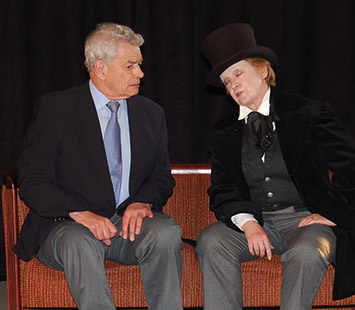 From Shakespeare to Gore Vidal. A quick costume change and we are transported to the 1960s home of pontificating TV interviewer Roger Spelding (Clive Brewer) who has denied the possibility of alien flying saucers.
Imagine the shocking arrival of one such on their lawn, witnessed by his wife (Jenepher Chopra), daughter Elllen (Fanny Dvorkin )and her boyfriend John Randolf (Bryan Libero). Imagine their further shock when the exiting "monster" is a charming chubby fellow named Kreton (Karen Sauder) dressed in 19th century Dickensian garb, a sort of OZ munchkin with a funny walk worthy of John Cleese.
General Powers (Ann Elbourne) promptly arrives to check out any hostile intent, accompanied by an aide (Ellen Rubin). Turns out the mysterious visitor from another dimension, let alone another planet, can read minds and create invisible force field walls. His own distant civilization has technology that will take earthlings a million more years to evolve to a point that they can also create it.
This imaginative play and current developments put an end to Francis Fujiyama's ridiculous 1989 claim that we have reached the "End of History". I personally believe, au contraire, that we are at the beginning of history. As Al Jolson exclaimed, "You ain't seen nothing yet". Orwell's 1984 is long past as is Kubrick's 2001: A Space Odyssey. Space Trek takes us to 2364 and Buck Rogers to as far as the 25th century.
G. Bernard Shaw eclipses all these, where, In Back to Methuselah, we reach ahead 30,000 years!
The trick ending in Visit To a Small Planet is somewhat reminiscent of The Whole Shebang by New York playwright Rich Orloff (the king of ultra short plays). There, life on Earth is a bungled class room exercise created by a teen age girl in an advanced galaxy.
More Things in Heaven and Earth continues in the Lodge Room of Victoria Hall, 4626 Sherbrooke W, on the following dates:
Sunday, May 29 at 2 pm and 5 pm
Monday, May 30 at 8 pm
Admission: suggested donation $10
Reservations are strongly recommended.
For reservations and information go to theatrewestmount.weebly.com/reservations or call 514 484-2016.
Images: Michel Degré

---
Byron Toben is the immediate past-president of the Montreal Press Club
---
---