Westmount Here & There
February 14, 2016
A look at events happening in and around Westmount these next few weeks
SPVM: Giant book drive for children in shelters
The Police Department of the City of Montreal (SPVM), in collaboration with the organization Mes livres, mon refuge, invites all residents to take part in a major collection of books that will be given to children that are temporarily housed in domestic violence shelters.
New and gently-used books for children aged 8 and under, including fiction, non-fiction, comic books, and puzzle books will be gratefully received anytime between February 1 and February 29 at any SPVM Neighbourhood Station, including Station 12 in Westmount at 21 Stanton. The main goal of this project is to help counter the adverse effects of exposure to domestic violence by providing children with an opportunity to escape into the world of reading. As a bonus, each child will be given a backpack with reading material at the end of his or her stay at the shelter to encourage further reading.
On behalf of all the children that may benefit from this project, the SPVM thanks you for your generosity!
Image: Carissa Rogers via StockPholio.net
Dil Hildebrand at the McClure
The McClure Gallery of the Visual Arts Centre, 350 Victoria, is hosting Whilst hanging from a round planet featuring the works of Dil Hildebrand till Saturday, February 27. This new series explores the theme of theatrical, often illusory space in painting and the fact that painting itself acts as an object of architecture. The polarity between flatness and space is challenging as it enfolds the viewer. An immediate sense of the movement of paint on the surface, a trompe l'oeil ambiguity, is always present and guides the artist's research.
Gallery hours: Tuesday to Friday, noon to 6 pm; Saturday, noon to 5 pm.
More information at visualartscentre.ca/mcclure-gallery
Poetry, Prose and Music at the Visual Arts Centre
On Tuesday, February 16 there will be an evening of Poetry, Prose and Music at the Visual Arts Centre, 350 Victoria. Hosted by Ilona Martonfi, the event features the talents of Laurence Miall, Ilona Martonfi, Harold Hoefle, Jesse Anger, Erika White, Ehab Lotayef, Lydia Lockett and Raymond Filip.

Doors open at 7 pm and readings begin at 7:30 pm. Admission at the door $5.
For more information contact Ilona Martonfi at 514 939-4173 or ilona.martonfi@sympatico.ca
The Gallery at Victoria Hall

The Gallery at Victoria Hall, 4626 Sherbrooke W, presents the works of Catherine Benny, Shahrzad Ghaffari and Homeira Mortazavi until Saturday, February 27.
Persian Vernissage
On Sunday, February 21 there will be a meet the artists event from 2 to 5 pm. Beautiful classical Persian and international music will be played live from 3 to 4 pm, featuring the talents of Elham Manoucheri on Tar and Cetar, Reza Abaii on Gheichak and Pasha Karami on Tombak. Followed by a performance of Franco-Anglo-Persian songs by the Westmount Singing is Fun Group led by Ira Sokolova.
Meet the artists and curator
Come meet the artists and gallery curator Victoria LeBlanc Tuesday, February 23 at 7 pm.
Gallery hours: Monday to Friday, 10 am to 9 pm, Saturday and Sunday, 10 am to 5 pm.
Information at 514 989-5521.
Home: Concert about Belonging and Journey
St. Matthias' Anglican Church, 131 Côte St-Antoine, invites the public to participate in a fundraising concert for the St. Matthias' Refugee Fund on Friday, February 19 at 7:30 pm. The concert features singer and St. Matthias' chorister Sarah Albu and the Ina Vocal Ensemble performing a program of traditional songs from Kazakhstan, Estonia, works by Henri Pousseur, Giacinto Scelsi and the premiere of work by Isaiah Ceccarelli, among others.
In collaboration with St. Andrew and St. Mark Church in Dorval, St. Matthias seeks to bring together funds to help a Syrian family immigrate to Montreal and integrate with the community. The immigration process has successfully started — the community's help is needed to complete the mission.
Admission is free, a $10-$15 donation is suggested.
Information at st-mathias.ca
Image: St. Matthias' Anglican Church / Westmount Historical Association
Events at Westmount Library
Events are free but registration is required.
Register at the Adult Desk, 4574 Sherbrooke W, or call 514 989-5299.
Wednesday, February 17 at 10:15 am — Poetry workshop with Ann Lloyd. The Westmount Poetry Group meets to compose poetry together. Members propose themes at the beginning of each session and every two weeks after that. Everyone is welcome! In the Boardroom.

Wednesday, February 17 at 7 pm — Reading Group for Joyce's Finnegans Wake: The Boaters and Sifters of ALP. Every third Wednesday of the month, join the circle skimming the surface or sifting through the layers of Joyce's Finnegans Wake. Bring an open mind and a copy of the book. In the Boardroom.
Friday, February 19 at 2 pm — Film Fridays. Afternoon Film Club. Suffragette, directed by Sarah Gavron. Tickets available at the main circulation desk. In the Westmount Room.
Monday, February 22 at 1 pm — French Book Club – Orhan Pamuk. Led by Michel Lussier. In the Westmount Room.
Tuesday, February 23 at 7 pm — English Book Club – The Heart is a Lonely Hunter by Carson McCullers. With Claire Holden Rothman. In the Westmount Room.
Images: Andrew Burlone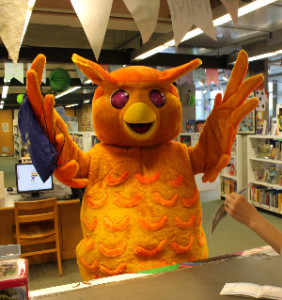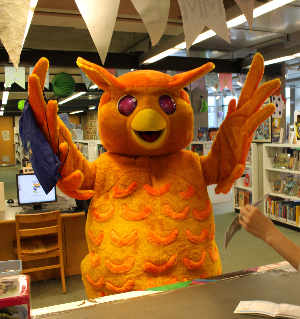 Registration is required for all events. To register, present your child's library card at the Children's Desk. For more information, call 514 989-5229.
Thursdays at 4 pm — Storytimes – 4 O'Clock Club. Listen to stories, meet other young artists, have fun, and learn about art. In the Storytime Room. (7 to 13 year olds)
Wednesdays at 5 pm — Storytimes – Caring Paws. Caring Paws matches child-certified therapy dogs and handlers with children who struggle to read. Ozzie the Golden Retriever will be at the library to provide her undivided attention to the children as they read aloud. In the Storytime Room. (7 to 13 year olds)
Monday, February 22 at 4 pm — French Book Club – Léon by Leon Walter Tillage. In the Boardroom. (9 to 13 year olds)
Thursdays at 4 pm — English Book Club – Title TBA. In the Boardroom. (9 to 13 year olds)
Fridays at 4 pm — Special Activities – Gaming at the Library! Just Dance, FIFA, NHL games and more! In the Storytime Room. (9 to 13 yr olds)
Sunday, February 28 at 1:30 pm  — Special Activities – Teen Tour Theatre – The Secret Life of Girls. At Victoria Hall. (10 to 17 yr olds)
And over at the Atwater Library…
The Atwater Library is partnering with the Alzheimer Society of Montreal to provide a monthly Alzheimer Café for Montrealers in the Library's elegant Reading Room. Each session features socializing, refreshments, live music, and discussion about aspects of life with dementia. Admission is free and everyone is welcome. For more information, contact Victoria McKinlay at victoria@atwaterlibrary.ca or 514 935-7344 ext. 206.
Tuesday, February 16 from 1 to 3 pm
Gilberte Fleishmann and Jessica Seidman of the Alzheimer Society of Montreal discuss Taking care of yourself! – Uncovering caregiver stress and meditation practices that can help manage it.
Thursday, February 18 from 7 to 9 pm
The Atwater Library project aimed at eliminating cyberviolence hosts Concordia's University of the Streets Café for a public discussion on the question Connecting Online: Is the internet a useful space for dialogue and deliberation? Moderator Linda Overing and guests Andrew MacLean and Shanly Dixon get the conversation started and invite attendees to join in. For more information, contact Eric Craven at dlp@atwaterlibrary.ca
The Atwater Library Lunchtime Series features once-a-week presentations by leading writers, musicians, intellectuals, scientists, and many more people sharing their knowledge and experience with the Atwater Library community. Lunchtime Series events usually take place on Thursdays (but sometimes are on other days), from 12:30 to 1:30 pm. Admission is free but donations are appreciated! Everyone is welcome and coffee and biscuits are served.
Friday, February 19 at 12:30 pm
To celebrate Black History Month, the Imani Gospel Singers, directed by Marcia Bailey, perform a program of spiritual music and discuss the evolution of Black gospel music.
The Atwater Poetry Project is an almost-monthly poetry reading series that brings the best local, Canadian, and international poets together with a passionate audience of poetry fans.
Saturday, February 20 at 7 pm

Readings by Rachel Lebowitz and Zach Wells
The Atwater Library Financial Literacy Program
Free sessions on financial literacy for seniors, funded by the Autorité des marchés financiers (AMF).
Wednesday, February 24 from 1 to 3 pm
For the Atwater Library Financial Literacy Program, Investment Advisor, Financial Security Advisor, and well-known Business columnist for the Montreal Gazette John Archer gives a presentation on Making sure those golden years aren't broke years: retirement income and protection strategies.
Saturday, February 27 from 5 pm to 1 am
Nuit blanche à Montréal will be at the Atwater Library and Computer Centre for the first time! The public is invited to attend exciting new-media showcase events, the products of two of our community-based projects – one led by seniors and the other by youth.
Moving Pictures: Moving Histories Out of the Attic and Into the Public
Immerse yourself in a sound and video installation that begins with images projected through the front windows of the Library. Inside, the reading room will be transformed by a multi-media exhibition created by seniors who digitized and re-edited home movies from the forties to the seventies, and made their own music and sound using digital tools. An extension of the Digital Literacy Project with support from New Horizons for Seniors and Ageing + Communication + Technologies (ACT).
Seeing Red: Young People's Stories for the Eyes, From the Heart
Be dazzled by the work of 21 young Montrealers who created stories and transformed them into digital art that comes from their hearts. Part of the Atwater Writers Exhibition (AWE) with support from the Community Cultural Action Fund (CCAF) of Canadian Heritage.
Images: Creative Commons
Feature image: Andrew Burlone

Consult our community calendar for more events.
---
---