Westmount Here & There
June 12, 2016
A look at events happening in and around Westmount
Festival Bloomsday Montréal
From June 12 to June 16, it's the 5th Festival Bloomsday Montréal, a celebration of Irish-Montréal heritage, culture and literature. For the complete schedule of events visit bloomsdaymontreal.com and for up-to-the-minute information go to the festival's Facebook page.
The following events will be happening in Westmount:
On Tuesday, June 14, from 12:30 to 1:30 pm, Stories Told and Sung featuring the grand old songs by singer Kathleen McAuliffe and stories by Margaret Nicolai and Jan Gregory, at the Atwater Library, 1500 Atwater.
On Wednesday, June 15, from 7 to 9 pm, there will be a discussion of Finnegans Wake at the Westmount Public Library, 4574 Sherbrooke W. Join the group reading and lively discussion during this book club meeting. In the Westmount Room.
On Thursday, June 16 from 11 am to 3 pm, it's Bloomsday at the Westmount Public Library, 4574 Sherbrooke W. Featuring brilliantly read excerpts from James Joyce's Ulysses by actors, Montreal journalists and Joyce aficionados, including theatre critic Jim Burke of the Montreal Gazette; former books and theatre critic Pat Donnelly; columnist Peggy Curran; playwright and actor Colleen Curran; CBC arts journalist Jeanette Kelly; novelist and playwright Trevor Ferguson; and Centaur Theatre Artistic Director Roy Surrette. In the Westmount Room.
These events are free and everyone is welcome. Registration required at events.r20.constantcontact.com/register
---
Westmount High class of '66 reunion
The 1966 graduating class of Westmount High is holding its 50th anniversary reunion over the weekend of July 8-10.
About 100 former students and partners are expected to join in the celebrations which will take place in and around Westmount. Events include a cocktail party and a gala dinner, as well as less formal events such as a walk on the mountain. Organizers attempted to contact any of the classmates who spent at least part of their high school careers in this cohort, leading to a search for over 270 people, with excellent results. Participants are travelling from as far away as Florida, the West Coast, and the United Kingdom.
Further information from Joanne Soroka at soroka@soroka.plus.com

Image: courtesy EMSB Central Parents' Committee
---
Jaswant Guzder
The McClure Gallery of the Visual Arts Centre, 350 Victoria, presents Navigating East West Hybridities featuring the works of Jaswant Guzder until Thursday, June 23.
Jaswant Guzder's paintings emerge from the realities of her life as someone with a diaspora identity. As a psychoanalyst, the realities of free association have surfaced for her in the process of book making, works on paper and continuous note taking. Her work is a chronicle of an internal process, a journey between the intuitive and the analytic, swinging between the two poles of her life work as painter and healer.
Talk: Thursday, June 16 at 7 pm
Gallery hours: Tuesday to Friday, noon to 6 pm; Saturday, noon to 5 pm.
More information at visualartscentre.ca/mcclure-gallery
Image: courtesy of the Visual Arts Centre
SPCA-AnimaPlus Snout & About
On Sunday, June 12, the largest dog walk in Montreal will take place in Mount-Royal Park with the goal of raising funds for the SPCA inspections team. With or without your 4-legged companion, come spend a fun summer's day in the company of beautiful canines!
When: Sunday, June 12 from 10 am to 3 pm (rain or shine)
Where: Mount-Royal Park – intersection of Park Avenue and Côte-Sainte-Catherine
Why: Because we all love animals!
Register at secure.e2rm.com
For more information, go to snoutandabout.ca or contact Odette Lours, Events coordinator at olours@spca.com or 514 735-2711 ext. 2264.
Image: courtesy of the Montreal SPCA.
Coffee with a Cop
On Wednesday, June 15 from 11 am to 1 pm, police officers from Station 12 will host a special meet-and-greet event, Coffee with a Cop, at Second Cup, 1386 Greene.
Westmount residents are invited to ask questions about crime or public safety issues. A unique opportunity to share concerns with the police and get feed-back in a relaxed atmosphere.
Climate Café at Westmount Park United Church
On Friday, June 17 from 7 pm to 9 pm, the public is invited to attend a Climate Café at Westmount Park United Church, 4695 Maisonneuve W.
This month's climate café features two related topics the reality of Climate Change and Permaculture. Shelagh McNally, a trained presenter for Al Gore's Climate Reality movement will take us through the causes of climate change and solutions available to us.
From a global challenge we move to very local potential, to grow food in a sustainable manner with a presentation on Permaculture from Matthew Madison and Étienne Le Corrf.
Snacks and drinks will be served.
For more information contact Reverend Neil Whitehouse at minister@westmountparkuc.org or call 514 649-3787.
Image: courtesy of Westmount Park Church
---
Advertisement
Randonnée Aventure calendars now online
Choose from exciting weekend getaways and dozens of day trips to the region's most inspiring destinations. Check out our summer hiking and cycling lineup on the Randonnée Aventure website at and go to the Buy Online Tab to register. Don't forget to download and print one of the handy activity calendars on our website as well. Guaranteed to add satisfaction to your summer!
Hiking calendar PDF
Cycling calendar PDF
More information at randonnee.ca
---
Victoria Village Street Festival
The 36th Victoria Village Street Festival takes place on the weekend of Friday, June 17, Saturday, June 18 and Sunday, June 19 on Victoria and on Sherbrooke, between Grosvenor and Claremont. There will be a sidewalk sale as well as activities and entertainment for the whole family including face painting, a wandering zoo, food trucks, an artisan's market, bouncing houses, music and more!
Don't miss it! Check out their Facebook Page.
National Aboriginal Day – Ohiari:ha
On Wednesday, June 22 from 11 am to 1:30 pm, the Socio-Cultural & Interpretive Services of the Montreal Children's Hospital will host an event to highlight National Aboriginal Day.
Join in to celebrate the contributions of Canada's First Peoples and to acknowledge their historical presence as gatekeepers of this land. Come and identify collaborative ways of working together for culturally inclusive patient and community care. There will be community information, refreshments, guest speakers and entertainment. Everyone welcome.
At the Montreal Children's Hospital, PK Subban Atrium, 1001 Decarie, Montreal – Metro Vendome
For more information call 514 412-4400 ext. 23005.
Centre Greene activities
Centre Greene, 1090 Greene, is host to a wide variety of activities for young and old, including a Caregiver's Tea, Themed Activity Nights, Drop-in Daycare, After School Program, Kids' Kitchen, Tumbling Tots Playgroup, Seniors' Lunches, and more!
Information at 514 931-6202 or consult centregreene.org
Image: courtesy of Centre Greene
Activities at Contactivity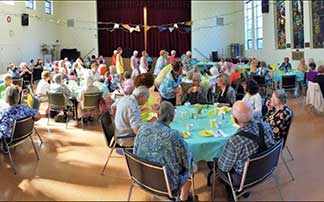 Contactivity Centre, 4695 de Maisonneuve W, is a non-profit community centre that provides a welcoming, caring and safe place for autonomous seniors 60+, where a sense of community and social engagement can be fostered. The centre hosts various courses and interest groups that encompass the mind, body and soul.
For information on the Centre's activities call 514 932-2326 or consult contactivitycentre.org
Image: courtesy of Contactivity Centre
Events at Westmount Public Library
Events are free but registration is required.
Register at the Adult Desk, 4574 Sherbrooke W, or call 514 989-5299.
Wednesday, June 15 at 7 pm — Reading Group for Joyce's Finnegan's Wake: The Boaters and Sifters of the ALP. Join the circle skimming the surface or sifting through the layers of Finnegans Wake. Bring an open mind and a copy of the book. Special treats at this special Bloomsday meeting! In the Westmount Room.
Thursday, June 16 at 11 am — Bloomsday: Dramatic Readings from Ulysses. Hear Ulysses by James Joyce read aloud by groups of actors and notable Montreal personalities such as Colleen Curran, Peggy Curran, Pat Donnelly, and others. In the Westmount Room.
Friday, June 17 at 2 pm — Film Club – Brooklyn. Tickets available two weeks prior to the event. In the Westmount Room.
Registration is required for all events. To register, present your child's library card at the Children's Desk. For more information, call 514 989-5229.
Monday, June 13 at 4 pm — Father's Day Craft. (4 years +)Thursday, June 16 at 4 pm — Where the Wild Things Are. Inspired by Maurice Sendak's Where the Wild Things Are, puppeteer and art educator Jesse Stong teaches children how to dig deep into the world of their imagination, creating characters and story ideas based on their own personalities… if you were a Wild Thing what kind of Thing would you be? In the Storytime Room. (6 years +)
And over at the Atwater Library…
1200 Atwater, Westmount
Calling all gardeners!
The Atwater Seed Library has resources to get you started this season including an extensive collection of books on gardening and seed saving. One example is Starting Seeds: How To Grow Healthy, Productive Vegetables, Herbs and Flowers From Seed by Barbara W. Ellis. Also available are packets of seeds — beans, peas, lettuce and other vegetables.
Monday, June 13 and Wednesday, June 15 from 1 to 2 pm
Downsizing and Honouring Memories: Seniors Helping Seniors. Information session about a new project, funded by New Horizons for Seniors, taking place from the summer of 2016 till March 2017. Seniors are warmly invited to attend and explore possibilities for participating and mentoring. The project coordinator is Eric Craven at dlp@atwaterlibrary.ca
The Atwater Library Lunchtime Series features once-a-week presentations by leading writers, musicians, intellectuals, scientists, and many more people sharing their knowledge and experience with the Atwater Library community. Lunchtime Series events usually take place on Thursdays (but sometimes are on other days), from 12:30 to 1:30 pm. Admission is free but donations are appreciated! Everyone is welcome and coffee and biscuits are served.
Tuesday, June 14 at 12:30 pm
Festival Bloomsday Montréal, celebrating the great James Joyce, presents Storytelling and Songs. Emceed by vocalist Kathleen McAuliffe, the program features seasoned storytellers Margaret Nicolai and Jan Gregory, and Natalia Davydova on piano.
Saturday, June 18 and Saturday, June 25 from 2 to 4 pm
The Atwater Library Preventing Cyberviolence Project is hosting Game Curious Montréal, a series of six Saturday afternoon sessions organized by the Mount Royal Game Society (MRGS). The fifth and sixth sessions will provide an introduction to a wide variety of games, as well as open discussions and group activities in a zero-pressure, beginner-friendly environment. Game Curious Montréal is aimed primarily at adults, however accompanied minors are also welcome. For more information, email Eric Craven at dlp@atwaterlibrary.ca
The Atwater Library is partnering with the Alzheimer Society of Montreal to provide a monthly Alzheimer Café for Montrealers in the Library's elegant Reading Room. Each session features socializing, refreshments, live music, and discussion about aspects of life with dementia.Admission is free and everyone is welcome. For more information, contact Victoria McKinlay at victoria@atwaterlibrary.ca or 514 935-7344 ext. 206.
Tuesday, June 21 from 1 to 3 pm
Melissa Tan, Music Therapist with Westmount Music Therapy, gives a presentation on The Joy of Music to celebrate the start of summer.
Images: Creative Commons
Feature image: Andrew Burlone

Consult our community calendar for more events.
---
---