Westmount Here & There
June 30, 2016
A look at events happening in and around Westmount
Canada Day Celebrations
FULL – Camping in Westmount Park – On Thursday, June 30, celebrate with friends and neighbours our country's 149th birthday with activities for the whole family, rain or shine! Reserve your tent site at 514 989-5226 or email cproctor@westmount.org by June 23. Space is limited! Bring your own mug or reusable water bottle.
BBQ Lunch and Splash Bash at the WRC — On Friday, July 1 starting at noon, join in for a BBQ lunch on the WRC roof, offered by the Scouts, and stay for the Splash Bash at 2 pm with games, prizes and a Canada Day Cake!
More information about both events at 514 989-5353.
Image: abdallahh via StockPholio.net
---
Westmount High class of '66 reunion
The 1966 graduating class of Westmount High is holding its 50th anniversary reunion over the weekend of July 8 to 10.
About 100 former students and partners are expected to join in the celebrations which will take place in and around Westmount. Events include a cocktail party and a gala dinner, as well as less formal events such as a walk on the mountain. Organizers attempted to contact any of the classmates who spent at least part of their high school careers in this cohort, leading to a search for over 270 people, with excellent results. Participants are travelling from as far away as Florida, the West Coast, and the United Kingdom.
Further information from Joanne Soroka at soroka@soroka.plus.com
Image: courtesy EMSB Central Parents' Committee
---
Summer Concerts 2016
Every Sunday at 2 pm. from July 10 to August 14, enjoy jazz, classical and popular music at a new location – the Pavilion entrance of the Westmount Recreational Centre on Lansdowne. Bring your picnic and a chair.
Rain location: Mouton Noir Café in the WRC, 4675 Sainte-Catherine W.
July 10 – Luc Lopez, accordionist
July 17 – Karen Potje, jazz country
July 24 – The Celtic Four, smooth Celtic
July 31 – Juliana & Jesse, urban folk
August 7 – AUB, alternative rock
August 14 – Duo Lyra, classical
More information at 514 989-5226
Image: courtesy of Juliana & Jesse 
Shakespeare in the park 2016
Repercussion Theatre presents an all-female production of Shakespeare's The Tragedy of Julius Caesar. Bring a chair and enjoy the bard under the stars.
This political drama investigates the fine line between personal ambition and the general good, and — with a cast of only women — explores the relationship between gender and power. The production includes a high level of stage combat, live drumming, and, as always, a strong aesthetic style.
Presentations on Tuesday, July 12, Wednesday, July 13, Saturday, July 30 and Sunday, July 31 in Westmount Park.
Entrance is by freewill donation.
All shows are presented in English.
More information at repercussiontheatre.com
Image: © Studio Baron Photo
Group exhibition at the Gallery
The Gallery at Victoria Hall, 4626 Sherbrooke W,  is proud to present the works of Philippe Commier, Harvey Corn, Francis Lipari, Mair Millington, Giuseppe Pascale and Paola Ridolfi from Thursday, July 14 to Saturday, August 13.
Vernissage: Wednesday, July 13 from 6 pm to 8 pm.
Open Monday to Friday, noon to 6 pm; Saturday and Sunday, noon to 5 pm.
More information at 514 989-5226.
Image: courtesy City of Westmount
---
Advertisement
Randonnée Aventure calendars now online
Choose from exciting weekend getaways and dozens of day trips to the region's most inspiring destinations. Check out our summer hiking and cycling lineup on the Randonnée Aventure website at and go to the Buy Online Tab to register. Don't forget to download and print one of the handy activity calendars on our website as well. Guaranteed to add satisfaction to your summer!
Hiking calendar PDF
Cycling calendar PDF
More information at randonnee.ca
---
 Activities at Contactivity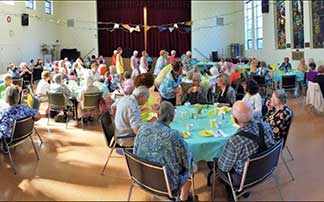 Contactivity Centre, 4695 de Maisonneuve W, is a non-profit community centre that provides a welcoming, caring and safe place for autonomous seniors 60+, where a sense of community and social engagement can be fostered. The centre hosts various courses and interest groups that encompass the mind, body and soul.
For information on the Centre's activities call 514 932-2326 or consult contactivitycentre.org
Image: courtesy of Contactivity Centre
Centre Greene activities
Centre Greene, 1090 Greene, is host to a wide variety of activities for young and old, including a Caregiver's Tea, Themed Activity Nights, Drop-in Daycare, After School Program, Kids' Kitchen, Tumbling Tots Playgroup, Seniors' Lunches, and more!
Information at 514 931-6202 or consult centregreene.org
Image: courtesy of Centre Greene
Events at Westmount Public Library
Events are free but registration is required.
Register at the Adult Desk, 4574 Sherbrooke W, or call 514 989-5299.
Adult activities will resume in September.
Registration is required for all events. To register, present your child's library card at the Children's Desk. For more information, call 514 989-5229.
Thursday, June 30 and Saturday, July 9 — Storywalk® with Marie-Louise Gay's Stella, Fairy of the Forest. Launch at the Westmount Campout in Westmount Park on June 30.  A Storywalk® is a fun activity that places a children's book along a path in the park. Share your photos using the hashtag: #WPLStorywalk
Thursday, June 30 from 5:30 pm to Friday morning — Paracord Bracelets. With Christine Laurent from Dawn of Imagination at the Westmount Park Campout. More information at 514 989-5226. Tents must to be reserved by June 17.
Wednesday, July 6 to Wednesday, August 24 – Summer Storytimes. No registration is necessary. Participants will be welcomed on a first-come, first-served basis. Please present your child's library card at the Children's Desk.
Wednesdays, 10:35 am to 10:55 am – Baby Rhyme Time (6 to 13 months – English)
Wednesdays, 10:10 am to 10:30 am – Books for Babies (14 to 24 months – English)
Tuesdays, 10:15 am to 10:45 am and Wednesdays, 3 pm to 3:30 pm– Tales for Toddlers (2 to 3 year olds – English)
Wednesdays, 4 pm to 4:45 pm – Art Adventures (4 to 6 year olds – bilingual)
Thursday, July 7, 4 pm to 5 pm – Collage Workshop with TD SRC illustrator Virginie Egger. Learn some cool collage techniques from an expert. In the Westmount Room (6 years +)
Saturday, July 9, 6 pm to 10 pm – After Hours Campout in the Library. Join in for songs, stories, and smores! (8 to 13 year olds)
And over at the Atwater Library…
1200 Atwater, Westmount
Usual events such as the Atwater Library Lunchtime Series, the monthly Alzheimer Café, the Atwater Poetry Project and the Atwater Library Book Club are on summer hiatus and will resume in September.
Calling all gardeners!
The Atwater Seed Library has resources to get you started this season including an extensive collection of books on gardening and seed saving. One example is Starting Seeds: How To Grow Healthy, Productive Vegetables, Herbs and Flowers From Seed by Barbara W. Ellis. Also available are packets of seeds — beans, peas, lettuce and other vegetables.
Tuesday, July 12 from 10 am to 3 pm
Atwater Library Lawn Book Sale features a great variety of books, including lots of paperbacks – all at rock-bottom prices!
Images: Creative Commons
Feature image: abdallahh via StockPholio.net

Consult our community calendar for more events.
---
---