Westmount Here & There
July 21, 2016
A look at events happening in and around Westmount
TD Summer Reading Club 2016
Throughout the summer months, the Westmount Public Library's Children's Department will host a number of events designed to inspire kids to read. To register for the TD Summer Reading Club and pick up a TD Summer Reading Club Kit, visit the Children's Desk with your child's Library card.
Visit the Library website for more information.
Group exhibition at the Gallery
The Gallery at Victoria Hall, 4626 Sherbrooke W, is proud to present the works of Philippe Commier, Harvey Corn, Francis Lipari, Mair Millington, Giuseppe Pascale and Paola Ridolfi until Saturday, August 13.
Open Monday to Friday, noon to 6 pm; Saturday and Sunday, noon to 5 pm.
More information at 514 989-5226.
Image: courtesy City of Westmount
Summer Concerts 2016
Every Sunday at 2 pm until August 14, enjoy jazz, classical and popular music at a new location – the Pavilion entrance of the Westmount Recreational Centre on Lansdowne. Bring your picnic and a chair.
Rain location: Mouton Noir Café in the WRC, 4675 Sainte-Catherine W.
July 24 – The Celtic Four, smooth Celtic
July 31 – Juliana & Jesse, urban folk
August 7 – AUB, alternative rock
August 14 – Duo Lyra, classical
More information at 514 989-5226
Image: courtesy of Juliana & Jesse
Cup of Tea Wednesdays Open House
Discover the Hurtubise House, the oldest in Westmount, as well as an exhibit on the Hurtubise family and an old-time vegetable garden.
Cup of Tea open houses will take place on Wednesdays, August 3 and August 17.
Visiting hours are from 1:30 pm to 3:30 pm and admission is $5, including snacks and refreshments.
Address: 563 Côte-Saint-Antoine (corner Victoria)
For more information call 438 381-4567.
Image: Creative Commons — Colocho
Shakespeare in the Park 2016
Repercussion Theatre presents an all-female production of Shakespeare's The Tragedy of Julius Caesar. Bring a chair and enjoy the bard under the stars.
This political drama investigates the fine line between personal ambition and the general good, and — with a cast of only women — explores the relationship between gender and power. The production includes a high level of stage combat, live drumming, and, as always, a strong aesthetic style.
Presentations on Saturday, July 30 and Sunday, July 31 in Westmount Park. Entrance is by freewill donation. All shows are presented in English.
More information at repercussiontheatre.com
Image: © Studio Baron Photo
---
Advertisement
Randonnée Aventure calendar now online
Choose from exciting weekend getaways and dozens of day trips to the region's most inspiring destinations. Check out our summer hiking and cycling lineup on the Randonnée Aventure website at and go to the Buy Online Tab to register. Don't forget to download and print one of the handy activity calendars on our website as well. Guaranteed to add satisfaction to your summer!
Hiking calendar PDF
Cycling calendar PDF
More information at randonnee.ca
---
Activities at Contactivity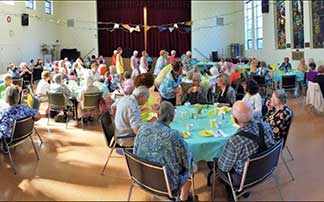 Contactivity Centre, 4695 de Maisonneuve W, is a non-profit community centre that provides a welcoming, caring and safe place for autonomous seniors 60+, where a sense of community and social engagement can be fostered. The centre hosts various courses and interest groups that encompass the mind, body and soul.
For information on the Centre's activities call 514 932-2326 or consult contactivitycentre.org
Image: courtesy of Contactivity Centre
Centre Greene activities
Centre Greene, 1090 Greene, is host to a wide variety of activities for young and old, including a Caregiver's Tea, Themed Activity Nights, Drop-in Daycare, After School Program, Kids' Kitchen, Tumbling Tots Playgroup, Seniors' Lunches, and more!
Information at 514 931-6202 or consult centregreene.org
Image: courtesy of Centre Greene
Events at Westmount Public Library
Events are free but registration is required.
Register at the Adult Desk, 4574 Sherbrooke W, or call 514 989-5299.
Adult activities will resume in September.
Seed Lending Library
The Westmount Public Library has launched this new project in partnership with the Westmount Horticultural Advisory Committee. Seeds from more than 50 varieties of plants, including herbs, flowers, vegetables, and heirloom varieties, are now available to Library members. For more information visit westlibcat.org
Registration is required for all events. To register, present your child's library card at the Children's Desk. For more information, call 514 989-5229.
Until Wednesday, August 24 – Summer Storytimes. No registration is necessary. Participants will be welcomed on a first-come, first-served basis. Please present your child's library card at the Children's Desk.
Wednesdays, 10:35 am to 10:55 am – Baby Rhyme Time (6 to 13 months – English)
Wednesdays, 10:10 am to 10:30 am – Books for Babies (14 to 24 months – English)
Tuesdays, 10:15 am to 10:45 am and Wednesdays, 3 pm to 3:30 pm – Tales for Toddlers (2 to 3 year olds – English)
Wednesdays, 4 pm to 4:45 pm – Art Adventures (4 to 6 year olds – bilingual)
Thursday, July 21, 4 pm – Movie Day: Zootopia. In the Westmount Room. (4 years +)
Thursday, July 28, 4 pm to 5 pm – Bugs, Worms and Beasties. With Amy Creighton. Get out your magnifying glass – we're going on a BUG hunt! Did you know that all gardens are full of minibeasts like worms, millipedes, snails, ants, spiders and more? Join in for an action-packed, down on the ground bug hunt. But don't worry, all the minibeasts and creepy crawlies will be safely returned to where they were found! In the Storytelling Garden. (5 years +)
And over at the Atwater Library…
1200 Atwater, Westmount
Usual events such as the Atwater Library Lunchtime Series, the monthly Alzheimer Café, the Atwater Poetry Project and the Atwater Library Book Club are on summer hiatus and will resume in September.
Calling all gardeners!
The Atwater Seed Library has resources to get you started this season including an extensive collection of books on gardening and seed saving. One example is Starting Seeds: How To Grow Healthy, Productive Vegetables, Herbs and Flowers From Seed by Barbara W. Ellis. Also available are packets of seeds — beans, peas, lettuce and other vegetables.
The Atwater Library Financial Literacy Program
Free sessions on financial literacy for seniors, funded by the Autorité des marchés financiers (AMF).
Wednesday, July 27, 1 pm to 3 pm
Wills and Mandates in Quebec, a presentation and discussion on the importance of wills and mandates, and the difference between the two. Presented by lawyer and elder law specialist Ann Soden, Ad.E. For more information contact Victoria at 514 935 7344 or victoria@atwaterlibrary.ca
Images: Creative Commons
Feature image: Andrew Burlone

Consult our community calendar for more events.
---
---