Westmount Here & There
September 29, 2016
A look at events happening in and around Westmount
Art Westmount 2016
On Saturday, October 1, from 11 am to 6 pm and Sunday, October 2, from 11 am to 5 pm, the City of Westmount will stage the sixth edition of Art Westmount, a major group exhibition showcasing the community's artists. Read the article.
New this year is the addition of authors who will be presenting their books. Uniquely inclusive and un-juried, the event recognizes and celebrates the importance of art and the passion of artists – amateur, emerging and established.
See the work of over 60 painters, sculptors, photographers and authors in Victoria Hall, 4626 Sherbrooke W, and in Place Kensington Residence, 4430 Ste-Catherine W. Readings will take place at the Westmount Public Library, 4574 Sherbrooke W.
For more information contact Ashley Baker at 514 989-5226.
WHS Talk: Flower Bulbs – Indoors and Out
On Tuesday, October 11, from 7 pm to 9 pm at the Westmount Public Library, 4574 Sherbrooke W, the Westmount Horticultural Society presents guest speaker David Wees, faculty lecturer at Macdonald Campus of McGill University in Ste-Anne de Bellevue.
David will introduce flower bulbs and cover how and where to grow bulbs outdoors and how to force them indoors. Lots to learn to help you get through winter and look forward to spring.
Doors open 6:30 pm for tea, coffee and homemade cookies.
Entrance: members free, guests $5.
Everyone welcome.
Information: 514 233-2788.
Image: Roman Boed via StockPholio.net

The Gallery at Victoria Hall – Bonnie Shemie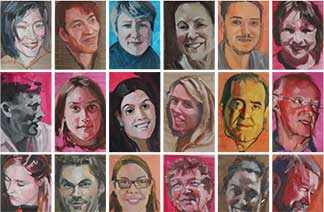 The Gallery at Victoria Hall, 4626 Sherbrooke W, presents The Good, The Bad, and The Ugly, sketch portraits by Bonnie Shemie from Friday, October 14 to Saturday, November 5.
Vernissage on Thursday, October 13 from 6 pm to 8 pm.
Come meet Bonnie Shemie and gallery curator Victoria LeBlanc on Tuesday, October 25 at 7 pm.
Gallery hours – Monday to Friday: 10 am to 9 pm; Saturday: 10 am to 5 pm.
More information at 514 989-5521.
Ballroom Blitz Dance Evening

On Saturday, October 15, from 8 pm to midnight, at Victoria Hall, 4626 Sherbrooke W, it's the Ballroom Blitz. Enjoy an evening of dance – ballroom, swing, rumba, and more – accompanied by a big band with 17 musicians.
Tickets available at Victoria Hall, Westmount Public Library, Cheapthrills and Eventbrite.
$20, $15 in advance – cash bar.
More information at 514 989-5265.

Image: Pedro Ribeiro Simões via StockPholio.com
---
Advertisement
Hike and Cycle With Randonnée Aventure!
Choose from exciting weekend getaways and dozens of day trips to the region's most inspiring destinations. Check out our summer hiking and cycling lineup on the Randonnée Aventure website and go to the Buy Online Tab to register. Don't forget to download and print one of the handy activity calendars on our website as well. Guaranteed to add satisfaction to your summer!
Hiking calendar PDF
Cycling calendar PDF
More information at randonnee.ca
---
Activities at Contactivity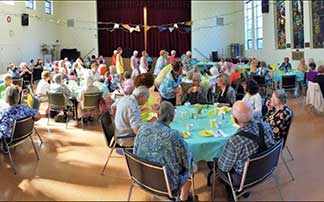 Contactivity Centre, 4695 de Maisonneuve W, is a non-profit community centre that provides a welcoming, caring and safe place for autonomous seniors 60+, where a sense of community and social engagement can be fostered. The centre hosts various courses and interest groups that encompass the mind, body and soul.
For information on the Centre's activities call 514 932-2326 or consult contactivitycentre.org
Image: courtesy of Contactivity Centre
Centre Greene activities
Centre Greene, 1090 Greene, is host to a wide variety of activities for young and old, including a Caregiver's Tea, Themed Activity Nights, Drop-in Daycare, After School Program, Kids' Kitchen, Tumbling Tots Playgroup, Seniors' Lunches, and more!
NEW – Argentinian Tango, Girokinesis and Children's Ballet with Anna Bussey of Ibuka Danse Internationale.
Information at 514 931-6202 or consult centregreene.org
Image: courtesy of Centre Greene
Events at Westmount Public Library
Events are free but registration is required.
Register at the Adult Desk, 4574 Sherbrooke W, or call 514 989-5299.
Wednesday, October 5, from 10:15 am to 11:15 am
Poetry Workshop with Ann Lloyd. The Westmount Poetry Group meets to compose poetry together. Members propose themes at the beginning of each session and every two weeks after that. Everyone is welcome!
Wednesday, October 5, from 7 pm to 9 pm
Film Club – Documentary: Trick or Treaty (2014). Special guest presenter: Alanis Obomsawin. Explore other lives, places, and realities. Watch and discuss a new documentary on the first Wednesday evening of the month. Discussions will be led by Katherine Kasirer, NFB librarian. Tickets available at the Main Desk two weeks prior to the event. In the Westmount Room.
Registration is required for all events. To register, present your child's library card at the Children's Desk. For more information, call 514 989-5229.
Fall Storytimes: September 27 – December 1
Baby Rhyme Time (6 to 13 months – in English)
Wednesdays, 10:35 am – 10:55 am
Books for Babies (14 to 24 months – in English)
Wednesdays, Group A: 10:10 am to 10:30 am; Group B: 11:10 am to 11:30 am
Tales for Toddlers (2 to 3 year olds – in English)
Tuesdays, 10:15 am to 10:45 am
Wednesdays, 3 pm to 3:30 pm
Storytime & Craft (3 to 6 year olds – in French)
Tuesdays, 4 pm to 4:45 pm
Storytime & Craft (4 to 6 year olds – in English)
Wednesdays, 4 pm to 4:45 pm
4 O'Clock Club (7 to 13 year olds – bilingual)
Thursdays, 4 pm to 4:45 pm
---
Friday, September 30, from 10 am to 11:30 am
Les journées de la culture avec Danielle Zekina. Children aged 7 to 10 years old are invited to join children's illustrator Daniela Zekina for a workshop on illustration featuring poetic picture books written by Elena Martinez.
Monday, October 3, from 4 pm to 5 pm
French Book Club – Une histoire à voix by Anthony Browne. Come discuss some wonderful books with other 9 to 13 year olds. This book club meets once a month.
Thursday, October 6, from 4 pm to 5 pm
English Book Club – Danny, Champion of the World by Roald Dahl. Come discuss some wonderful books with other 9 to 13 year olds. This book club meets once a month.
Saturday, October 8, from 2 pm to 3 pm (4 to 6 year olds) and from 3 pm to 4 pm (7 to 12 year olds).
LEGO®CLUB
Friday, October 14, from 3:30 pm to 5 pm
Gaming at the Library. Play Rock Band, Wii, DDR games and more! Snacks will be served.
And over at the Atwater Library…
1200 Atwater, Westmount
ATWATER LIBRARY LUNCHTIME SERIES
The Atwater Library Lunchtime Series features once-a-week presentations by leading writers, musicians, intellectuals, scientists, and many more people sharing their knowledge and experience with the Atwater Library community. Lunchtime Series events usually take place on Thursdays (but sometimes are on other days), from 12:30 to 1:30 pm. Admission is free but donations are appreciated! Everyone is welcome and coffee and biscuits are served.
Thursday, September 29, at 12:30 pm
Award-winning author and historian Ross King gives an illustrated presentation on his new book Mad Enchantment: Claude Monet and the Painting of Water Lilies.
Thursday, October 6, at 12:30 pm
The Milton String Quartet plays a program of favourites by Haydn and Mendelssohn. Formed in 2015 at the Schulich School of Music of McGill University, the Milton Quartet is working under the tutelage of Professor André J. Roy. Devoted to chamber music dissemination, its members are involved in the Montreal community and engage in outreach opportunities and community events.
Thursday, October 13, at 12:30 pm
Journalist Anne Lagacé Dowson discusses current Quebec attitudes towards Muslim immigrants with reference to what happened in earlier eras when foreigners arrived – the Irish, Jews, Ukrainians.
---
ATWATER POETRY PROJECT
An almost-monthly poetry reading series that brings the best local, Canadian, and international poets together with a passionate audience of poetry fans.
Thursday, September 29, at 7 pm
Readings by Richard Kelly Kemick and Katherine Leyton. The event will take place in room 7 on the ground level. Both poets are being presented in collaboration with the University of New Brunswick's annual Poetry Weekend and with support from The League of Canadian Poets.
---
SENIORS DOWNSIZING PROJECT
Tuesday, October 4, at 1 pm
Karen Kennedy gives a short talk called The Delights of Digital Downsizing: The ongoing daring adventures of one determined senior who is joyfully embracing computer technology to de-clutter and simplify life. Following her presentation, there will be a hands-on scanning workshop where attendees can begin to scan their own photos and documents, and sign up for future workshops and sessions on downsizing tips.
---
ATWATER LIBRARY BOOK CLUB
The Atwater Library Book Club is led with intelligence and skill by author Mary Soderstrom.
Wednesday, October 5, from 7:30 to 9 pm
The Plot Against America by Philip Roth. An alternative history of the USA in which FDR is defeated in the presidential election of 1940 by anti-Semite and Hitler sympathizer Charles Lindbergh.
---
ATWATER LIBRARY FINANCIAL LITERACY PROGRAM
Free sessions on financial literacy for seniors, funded by the Autorité des marchés financiers (AMF).
Wednesday, October 12, from 1 to 3 pm
Marie-Claude Giguère gives a presentation on Housing Options for Seniors. Advance registration is required. For more information and to register, please contact Victoria McKinlay at victoria@atwaterlibrary.ca or 514 935-7344 ext. 206.
---
ATWATER LIBRARY FALL BOOK SALE
Friday, October 14, from 6 to 8 pm
Saturday, October 15, from 10 am to 4 pm
The Atwater Library Fall Book Sale takes place in the main-floor reading room. Art books, biographies, books on history, classic literature, best-sellers and gift books, including collectibles – all at bargain prices!
Image: Creative Commons
Feature image : Andrew Burlone

Consult our community calendar for more events.
---
---