Westmount Here & There
December 1, 2016
A look at events happening in and around Westmount
Perceptions: Environmental Essays
The Gallery at Victoria Hall, 4626 Sherbrooke W, presents Perceptions: Environmental Essays, featuring the works of Philippe Laporta, Ann Pearson, Sylvia Rourke and Alain Roy until Saturday, December 10.
Gallery hours – Monday to Friday: 10 am to 9 pm; Saturday: 10 am to 5 pm.
More information at 514 989-5521.
Image: Ann Pearson
Candlelight Christmas 2016
The Lyric Theatre Singers return to Concordia's beautiful Loyola Chapel, 7121 Sherbrooke W, Montreal, to present their highly anticipated Candlelight Christmas concerts from December 1 to 3. Musical director, Bob Bachelor, and the Singers present their delightful seasonal repertoire featuring a wide selection of holiday music from Brazilian, Celtic, and French melodies and gospel songs to traditional carols, Broadway medleys, and Chanukah favourites. With special guests, the EMSB Chorale Youth Choir.
Show dates and times: Thursday, December 1 and Friday, December 2 at 8 pm ; Saturday, December 3 at 3:30 pm and 8 pm.
General admission seating – wheelchair accessible
Tickets: adults $28 / students and seniors $26 / children 12 and under $12
Parking $6 on Campus, adjacent to the Chapel
Box Office: call 514 743-3382 or go to lyrictheatrecompany.com
Image: Tam Lan Truong
Eva Richardson at the McClure
The McClure Gallery of the Visual Arts Centre, 350 Victoria, presents Surface, featuring the works of Eva Richardson.
In Richardson's paintings, semi-geometric abstract forms are suspended in fields of colour. Several paintings will be accompanied by some twenty small collages inspired by the materials and textures that surround the artist in everyday life: graffiti covered walls, rusted metal surfaces, old pieces of fabric and pre-used packaging materials.
Vernissage: Thursday, December 1 at 6 pm
Exhibition: December 2 to 22
Artist's Talk: Thursday, December 8 at 7 pm
Gallery Hours: Tuesday to Friday, 12 pm to 6 pm; Saturday, 12 pm to 5 pm
More information at 514 488-9558 or go to visualartscentre.ca
Christmas Tree Lighting
On Thursday, December 1 at 6:30 pm, join City Council members around the Christmas Tree at City Hall, 4333 Sherbrooke W, to sing carols, enjoy cookies, hot chocolate and spiced wine.
Suggested donation of non-perishable food items.
Information: 514 989-5226
Image: Pierre Tourigny via StockPholio.net
Dramatis Personae's Smoke & Mirrors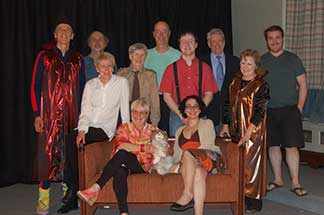 Dramatis Personae, Westmount's community theatre, will be giving four performances of Smoke & Mirrors, six short plays directed by Christopher Moore, in the Lodge Room of Victoria Hall, 4626 Sherbrooke W.
Show times are:
Friday, December 2 at 7:30 pm
Saturday, December 3 at 7:30 pm
Sunday, December 4 at 2 pm
Monday, December 5 at 8 pm.
Admission: suggested donation of $10.
Reservations and information at theatrewestmount.com and 514 484 2016.
Image: Michel Degré
Orpheus Singers perform Byrd et ses amis
Come join the Orpheus Singers on Saturday, December 3 at 7:30 pm for Byrd et ses amis, at the Church of St. John the Evangelist, 137 Président-Kennedy, Montréal (Métro Place-des-Arts, bus 80).
Celebrate the coming season with beautiful music from the English Renaissance, from the glorious sacred music of motets and the Latin Mass to the festive music of carols, with works by William Byrd, Thomas Tallis, Thomas Tomkins, and Orlando Gibbons. Accompanied by the resident organist, Federico Andreoni and a viol consort featuring Susie Napper, Margaret Little, Catherine Bahn, and Ryan Gallagher.
Tickets are $20 at the door / students and seniors $15 at the door
More information at 514 693-1634 or go to orpheusmontreal.org
Image: courtesy of the Orpheus Singers.
Adeste! Christmas Concert

On Sunday, December 4, at 3 pm, at the Ascension of Our Lord Parish, 375 Kitchener, there will be a Christmas concert featuring excerpts from Handel's Messiah and seasonal choral music, under the direction of Music Director and organist Dr. David Szanto. A reception will follow the concert.
There is no admission fee however a freewill donation is appreciated.
Proceeds go towards helping cover the cost of refurbishing the church's beautiful Casavant organ.
For more information at 514 932-3131 or info@ascensionofourlord.ca
Image: WikiMedia – Creative Commons
Héma-Québec Blood Clinic
On Wednesday, December 7, the Héma-Québec Blood Clinic will take place from 2 to 7:30 pm at Victoria Hall, 4626 Sherbrooke W.
Give the gift of life.
Information: Victoria Hall 514 989-5226 or Héma-Québec.
The Degrowth Movement
On Thursday, December 8, at 7 pm, Citizens in Action presents Professor Karl Moore who will discuss his new book The Degrowth Movement: We cannot go on consuming endlessly! at Concordia University, School of Community & Public Affairs (SCPA), 2149 Mackay, basement level.
Citizens in Action is a non-profit, non-partisan, progressive group of concerned citizens, dedicated to political, social & economic justice.
Free and open to all.
Image: via StockPholio.com
Westmount Rotary – The People's Gospel Choir Concert
The Westmount Rotary Club presents its annual concert featuring the People's Gospel Choir on Saturday, December 10, at 7:30 pm, in Victoria Hall, 4626 Sherbrooke W.
Tickets: $20 adults / $10 children under 12. Cash only.
Purchase online at brownpapertickets.com

Tickets available at Victoria Hall or by telephone through the People's Gospel Choir at 514 771-2250 or the Rotary Club of Westmount at 514 935-3344.
Image: courtesy of the People's Gospel Choir
WHS: Holiday Party and Wreath Decorating Workshop
On Tuesday, December 13, from 7 pm to 9 pm, at the Westmount Lawn Bowling Club, 401 Kensington, the Westmount Horticultural Society presents Orysia Krywiak, who has delighted us with her floral crafts in the past.
Orysia will supply materials and lead a wreath decorating workshop for those registered (bring your own wreath).
Registration fee: $25 members, $30 guests.
To register call 514 233-2788. Spaces are limited. Everyone else is welcome to watch the demonstration.
Please bring sweet or savoury finger food to share. Refreshments will be provided.
Doors open at 6:30 pm
Party entrance fee: members free, guests $5
More information at 514 233-2788.
Image: Susanne Nilsson via StockPholio.net

The Yellow Door Poetry, Prose and Music
On Tuesday, December 13 at 7:30 pm there will be an evening of poetry, prose and music on the theme of Love and Relationships at The Yellow Door, 3625 Aylmer (between Pine & Prince Arthur), Montreal. Featuring the talents of Ian Ferrier, Françoise Belu, Lp Camozzi, Harry Rajchgot, Nadine Ltaif, Jesse Anger, Alejandro Saravia, Branka Petrovic, Mike Di Sclafani, Anne Stratford, Ilona Martonfi, James Dunnigan and Shaheen Munir (music).
Doors open at 7 pm, readings begin at 7:30 pm.
Tickets at the door $6.
For more information contact Artistic Director Ilona Martonfi at 514 939-4173 or ilona.martonfi@sympatico.ca or visit yellowdoor.org
Climate Café at Westmount Park United Church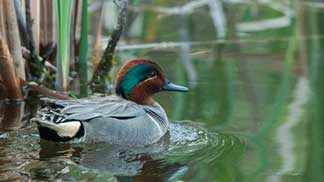 On Friday, December 16, from 7 pm to 9 pm, the public is invited to attend a Climate Café at Westmount Park United Church, 4695 Maisonneuve W. The Climate Café is a non-religious event open to everyone, organized by Westmount Park United Church as part of its Faith in Nature Centre, a community committed to building lasting relationship and partnerships for the well-being of the environment. Come to meet the growing number of neighbours who are concerned and want to make a difference!
This month the topic is The Birds of The Technoparc Wetlands. Don't miss this special lecture by Joël Coutu, specialist/consultant in ornithology, that will introduce the feathered stars that can be found in this area of Montreal.
Entrance is free. Cash-bar with snacks (please bring cash, no cards accepted).
RSVP through the event's Facebook page or EventBrite.
For more information contact Shelagh McNally at 514 937-1146 or go to westmountparkuc.org
Image: courtesy of Joël Coutu
Activities at Contactivity
Contactivity Centre, 4695 de Maisonneuve W, is a non-profit community centre that provides a welcoming, caring and safe place for autonomous seniors 60+, where a sense of community and social engagement can be fostered. The centre hosts various courses and interest groups that encompass the mind, body and soul.
For information on the Centre's activities call 514 932-2326 or consult contactivitycentre.org
Image: courtesy of Contactivity Centre
Centre Greene activities
Centre Greene, 1090 Greene, is host to a wide variety of activities for young and old, including a Caregiver's Tea, Themed Activity Nights, Drop-in Daycare, After School Program, Kids' Kitchen, Tumbling Tots Playgroup, Seniors' Lunches, and more!
Information at 514 931-6202 or consult centregreene.org
Image: courtesy of Centre Greene
Events at Westmount Public Library
Events are free but registration is required.
Register at the Adult Desk, 4574 Sherbrooke W, or call 514 989-5299.
Wednesday, December 7, from 2 pm to 4 pm
2 O'Clock Series – A Cricket on the Hearth. With Andrew MacDougall. Discover the library's afternoon lecture series, where you will hear of others' views and experiences. In the Westmount Room.
Wednesday, December 7, from 7 pm to 9 pm
Documentary Film Club – Pipelines, pouvoir et démocratie (2015). Discussions will be led by Katherine Kasirer, NFB librarian. Tickets available at the Main Desk two weeks prior to the event. In the Westmount Room.
Monday, December 12, from 1:15 pm to 3:15 pm
French Book Club – John Le Carré. Join the monthly meetings, led by Gisèle Magny. A lively discussion ensues over coffee. In the Westmount Room.
Wednesday, December 14, from 10:15 am to 11:15 am
Poetry Workshop with Ann Lloyd. The Westmount Poetry Group meets to compose poetry together. Members propose themes at the beginning of each session and every two weeks after that. Everyone is welcome!
Friday, December 16, from 2 pm to 4 pm
Film Club – The Man Who Knew Infinity. Tickets available at the Main Desk two weeks prior to the event. In the Westmount Room.
Registration is required for all events. To register, present your child's library card at the Children's Desk. For more information, call 514 989-5229.
Until Saturday, January 7
Exhibit – Harry Potter's World: Renaissance Science, Magic and Medicine
A travelling exhibit from the National Library of Medicine. In 1997, British author J.K. Rowling introduced the world to Harry Potter and a literary phenomenon was born. Millions of readers have followed Harry to the Hogwarts School of Witchcraft and Wizardry where he discovers his heritage, encounters new plants and animals, and perfects his magical abilities. Although a fantasy story, the magic in the Harry Potter books is partially based on Renaissance traditions that played an important role in the development of Western science, including alchemy, astrology, and natural philosophy.
Saturday, December 3, from 2 pm to 3 pm (4 to 6 year olds) and from 3 pm to 4 pm (7 to 12 year olds).
LEGO®CLUB
Thursday, December 8, from 4 pm to 5 pm
English Book Club – El Deafo by Cece Bell. Come discuss some wonderful books with other 9 to 13 year olds. This book club meets once a month.
Saturday, December 17, from 7 pm to 9 pm – NEW DATE!
Harry Potter's World: After Hours Event. For Harry Potter fans! Join in after hours for a fun-filled night of spells, potions and artful activities! (8 years +)

And over at the Atwater Library…
1200 Atwater, Westmount
ATWATER LIBRARY LUNCHTIME SERIES
The Atwater Library Lunchtime Series features once-a-week presentations by leading writers, musicians, intellectuals, scientists, and many more people sharing their knowledge and experience with the Atwater Library community. Lunchtime Series events usually take place on Thursdays (but sometimes are on other days), from 12:30 to 1:30 pm. Admission is free but donations are appreciated! Everyone is welcome and coffee and biscuits are served.
Thursday, December 1, at 12:30 pm
Jenny Bruce gives an illustrated presentation on the Scottish Diaspora Tapestry during the Atwater Library exhibition sponsored by the St. Andrew's Society of Montreal: The Who, Why and How the Scottish Diaspora Tapestry was created. She is the Tour Director for around-the-world displays of the Tapestry which comprises over 300 panels telling stories in embroidery of Scots who settled in far-flung places.
Thursday, December 8, at 12:30pm
Author Bonnie Farmer reads her award-winning book, Oscar Lives Next Door, based on Oscar Peterson's boyhood in Little Burgundy. With seasonal music.
Thursday, December 15, at 12:30 pm
Veteran actor Barrie Baldaro does a dramatic reading of A Child's Christmas in Wales by Dylan Thomas.
---
ATWATER POETRY PROJECT
An almost-monthly poetry reading series that brings the best local, Canadian, and international poets together with a passionate audience of poetry fans.
Thursday, December 8, at 7 pm
Readings by Nathanaël, Chantal Neveu and Jacob Wren
---
ATWATER LIBRARY BOOK CLUB
The Atwater Library Book Club is led with intelligence and skill by author Mary Soderstrom.
Wednesday, December 14, from 7:30 to 9:00 pm
The Children Act by Ian McEwan. From the acclaimed novelist, the story of an intelligent and powerful woman judge facing crises at home and at work.
Image: Creative Commons

Feature image: Andrew Burlone

Consult our community calendar for more events.
---
---