Westmount Here & There
December 15, 2016
A look at events happening in and around Westmount
Eva Richardson at the McClure
The McClure Gallery of the Visual Arts Centre, 350 Victoria, presents Surface, featuring the works of Eva Richardson. In Richardson's paintings, semi-geometric abstract forms are suspended in fields of colour. Several paintings will be accompanied by some twenty small collages inspired by the materials and textures that surround the artist in everyday life: graffiti covered walls, rusted metal surfaces, old pieces of fabric and pre-used packaging materials.
Exhibition: Until Thursday, December 22
Gallery Hours: Tuesday to Friday, 12 pm to 6 pm; Saturday, 12 pm to 5 pm
More information at 514 488-9558 or go to visualartscentre.ca
Climate Café at Westmount Park United Church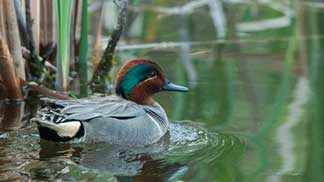 On Friday, December 16, from 7 pm to 9 pm, the public is invited to attend a Climate Café at Westmount Park United Church, 4695 Maisonneuve W. The Climate Café is a non-religious event open to everyone, organized by Westmount Park United Church as part of its Faith in Nature Centre, a community committed to building lasting relationship and partnerships for the well-being of the environment. Come to meet the growing number of neighbours who are concerned and want to make a difference!
This month the topic is The Birds of The Technoparc Wetlands. Don't miss this special lecture by Joël Coutu, specialist/consultant in ornithology, that will introduce the feathered stars that can be found in this area of Montreal.
Entrance is free. Cash-bar with snacks (please bring cash, no cards accepted).
RSVP through the event's Facebook page or EventBrite.
For more information contact Shelagh McNally at 514 937-1146 or go to westmountparkuc.org
Image: courtesy of Joël Coutu
Activities at Contactivity
Contactivity Centre, 4695 de Maisonneuve W, is a non-profit community centre that provides a welcoming, caring and safe place for autonomous seniors 60+, where a sense of community and social engagement can be fostered. The centre hosts various courses and interest groups that encompass the mind, body and soul.
For information on the Centre's activities call 514 932-2326 or consult contactivitycentre.org
Image: courtesy of Contactivity Centre
Centre Greene activities
Centre Greene, 1090 Greene, is host to a wide variety of activities for young and old, including a Caregiver's Tea, Themed Activity Nights, Drop-in Daycare, After School Program, Kids' Kitchen, Tumbling Tots Playgroup, Seniors' Lunches, and more!
Information at 514 931-6202 or consult centregreene.org
Image: courtesy of Centre Greene
Events at Westmount Public Library
Events are free but registration is required.
Register at the Adult Desk, 4574 Sherbrooke W, or call 514 989-5299.
Friday, December 16, from 2 pm to 4 pm
Film Club – The Man Who Knew Infinity. Tickets available at the Main Desk two weeks prior to the event. In the Westmount Room.
Wednesday, December 21, at 7 pm
Reading Group for Joyce's Finnegans Wake: The Boaters and Sifters of ALP. Every third Wednesday of the month, join the circle skimming the surface or sifting through the layers of Joyce's Finnegans Wake. Bring an open mind and a copy of the book. In the Boardroom.
Wednesday, December 28, from 10:15 am to 11:15 am
Poetry Workshop with Ann Lloyd. The Westmount Poetry Group meets to compose poetry together. Members propose themes at the beginning of each session and every two weeks after that. Everyone is welcome!
Registration is required for all events. To register, present your child's library card at the Children's Desk. For more information, call 514 989-5229.
Until Saturday, January 7
Exhibit – Harry Potter's World: Renaissance Science, Magic and Medicine
A travelling exhibit from the National Library of Medicine. In 1997, British author J.K. Rowling introduced the world to Harry Potter and a literary phenomenon was born. Millions of readers have followed Harry to the Hogwarts School of Witchcraft and Wizardry where he discovers his heritage, encounters new plants and animals, and perfects his magical abilities. Although a fantasy story, the magic in the Harry Potter books is partially based on Renaissance traditions that played an important role in the development of Western science, including alchemy, astrology, and natural philosophy.
Saturday, December 17, from 7 pm to 9 pm
FULL – Harry Potter's World: After Hours Event. For Harry Potter fans! Join in after hours for a fun-filled night of spells, potions and artful activities! (8 years +)

Wednesday, December 28, from 2 pm to 3:30 pm
Holiday Film – Finding Dory (4 years +)
And over at the Atwater Library…
1200 Atwater, Westmount
ATWATER LIBRARY LUNCHTIME SERIES
The Atwater Library Lunchtime Series features once-a-week presentations by leading writers, musicians, intellectuals, scientists, and many more people sharing their knowledge and experience with the Atwater Library community. Lunchtime Series events usually take place on Thursdays (but sometimes are on other days), from 12:30 to 1:30 pm. Admission is free but donations are appreciated! Everyone is welcome and coffee and biscuits are served.
Thursday, December 15, at 12:30 pm
Veteran actor Barrie Baldaro does a dramatic reading of A Child's Christmas in Wales by Dylan Thomas.
---
ALZHEIMER CAFÉ
The Atwater Library is partnering with the Alzheimer Society of Montreal to provide a monthly Alzheimer Café for Montrealers in the Library's elegant Reading Room. Each session features socializing, refreshments, live music, and discussion about aspects of life with dementia. Admission is free and everyone is welcome. For more information, contact Victoria McKinlay at victoria@atwaterlibrary.ca or 514 935-7344 ext. 206.
Tuesday, December 20, from 1 pm to 3 pm
Melissa Tan, Music Therapist with Music Therapy Westmount presents The Joy of Music!
---
Image: Creative Commons

Feature image: Andrew Burlone

Consult our community calendar for more events.
---
---