Westmount Here & There
June 8, 2017
A look at events happening in and around Westmount
Secret Places, Hidden Treasures
Secret Places, Hidden Treasures is a Westmount community art project organized by the Visual Arts Centre and sponsored by the City of Westmount and undertaken in collaboration with the McEntyre Creative Writing Competition. The art projects were created by elementary students in Westmount with the collaboration of artists from the Visual Arts Centre.
Until Friday, June 16 at the Gallery at Victoria Hall, 4626 Sherbrooke W
Monday to Friday, 10 am to 6 pm; Saturday, 10 am to 5 pm; closed on Sundays
More information at 514 989-5226
Brown's Hill at the McClure

The McClure Gallery of the Visual Arts Centre, 350 Victoria, presents Brown's Hill, featuring the works of five artists, until Saturday, June 17.
In the Eastern Township of Stanstead, is an undulating gravel road, "Browns Hill". Moving through endlessly rolling valleys, receding to a distant range of mountains and sky, Brown's Hill is the site of inspiration for this exhibition. Five artists were invited to interpret this evocative 'paysage': Sara Colby, Renée Duval, Holly King, Peter Krausz and Song Nan Zhang.
Gallery Hours: Tuesday to Friday, noon to 6 pm; Saturday, noon to 5 pm
More information at 514 488-9558 or go to visualartscentre
Victoria Village Street Festival

Wine, Chocolates & Music at the Visual Arts Centre
On Thursday, June 15 at 7:30 pm, Xlibris Publishing will present the Book Launch Party of Love Dummies celebrating Viorika Aresteanu's short fiction (nom de plume Vera Oren) with wine, chocolates and music, at the Visual Arts Centre's McClure Gallery, 350 Victoria.
There will be author readings with Felicia Mihali, Ian Ferrier, Nelly Roffé and Ilona Martonfi as well as live music by Mike Di Sclafani.
Doors open at 7 pm and readings begin at 7:30 pm. Free admission.
For more information contact Ilona Martonfi at 514 939-4173 or ilona.martonfi@sympatico.ca
Image: courtesy of the Visual Arts Centre
WHS Secret Garden Tour
Tickets for the Westmount Horticultural Society's upcoming Secret Garden Tour which will take place on Thursday, June 15, rain or shine, are now available. The seventh edition of this popular event gives you the opportunity to discover and explore ten of the most exceptional back gardens in our community. Tickets are available at Victoria Hall or Westmount Library. Tickets are limited and sold on a first come, first served basis. Cost is $45 (includes route map and box lunch).
More information at 514 233-2788 or westhortsoc@gmail.com
Image: Shelby Bell via StockPholio.net
Lyric Theatre Singers' Hello Broadway
The Lyric Theatre Singers return to Concordia University's DB Clarke Theatre, 1455 de Maisonneuve (corner of Bishop) June 15, 16 and 17 with four presentations of Hello Broadway.
This new original musical theatre revue, created by directors and longtime Lyric collaborators, Bob Bachelor and Cathy Burns, features forty performers and five musicians serving up a lively, eclectic assortment of Broadway's most memorable moments, past and present.
Show dates and times: Thursday, June 15 at 8 pm; Friday, June 16 at 8 pm; Saturday, June 17 at 2 pm and 8 pm. Reserved seating – Wheelchair accessible.
Tickets: $36 Regular; $32 Students / Seniors; $17 Children 12 and under; $30 "Student Saturday".
Call 514 743-3382, or purchase online at lyrictheatrecompany.com, or email lyrictheatreboxoffice@gmail.com
Image: Tam Lan Truong
Climate Café at Westmount Park United Church
On Friday, June 16, from 7 pm to 9 pm, the public is invited to attend a Climate Café at Westmount Park United Church, 4695 Maisonneuve W.
The Climate Café is a non-religious event open to everyone, organized by Westmount Park United Church as part of its Faith in Nature Centre, a community committed to building lasting relationship and partnerships for the well-being of the environment. Come to meet the growing number of neighbours who are concerned and want to make a difference!
This month the topic is composting. Compost Montreal will give a demo on how easy it is to compost. There will also be an opportunity to sample the community garden's first edibles.
Entrance is free. Cash-bar with snacks (please bring cash, no cards accepted).
For more information contact Shelagh McNally at 514 937-1146 or go to westmountparkuc.org
Image: courtesy Westmount Park United Church
Westmount Rotary luncheon
On Wednesday, June 21 at 12 pm in Victoria Hall, 4626 Sherbrooke W, the Rotary Club of Westmount presents guest speaker Lt-Col John Shone, Commanding Officer, The Royal Montreal Regiment who will give a talk on The Army Reserve and the Montreal Flood of 2017.
Cost $20
More information at 514 935-3344 and at info@rotarywestmount.org
Image: Canadian Armed Forces
Saint-Jean in Westmount
On Friday, June 23 starting at 5 pm, celebrate the start of summer with Saint-Jean festivities in Westmount Park (Melville Playing Field).
There will be activities for all ages. Bring a picnic or take advantage of the BBQ offered by St. Andrew's Venturer Scouts. Test your circus skills of juggling and acrobatics. See how much you know about Quebec. Join in the dancing with traditional music.
Activity schedule:
5 pm – Crafts – activities – face painting by Studio D
5:30 pm – Picnic time – Scout BBQ & cotton candy – Juggling, acrobatic workshops with Productions 3.2.1. Cirque
7 pm – Concert and dance with Les Eclusiers de Lachine
8:30 pm – Saint-Jean cake for all
9 pm – Bonfire
More information at 514 989-5226
Image: abdallahh via StockPholio.net
Activities at Contactivity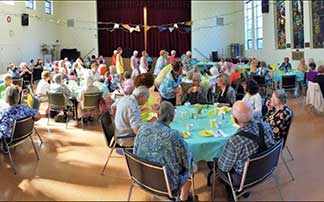 Contactivity Centre, 4695 de Maisonneuve W, is a non-profit community centre that provides a welcoming, caring and safe place for autonomous seniors 60+, where a sense of community and social engagement can be fostered. The centre hosts various courses and interest groups that encompass the mind, body and soul.
For information on the Centre's activities call 514 932-2326 or consult contactivitycentre.org
Image: courtesy of Contactivity Centre
Centre Greene Activities
Centre Greene, 1090 Greene, is host to a wide variety of activities for young and old, including a Caregiver's Tea, Themed Activity Nights, Drop-in Daycare, After School Program, Kids' Kitchen, Tumbling Tots Playgroup, Seniors' Lunches, and more!
Information at 514 931-6202 or consult centregreene.org
Image: courtesy of Centre Greene
Events at Westmount Public Library

Events are free but registration is required.
Register at the Adult Desk, 4574 Sherbrooke W, or call 514 989-5299.
Friday, June 16 from 11 am to 3 pm
Bloomsday Readings. Do not miss these dramatic readings from Ulysses by local media personalities and actors. Insight and context comes along with Joycean experts, Maggie Benfield and Denis Sampson, who will introduce each reading. In Victoria Hall.
Tuesday, June 20 from 7 pm to 9 pm
English Book Club – Do Not Say We Have Nothing by Madeleine Thien. With Claire Holden Rothman. A lively discussion ensues over coffee. In the Westmount Room.
Wednesday, June 21 from 7 pm to 8 pm
Reading Group for Joyce's Finnegans Wake: The Boaters and Sifters of ALP. Every third Wednesday of the month, join the circle skimming the surface or sifting through the layers of Finnegans Wake to see what is conceived. Bring an open mind and a copy of the book. In the Westmount Room.
Registration is required for all events. To register, present your child's library card at the Children's Desk. For more information, call 514 989-5229.
Saturday, June 17 from 10 am to 9 pm
Get Your Summer Read On Day. TD Summer Reading Club's Get Your Summer Read On Day is the official registration kick off for the 2017 TD Summer Reading Club across Canada.
Special activities:
Read Away Your Fines! – every 15 minutes of reading is worth $1.00. You can read down any or all of your fines that day. (Replacement charges for lost or damaged items are not eligible.)
Read On Day Tent – cozy up with your favourite book inside of our Reading Tent!
Read On with the NFB film – I Can Make Art… Like Emily Carr from 11 am to 12:30 pm (6 years +)
Read On with the NFB film – I Can Make Art… Like Andrew Qappik from 2 pm to 4 pm (8 years +)
Saturday, June 17 from 10 am to 12 pm
Travel Canada on a Postcard! We'll take your picture and put you somewhere in Canada. Pick up your personalised postcard on your next visit and you can send it to family and friends.
Wednesday, June 21 from 4 pm to 4:45 pm
Art and Stories from Coast to Coast to Coast: Celebrate National Aboriginal Day. (3 to 6 year olds)
Wednesdays, June 21 to July 26 from 10:30 am to 11 am
Family Storytime and Songs. No registration necessary. Participants will be welcomed on a first-come, first-served basis. In the Storytime Room (6 months to 3 years)
And over at the Atwater Library…

1200 Atwater, Westmount
ATWATER LIBRARY LUNCHTIME SERIES
The Atwater Library Lunchtime Series features once-a-week presentations by leading writers, musicians, intellectuals, scientists, and many more people sharing their knowledge and experience with the Atwater Library community. Lunchtime Series events usually take place on Thursdays (but sometimes are on other days), from 12:30 to 1:30 pm. Admission is free but donations are appreciated! Everyone is welcome and coffee and biscuits are served.
Thursday, June 8 at 12:30 pm
American novelist Cam Terwilliger reads from his novel-in-progress, Yet Wilderness Grew in My Heart, set in the colonies of New York and Quebec during the Seven Years' War (1756-1763).
Thursday, June 15 at 12:30 pm
Festival Bloomsday Montreal, celebrating the great James Joyce, presents Growing Up Irish. Master storytellers Jan Gregory and Margaret Nicolai, with actor Clive Brewer, join pianist Natalia Davydova and soprano Kathleen McAuliffe for stories and music. Listen and sing along — you'll hear some of the best-loved tunes that appear in the works of James Joyce.
Thursday, June 22 at 12:30 pm
Edward McCann, retired history museum curator, gives an illustrated talk on the Scottish photographer to Queen Victoria, George Washington Wilson, in conjunction with an exhibition of important Wilsonian photographs and historic apparatus in the Library's reading room. Wilson's influence is evident in the romantic 19th century landscapes of Montreal's Alexander Henderson and the business acumen of William Notman.
---
ATWATER POETRY PROJECT
An almost-monthly poetry reading series that brings the best local, Canadian, and international poets together with a passionate audience of poetry fans.
Wednesday, June 14 at 8:30 pm
Reading by Lillian Allen. This reading will take place at La Vitrola, 4602 St-Laurent, Montreal, and not at the Atwater Library. Special free presentation of Lillian Allen in collaboration with the Suoni Per Il Popolo festival, iPLAI McGill and CKUT 90.3 FM. Ms. Allen will share the stage with Kaie Kellough and Tanya Evanson with ZENSHIP.
Thursday, June 22 at 7 pm
Readings by Natasha Kanapé Fontaine and Norman Nawrocki. Coordinated by Deanna Radford.
---
Atwater Library Seniors Helping Seniors Develop a Living History Collection project
Friday, June 16 from 1 pm to 3:30 pm
The Atwater Library Seniors Helping Seniors Develop a Living History Collection project gets started with an information session followed by a workshop facilitated by Concordia University history professor Dr. Steven High. Coffee and snacks provided. For information, please email Eric Craven at dlp@atwaterlibrary.ca
---
ALZHEIMER CAFÉ
The Atwater Library is partnering with the Alzheimer Society of Montreal to provide a monthly Alzheimer Café for Montrealers in the Library's elegant Reading Room. Each session features socializing, refreshments, live music, and discussion about aspects of life with dementia. Admission is free and everyone is welcome. For more information, contact Victoria McKinlay at victoria@atwaterlibrary.ca or 514 935-7344 ext. 206.
Tuesday, June 20 from 1 pm to 3 pm
Summertime celebration – Final Café for the season!
Image: Creative Commons
Feature image: Andrew Burlone
Consult our community calendar for more events.
---
---