Westmount Here & There
June 22, 2017
A look at events happening in and around Westmount
Montreal Camera Club 125th anniversary
The Montreal Camera Club celebrates its 125th anniversary with an exhibition showcasing the work of about fifty current members, as well as a historical section with archival prints by MCC members from the 1890s to 1950s.
From Tuesday, June 20 to Thursday, June 22 and from Monday, June 26 to Thursday, June 29 from noon till 6 pm.
At the McClure Gallery of the Visual Arts Centre, 350 Victoria.
Habitat '67 – The Shape of Things to Come
Learn more about Habitat '67 – architect Moshe Safdie's pioneering urban housing – in activities organized for the exhibition Habitat '67 vers l'avenir/ The Shape of Things to Come at the UQAM Centre de design, 1440 Sanguinet, Montreal (Metro Berri).
Paying tribute to the internationally renowned architect, this exhibition is free and presented until August 13, Tuesday to Sunday, from noon to 6 pm, and is part of the official programming of Montreal's 375th anniversary.
Habitat '67 guided tours
Offered until October 2017
Cost: $20 plus taxes and service fees
It is now exceptionally possible to visit Habitat '67 for its 50th anniversary. English or French 90-minute guided tours will let the public discover this unique architectural gem and learn more about its origins and its evolution throughout the last 50 years.
Consult the complete schedule for the Habitat '67 visits.
Read the article Habitat '67 – The Shape of Things to Come
Saint-Jean in Westmount
On Friday, June 23 starting at 5 pm, celebrate the start of summer with Saint-Jean festivities in Westmount Park (Melville Playing Field).
There will be activities for all ages. Bring a picnic or take advantage of the BBQ offered by St. Andrew's Venturer Scouts. Test your circus skills of juggling and acrobatics. See how much you know about Quebec. Join in the dancing with traditional music.
Due to weather conditions, activities have been moved to Victoria Hall, 4626 Sherbrooke W.
Here is the adjusted schedule:
5 pm – Crafts – games – activities – face painting by Studio D
5:30 pm – Scout cotton candy and drinks – Juggling, acrobatic workshops with Productions 3.2.1. Cirque
7 pm – Concert and dance with Les Eclusiers de Lachine
8:30 pm – Saint-Jean cake for all
More information at 514 989-5226
Image: abdallahh via StockPholio.net
Canada Day Westmount
Westmount's 150th Canada Day celebrations take place at Westmount Park, on Saturday, July 1 starting at 11 am. Fun for the entire family!
11 am – Canadian Citizenship Ceremony
On the roof, Westmount Recreation Centre
12:30 pm – BBQ Lunch
Hamburgers, hot-dogs and beverages. Organized by the Westmount YMCA Teen Zone. At the Westmount Recreation Centre.
2 pm – Splash Bash
Games and prizes. In the Westmount Pool.
3 pm – Canada Day Cake
At the Westmount Recreation Centre.
6:30 pm – Celebrate Canada Day – Westmount Style!
Food trucks, refreshments, music and entertainment for all. In the field in front of Westmount Park School.
9:30 pm – Party Time!
Interactive light show. In Westmount Park.
More information at 514 989-5226
Image: abdallahh via StockPholio.net
The Gallery at Victoria Hall Group Show
The Gallery at Victoria Hall, 4626 Sherbrooke W, is proud to present the works of Lucie Bernard, Ann Elsdon, Eva Ferenczy Reichmann, Brent Maclaine, Eliane Rivard and Douglas Scott from July 6 to August 11.
Vernissage : Wednesday, July 5 from 6 pm to 8 pm.
Gallery hours: Monday to Friday, 10 am to 9 pm; Saturday, 10 am to 5 pm.
More information at 514 989-5521.
Summer Concert Series 2017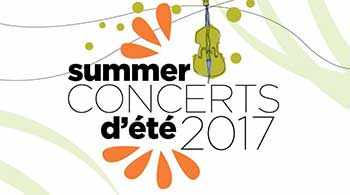 Enjoy jazz, classical and popular music Sunday afternoons by the lagoon in Westmount Park — bring a picnic and a chair.
July 9– Durham County Poets – Soulfolk
July 16 – Corey & Sheila – Jazz
July 23 – Chorus Trio – Soul and R&B
July 30 – Handmade Journey – Jazz and Latin American
August 6 – Bluzz Jazz Band – Jazz
August 13 – QuaVaria – Vocal ensemble
More information at 514 989-5226.
Rain location: Mouton Noir Café in the Westmount Recreation Centre, 4675 Ste-Catherine W.
Activities at Contactivity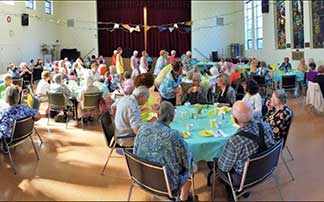 Contactivity Centre, 4695 de Maisonneuve W, is a non-profit community centre that provides a welcoming, caring and safe place for autonomous seniors 60+, where a sense of community and social engagement can be fostered. The centre hosts various courses and interest groups that encompass the mind, body and soul.
For information on the Centre's activities call 514 932-2326 or consult contactivitycentre.org
Image: courtesy of Contactivity Centre
Centre Greene Activities
Centre Greene, 1090 Greene, is host to a wide variety of activities for young and old, including a Caregiver's Tea, Themed Activity Nights, Drop-in Daycare, After School Program, Kids' Kitchen, Tumbling Tots Playgroup, Seniors' Lunches, and more!
Information at 514 931-6202 or consult centregreene.org
Image: courtesy of Centre Greene

Events at Westmount Public Library

Events are free but registration is required.
Register at the Adult Desk, 4574 Sherbrooke W, or call 514 989-5299.
Adult activities are not offered at this time.
Registration is required for all events. To register, present your child's library card at the Children's Desk. For more information, call 514 989-5229.
Wednesdays until July 26 from 10:30 am to 11 am
Family Storytime and Songs. No registration necessary. Participants will be welcomed on a first-come, first-served basis. In the Storytime Room (6 months to 3 years)
Wednesday, June 28 from 3 pm to 5 pm
Travel Canada on a Postcard! We'll take your picture and put you somewhere in Canada. Pick up your personalised postcard on your next visit and you can send it to family and friends.
Wednesday, June 28 from 4 pm to 4:45 pm
Art and Stories from Coast to Coast to Coast: Welcome to the West Coast. (3 to 6 year olds)
Wednesday, June 28 from 4 pm to 5 pm
English Book Club – Theodore Boon: The Scandal by John Grisham. Come discuss some wonderful books with other 9 to 13 year olds. This book club meets once a month.
Thursday, June 29 from 4 pm to 5 pm
Hoop Dancing. With professional dancer Barbara Diabo. Barbara is from the Mohawk Nation and will share her culture with us through dance, music, and storytelling. In the Westmount Room. (5 years +)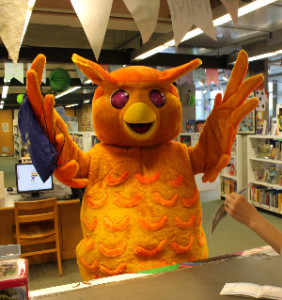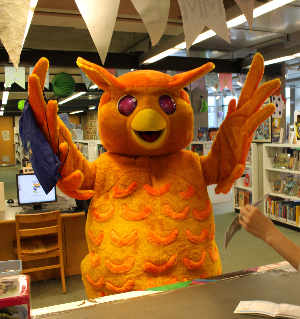 Friday, June 30 to Saturday, August 5
Storywalk® with The Hockey Sweater. A Storywalk® is a fun actvity that places a children's book along a path in the park. Share your photos with us using the hashtag #WPLStorywalk. Special launch with author Roch Carrier and illustrator Sheldon Cohen at 6:30 pm on Friday, June 30 in Westmount Park.
Friday, June 30 from 6:30 pm to 9 pm
PJs and Stories, and Movies, Oh my! For the whole family!
6:30 pm – Storywalk® Launch of the Canadian Classic The Hockey Sweater. In Westmount Park.
7 pm – The LEGO Batman Movie with popcorn and drinks. In Victoria Hall.
Don't forget that your entire family is welcome to wear pj's!
Wednesday, July 5 from 4 pm to 4:45 pm
Art and Stories from Coast to Coast to Coast: Maritime Merriment (3 to 6 year olds)
Thursday, July 6 from 4 pm to 5 pm
Dinosaurs of Canada. With Ingrid Birker from the Redpath Museum. In the Storytime Room (6 years +)
Saturday, July 8 from 6 pm to 9 pm
After Hours Campout in the Library. Join in for some Canadian songs, stories, and games! Registration required. In the Storytime Room (8 to 13 year olds)


And over at the Atwater Library…

1200 Atwater, Westmount
ATWATER LIBRARY LUNCHTIME SERIES
The Atwater Library Lunchtime Series features once-a-week presentations by leading writers, musicians, intellectuals, scientists, and many more people sharing their knowledge and experience with the Atwater Library community. Lunchtime Series events usually take place on Thursdays (but sometimes are on other days), from 12:30 to 1:30 pm. Admission is free but donations are appreciated! Everyone is welcome and coffee and biscuits are served.
Thursday, June 22 at 12:30 pm
Edward McCann, retired history museum curator, gives an illustrated talk on the Scottish photographer to Queen Victoria, George Washington Wilson, in conjunction with an exhibition of important Wilsonian photographs and historic apparatus in the Library's reading room. Wilson's influence is evident in the romantic 19th century landscapes of Montreal's Alexander Henderson and the business acumen of William Notman.
---
ATWATER POETRY PROJECT
An almost-monthly poetry reading series that brings the best local, Canadian, and international poets together with a passionate audience of poetry fans.
Thursday, June 22 at 7 pm
Readings by Natasha Kanapé Fontaine and Norman Nawrocki. Coordinated by Deanna Radford.
---
ATWATER LIBRARY LAWN BOOK SALE
Tuesday, July 11 from 10 am to 3 pm
The Atwater Library Lawn Book Sale features a great variety of books, including lots of paperbacks – all at rock-bottom prices!
Donations Wanted
The Library welcomes donations of books in good condition and also DVDs. Please note that Harlequin romances, encyclopedias, text books, out-of-date computer books or National Geographic magazines are not accepted as there's no market for them. Please drop off donations at the Tupper Street entrance.
Image: Creative Commons
Feature image: abdallahh via StockPholio.net
Consult our community calendar for more events.
---
---