Westmount Here & There
August 31, 2017
A look at events happening in and around Westmount
Ranee Lee: Dark Divas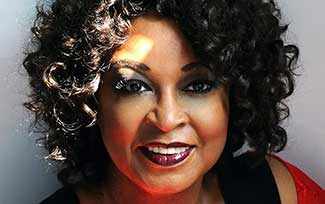 On Saturday, September 9 at 7:30 pm in Victoria Hall, 4626 Sherbrooke W, Doudou Boicel, in collaboration with Westmount's Community Events Division, is proud to present jazz legend Ranee Lee in Dark Divas: The Musical. Let yourself be serenaded with this tribute to some of the most popular female jazz singers of the 20th Century, including Josephine Baker, Billie Holiday, Ella Fitzgerald, and Sarah Vaughan.
She will be accompanied by musicians Ron Di Lauro on trumpet, Jean-Pierre Zanella on alto sax, Muhammad Abdul Al Khabyyr on trombone, Richard Ring on guitar, Dave Watts on bass, Taurey Butler on piano and Dave Laing on drums.
Tickets are $ 30 and are available at Victoria Hall, the Library and online at Eventbrite.ca
More information at 514 989-5226.
Image: courtesy of Ranee Lee
Let's Talk Opera!

On Sunday, September 10 at 10:30 am, Tosca, the first in a series of opera talks, will take place at Victoria Hall, 4626 Sherbrooke W.
Opéra de Montréal is proud to offer opera lovers or newcomers a brand new series of in-depth discussion on each opera of the season right before the premiere. Plot, music, voices, cultural context, composer, style… everything you ever wanted to know to better prepare you to attend the performance, with musicologist Pierre Vachon (Ph.D.), a pianist and a singer. Duration: 90 minutes with coffee break.
Presented in English by Opéra de Montréal.
For more more information, and to RSVP, please visit their website.
Climate Café at Westmount Park United Church
On Friday, September 15, from 7 pm to 9 pm, the public is invited to attend a Climate Café at Westmount Park United Church, 4695 Maisonneuve W.
The Climate Café is a non-religious event open to everyone, organized by Westmount Park United Church as part of its Faith in Nature Centre, a community committed to building lasting relationship and partnerships for the well-being of the environment. Come to meet the growing number of neighbours who are concerned and want to make a difference!
This month the topic is Making Meadowbrook West-end Montreal's Mount Royal Park. Featuring representatives from Les Amis du Parc Meadowbrook and a speaker from Bird Protection Quebec who will discuss the birds and wildlife of Meadowbrook.
Entrance is free. Cash-bar with snacks (please bring cash, no cards accepted).
For more information contact Shelagh McNally at 514 937-1146 or go to westmountparkuc.org
Image: Patricia Dumais

Centre Greene Activities
Centre Greene, 1090 Greene, is host to a wide variety of activities for young and old, including a Caregiver's Tea, Themed Activity Nights, Drop-in Daycare, After School Program, Kids' Kitchen, Tumbling Tots Playgroup, Seniors' Lunches, and more!
Information at 514 931-6202 or consult centregreene.org
Image: courtesy of Centre Greene
Activities at Contactivity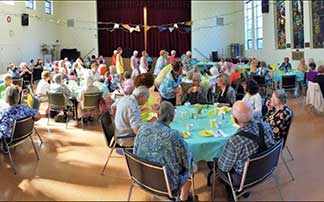 Contactivity Centre, 4695 de Maisonneuve W, is a non-profit community centre that provides a welcoming, caring and safe place for autonomous seniors 60+, where a sense of community and social engagement can be fostered. The centre hosts various courses and interest groups that encompass the mind, body and soul.
For information on the Centre's activities call 514 932-2326 or consult contactivitycentre.org
Image: courtesy of Contactivity Centre
Events at Westmount Public Library

4574 Sherbrooke W, Westmount
The Westmount Public Library is closed until September 5 for improvements to Library spaces including carpet replacement.
The Library will reopen on Tuesday, September 5 at 10 am. A festive open house is also scheduled for Saturday, September 16 at 10 am.
There will be a temporary Pop-up Library at Victoria Hall, 4626 Sherbrooke W, from 11 am to 7 pm on Thursday, August 31
Visit the temporary location to: read current newspapers and magazines, pick up holds, return books, use free wifi and public computers, and access a small circulating collection.
Information and updates are available on the Library's website at westlib.org
---
Tales & Travels: Registration. The Tales & Travels Series is a weekly activity for individuals with Alzheimer's disease and other forms of dementia. Sessions will take place Fridays, September 15 to October 13, from 1 pm to 3 pm in the Westmount Room. Spots are limited and registration is required. For more information, please contact Daniel Míguez de Luca at 514 989-5530 or at dmiguez @ westmount.org
Wednesday, September 13, from 7 pm to 9 pm
Documentary Film Club – Seed: The Untold Story (2016). Explore other lives, places, and realities. On the first Wednesday evening of the month, watch and discuss a new documentary. Discussions are led by Katherine Kasirer, NFB librarian. Tickets available at the Main Desk two weeks prior to the event. In the Westmount Room.
Saturday, September 9 at 2 pm
TD Summer Reading Club Closing Party. With Rag & Bone Puppet Theatre's The Flying Canoe. Be there! Prizes, entertainment, food! Registration required. In Victoria Hall.
Starting Wednesday, September 13 at 10 am
Fall Registration. Please register in person at the Children's Desk with your child's Library card.
And over at the Atwater Library…

1200 Atwater, Westmount
SUMMER BREAK – The Atwater Poetry Project and Alzheimer Café will resume in September.
LUNCHTIME SERIES
The Atwater Library Lunchtime Series features once-a-week presentations by leading writers, musicians, intellectuals, scientists, and many more people sharing their knowledge and experience with the Atwater Library community. Lunchtime Series events usually take place on Thursdays (but sometimes are on other days), from 12:30 to 1:30 pm. Admission is free though donations are appreciated! Everyone is welcome and coffee and biscuits are served.
Thursday, August 31 from 12:30 to 1:30 pm
Mi'kmaq poet and critic Shannon Webb-Campbell launches Atwater Reads the TRC and screens relevant films by Indigenous filmmakers produced by the National Film Board (NFB) – The Amendment by Kevin Papatie and My Name Is Kahentiiosta by Alanis Obomsawin.
Thursday, September 7 from 12:30 to 1:30 pm
Cartoonist Terry Mosher discusses his book From Trudeau to Trudeau: 50 Years of Aislin Cartoons and reminisces about his amazing career.
Thursday, September 14 from 12:30 to 1:30 pm
For over a century telegrams were the dominant means of sending time-sensitive news. Mark Gallop examines the social and cultural history of the telegram, filled with stories of wars and shipwrecks, weddings and funerals.
---
HISTORY AT THE LIBRARY
The Artistic Mr. Wilson exhibition in the main-floor reading room continues until the end of August 2017. George Washington Wilson was a pioneering photographer in Scotland, who famously photographed Queen Victoria and is also remembered for his innovations in landscape photography. Curated by Edward McCann, the exhibition includes important Wilsonian photographs from the McCann collection as well as historic apparatus.
The permanent Atwater Writers Exhibition, also on the main floor, tells the history of English-language writing in Quebec from the 1760s to today. New displays are planned for Fall 2017.
---
ATWATER LIBRARY BOOK CLUB
The Atwater Library Book Club is led with intelligence and skill by author Mary Soderstrom.
Wednesday, September 13 from 7:30 to 9 pm
Mend the Living by Maylis de Kerangal, translated from French by Jessica Moore. The Heart is another translation, by Sam Taylor. The novel spans the 24 hours surrounding a heart transplant from a young man to a dying woman.
"I've seldom read a more moving book." – review in The Guardian.
---
ATWATER READS THE TRC
From September 2017 through January 2018, in the spirit of nationwide reconciliation, the Atwater Library is hosting Atwater Reads the TRC. This is a guided community reading of the Final Report of the Truth and Reconciliation Commission of Canada to help build meaningful and open relations between Indigenous and non-Indigenous peoples in the Montreal region.
Registration closed as of August 25, 2017 and there is a waiting list.
Reading Series – limited to 26 registrants
Every second Thursday at 6:30 pm from September 14, 2017 through January 25, 2018.
(Two hours per session except for the October 12 meeting, which will start at 6 pm, take three hours and include the Blanket Exercise.)
Shannon Webb-Campbell and Sarah Henzi will facilitate group conversations based on readings, section by section, of the summary volume of the Final Report of the Truth and Reconciliation Commission of Canada. This 2015 report contains 94 Calls to Action to address the legacy of Canada's residential school system. The Library is providing a copy of the summary volume to each registrant.
---
Image: Creative Commons
Feature image: Andrew Burlone

Consult our community calendar for more events.


---
---