Westmount Here & There
December 14, 2017
A look at events happening in and around Westmount
Reykjavik Meets Helsinki
Reykjavik Meets Helsinki, an exhibition featuring oil paintings and drawings of Iceland by G. Scott MacLeod and photographs of Helsinki by Joe Donohue, continues at the Café de Mercanti, 6128 Monkland, Montreal, until December 31.
The works are based on MacLeod's 2017 art residency at sim.is in Reykjavik, Iceland and Donohue's recent trip to Helsinki, Finland. Both MacLeod and Donohue were inspired by the light and design in both Iceland and Finland, and also by the Nordic social welfare system with universal health care and free education. The UN states that the Nordic countries are the most-developed on the planet and that their natural world and green energy policies are well in place. These paintings, drawings and photographs are a celebration and reminder of how better we can mind our society and planet.
The Café de Mercanti is open every day from 7 am to 6 pm.
More information about the exhibition at 514 487-8766 or Macleod_nine@hotmail.com
Visit macleod9.com and joedonohuephoto.com
Celebrating the Aline Gubbay photo archives
On Thursday, December 14 from 7 pm to 9 pm at the Gallery of Victoria Hall, 4626 Sherbrooke W, the Westmount Historical Association holds its traditional December social. In summer 2017, the WHA began digitizing its entire photo archives. The public is invited to attend the December social, while viewing some of the images which are now inventoried, scanned, and conserved. This project was carried out with financial support from the City of Westmount and the Aline Gubbay Memorial Fund.
Additional information at info@westmounthistorical.org
Climate Café at Westmount Park United Church
On Friday, December 15 from 7 pm to 9 pm, the public is invited to attend a Climate Café at Westmount Park United Church, 4695 Maisonneuve W.
The Climate Café is a non-religious event open to everyone, organized by Westmount Park United Church as part of its Faith in Nature Centre, a community committed to building lasting relationship and partnerships for the well-being of the environment. Come to meet the growing number of neighbours who are concerned and want to make a difference! This month's guest speaker is Sheila Buchanan of 10 000 Villages (Monkland Village). Learn about how fair-trade economies and care for the environment go together with examples of the trading relationships of 10 000 Villages around the world.
The event is free with a donation-based café of drinks and light refreshments.
For more information contact Rev. Neil Whitehouse at westmountparkuc@videotron.ca
Image: Patricia Dumais
The People's Gospel Choir Concert
The Rotary Club of Westmount presents its annual concert featuring the People's Gospel Choir on Saturday, December 16, at 7:30 pm, in Victoria Hall, 4626 Sherbrooke W.
This year marks the choir's 25th anniversary and a special guest will join them onstage – Juno-award winning performer Kim Richardson.
Tickets: $20 adults / $10 children under 12. Cash only.
Tickets available at Victoria Hall or purchase online at Eventbrite.
Image: courtesy of the People's Gospel Choir
Lessons and Carols for Christmas
On Sunday, December 17 at 5 pm, St. Matthias' Anglican Church, 131 Chemin de la Côte St-Antoine, presents Lessons and Carols for Christmas, featuring music from Renaissance to Ramirez with a full choir, peruvian harps, percussion and carol singing for all! With harp duo Robin Grenon and Gisèle Guibord, and organist and director of music Scott Bradford.
Admission: Freewill offering
Image: courtesy of St. Matthias' Anglican Church
Centre Greene Activities
Centre Greene, 1090 Greene, is host to a wide variety of activities for young and old, including a Caregiver's Tea, Themed Activity Nights, Drop-in Daycare, After School Program, Kids' Kitchen, Tumbling Tots Playgroup, Seniors' Lunches, and more!
NEW! Free fitness program for seniors!
Information at 514 931-6202 or consult centregreene.org
Image: courtesy of Centre Greene
Activities at Contactivity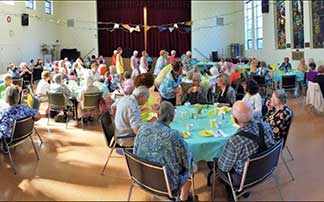 Contactivity Centre, 4695 de Maisonneuve W, is a non-profit community centre that provides a welcoming, caring and safe place for autonomous seniors 60+, where a sense of community and social engagement can be fostered. The centre hosts various courses and interest groups that encompass the mind, body and soul. For information on the Centre's activities call 514 932-2326 or consult contactivitycentre.org
Image: courtesy of Contactivity Centre


Events at Westmount Public Library

4574 Sherbrooke W, Westmount
Events are free but registration is required.
Register at the Adult Desk or call 514 989-5299.
The Library will be closed December 24, 25, 26, 31 and January 1, 2.
Wednesday, December 20 from 7 pm to 8 pm
Reading Group for Joyce's Finnegans Wake: The Boaters and Sifters of ALP. Every third Wednesday of the month, join the circle skimming the surface or sifting through the layers of Finnegans Wake to see what is conceived. Bring an open mind and a copy of the book. In the Westmount Room.
Westmount Library's Events and Programs for Kids
Wednesday, December 27 from 2 pm to 3:30 pm
Holiday Film – Despicable Me. In the Westmount Room. (4 years +)
Thursday, December 28 from 2 pm to 3:30 pm
Holiday Film – Cars 3. In the Westmount Room. (4 years +)
And over at the Atwater Library…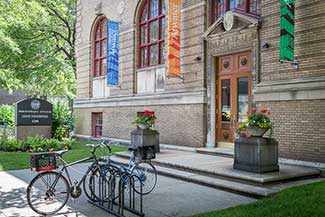 1200 Atwater, Westmount
Information at 514 935-7344.
LUNCHTIME SERIES
The Atwater Library Lunchtime Series features once-a-week presentations by leading writers, musicians, intellectuals, scientists, and many more people sharing their knowledge and experience with the Atwater Library community. Lunchtime Series events usually take place on Thursdays (but sometimes are on other days), from 12:30 to 1:30 pm. Admission is free though donations are appreciated! Everyone is welcome and coffee and biscuits are served.
Thursday, December 14 from 12:30 to 1:30 pm
Members of The Orpheus Singers, conducted by Peter Schubert, perform a Bach motet and some Christmas carols.
---
ALZHEIMER CAFÉ
The Atwater Library is partnering with the Alzheimer Society of Montreal to provide a monthly Alzheimer Café for Montrealers in the Library's elegant Reading Room. Each session features socializing, refreshments, live music, and discussion about aspects of life with dementia. Admission is free and everyone is welcome. For more information, contact Tanya Mayhew at tmayhew@atwaterlibrary.ca or 514 935-7344.
Tuesday, December 19 from 1 pm to 3 pm
Linda Leclerc, laughter yoga trainer and founder of the School of Laughter Yoga. Laughing for no reason: What are the benefits? Holiday music and refreshments.
Image: Frédéric Ryan – instagram (@feddomtl)
---
Consult our community calendar for more events.


---
---