Westmount Here & There
December 21, 2017
A look at events happening in and around Westmount
Reykjavik Meets Helsinki
Reykjavik Meets Helsinki, an exhibition featuring oil paintings and drawings of Iceland by G. Scott MacLeod and photographs of Helsinki by Joe Donohue, continues at the Café de Mercanti, 6128 Monkland, Montreal, until December 31.
The works are based on MacLeod's 2017 art residency at sim.is in Reykjavik, Iceland and Donohue's recent trip to Helsinki, Finland. Both MacLeod and Donohue were inspired by the light and design in both Iceland and Finland, and also by the Nordic social welfare system with universal health care and free education. The UN states that the Nordic countries are the most-developed on the planet and that their natural world and green energy policies are well in place. These paintings, drawings and photographs are a celebration and reminder of how better we can mind our society and planet.
The Café de Mercanti is open every day from 7 am to 6 pm.
More information about the exhibition at 514 487-8766 or Macleod_nine@hotmail.com
Visit macleod9.com and joedonohuephoto.com
Coming soon! City of Westmount Winter Carnival
The City of Westmount's 35th Winter Carnival will take place at King George Park on Saturday, February 2 from 10 am to 4 pm. A fun-filled day of skating, old-fashioned sleigh rides, games on ice, and a sugar shack!
Information at 514 989-5353 (Sports and Recreation).
In the event of inclement weather, some activities will take place in the Westmount Recreation Centre.
Centre Greene Activities
Centre Greene, 1090 Greene, is host to a wide variety of activities for young and old, including a Caregiver's Tea, Themed Activity Nights, Drop-in Daycare, After School Program, Kids' Kitchen, Tumbling Tots Playgroup, Seniors' Lunches, and more!
NEW! Free fitness program for seniors!
Information at 514 931-6202 or consult centregreene.org
Image: courtesy of Centre Greene
Activities at Contactivity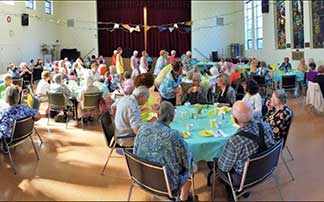 Contactivity Centre, 4695 de Maisonneuve W, is a non-profit community centre that provides a welcoming, caring and safe place for autonomous seniors 60+, where a sense of community and social engagement can be fostered. The centre hosts various courses and interest groups that encompass the mind, body and soul. For information on the Centre's activities call 514 932-2326 or consult contactivitycentre.org
Image: courtesy of Contactivity Centre


Events at Westmount Public Library

4574 Sherbrooke W, Westmount
Events are free but registration is required.
Register at the Adult Desk or call 514 989-5299.
The Library will be closed December 24, 25, 26, 31 and January 1, 2.
Wednesday, January 3 from 7 pm to 9 pm
Film Club – Documentary – Gun Runners (2015). For years, Julius Arile and Robert Matanda thrive among the roaming bands of warriors that terrorize the North Kenyan countryside. When both warriors suddenly disappear from the bush, many of their peers assume they are dead or have been arrested. Instead, they've traded in their rifles for sneakers – in the hopes of making it big as professional marathon runners. Discussions will be led by Katherine Kasirer, NFB librarian. Tickets available at the Main Desk four weeks prior for library members, remaining tickets one week prior for the general public. In the Westmount Room.
Westmount Library's Events and Programs for Kids
Wednesday, December 27 from 2 pm to 3:30 pm
Holiday Film – Despicable Me. In the Westmount Room. (4 years +)
Thursday, December 28 from 2 pm to 3:30 pm
Holiday Film – Cars 3. In the Westmount Room. (4 years +)
And over at the Atwater Library…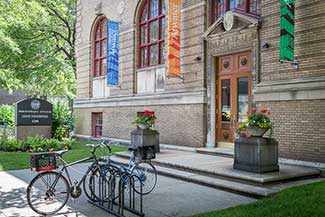 1200 Atwater, Westmount
Information at 514 935-7344.
The Library will close for the holidays on Friday, December 22 at 6 pm and re-open on Tuesday, January 2 at 10 am.
LUNCHTIME SERIES
The Atwater Library Lunchtime Series features once-a-week presentations by leading writers, musicians, intellectuals, scientists, and many more people sharing their knowledge and experience with the Atwater Library community. Lunchtime Series events usually take place on Thursdays (but sometimes are on other days), from 12:30 to 1:30 pm. Admission is free though donations are appreciated! Everyone is welcome and coffee and biscuits are served.
Thursday, January 11 from 12:30 to 1:30 pm
Journalist and author Kristian Gravenor shares some of the nostalgic and little-known true stories in his book, Montreal 375: Tales of Eating, Drinking, Living and Loving.
---
ALZHEIMER CAFÉ
The Atwater Library is partnering with the Alzheimer Society of Montreal to provide a monthly Alzheimer Café for Montrealers in the Library's elegant Reading Room. Each session features socializing, refreshments, live music, and discussion about aspects of life with dementia. Admission is free and everyone is welcome. For more information, contact Tanya Mayhew at tmayhew@atwaterlibrary.ca or 514 935-7344.
Tuesday, January 16 from 1 pm to 3 pm
Marie-Pier Foucault, coordinator of services for people living with dementia with the Alzheimer Society of Montreal, on Ideas for spending quality time with a person who has Alzheimer's disease.
Image: Frédéric Ryan – instagram (@feddomtl)
---
Consult our community calendar for more events.


---
---